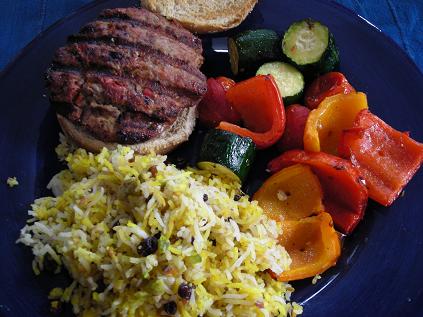 Sweet Saffron Pilaf with Nuts and Currants
1 ¼ c. basmati rice
2 ½ c. water
¼ t. saffron threads
1 T. milk or cream
1/8 c. canola oil or ghee
A 2-inch cinnamon stick
10 green cardamom pods, pounded in a bowl or pestle to open the shells
A 1-ince piece fresh ginger, peeled and grated
¼ c. dried currants
¼ c. chopped roasted almonds
¼ c. pistachios, shelled and chopped
¼ c. sugar
Combine rice and water in medium bowl and soak for 20 minutes. Drain, reserving water, and set rice aside.
Gently crush saffron threads in small bowl with back of spoon. Stir in milk and mix gently. Set aside.
Combine oil or ghee, cinnamon stick, cardamom and ginger in medium, heavy bottom pan (with a cover) over medium high heat, stir and cook for 2-3 minutes. Add in currants and nuts and cook, stirring often, for 2-3 minutes. Add rice, stir to coat and cook for 1-3 minutes. Pour in reserved water, stir and bring to a high simmer, reduce heat to low, cover and cook for 15 minutes. Uncover and sprinkle rice evenly with sugar, then drizzle saffron/milk mix over the top. Cover pan again, and on very low heat, cook for 5 minutes. Turn off heat and allow rice to rest 10-15 minutes. Serve hot garnished with fresh toasted nuts if desired.