January 23rd, yesterday, I strapped on my cross-country skis for the first time this winter.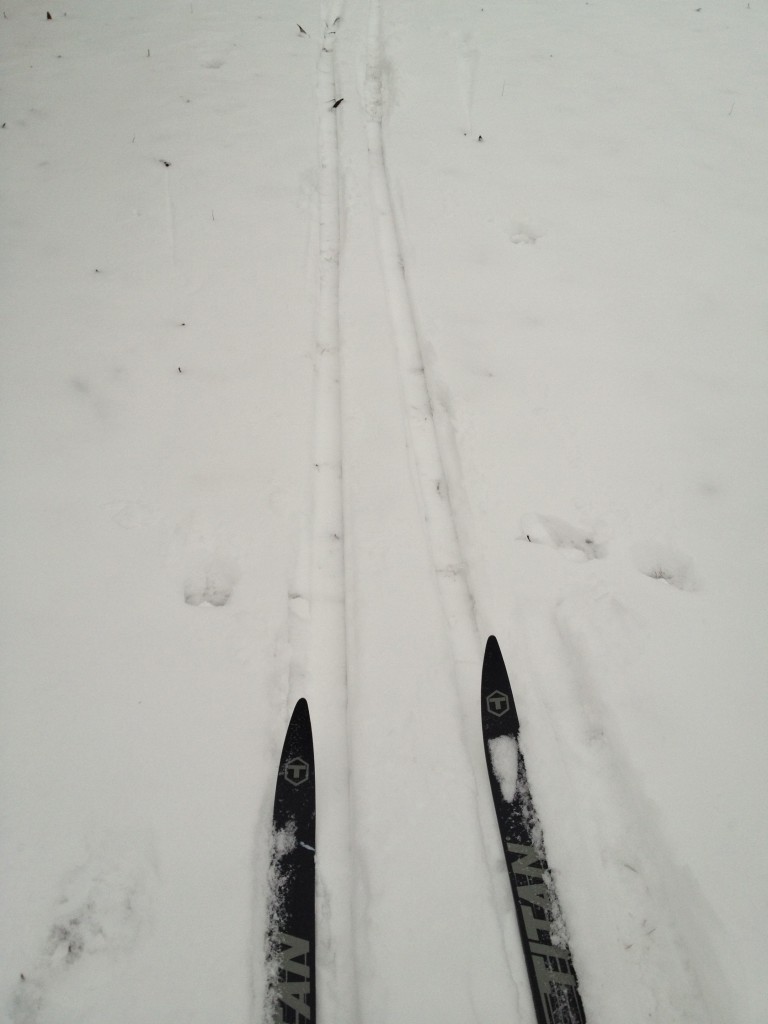 This Winter, waiting for snow cover deep enough to kick through has nearly killed me in anticipation, especially given that last year I was out almost every week between late November to well through March. Every snowfall that came our way found me holding my breath, anxiously awaiting the perfect amount that never came.
Certain activities are just part of who I am. Cooking, for one. But this, the strapping on of tiny thin skis, grasping the little poles and facing an open path of fresh snow, wind in the trees and clouds scuttling overhead is also a part of me that goes back to moments in childhood that seared to my brain like fire. I don't even know how old I was the first time I put on the skinny skis. But I was a kid, and our school class went to a golf course one winter day, lush with a endless expanse of unbroken snow and we all were given those skis, the long poles and funny shoes and we set out over the empty golf course, where it clicked within me.
And in repeated winters, over growing years, those endless snows spread out in front of me as I faced them, tall poles in hand, face to the wind. Then at some point, they just stopped. But the call within me never left and finally several winters ago, I urged Mike to get ski packages and join me on the trails. It was one of the best decisions we've ever made.
Because the first time  I headed along a trail, pushing every muscle from shoulder to ankle over the snow, I felt that thrill again. I felt the flood of oxygen to every working muscle. I felt the quiet cold air and saw those dancing clouds. I felt alive again, working with muscles that still held the perfect memory of how this was done, even though it had to be more than 20 years since we'd moved in this way. I marveled at a body that remembered, when I had nearly forgotten; marveled at muscles that snapped into recall, pulling memory from some long ago moment in time. And I wondered why I'd stopped.
There is a tiny little park near our house; hardly a spot on a map but it's flat, and just large enough to make for a perfect workout. I carve a trail around the perimeter, and go four, five six, sometimes eight laps or more around that park. It's enough to make my lungs pump fiercely. It's enough to drench me in sweat. It's plenty, and it's close and it's 45 minutes to an hour of intense cardio work. If I can do this a few times a week, it's all I could ever ask for from Winter.
The snow flies, and I hear the siren call from the trails. Yesterday was that call, and barely a half hour after I was home from work, I faced that empty park, with a wicked cold Easterly wind on my back and stepped in to my skinny skis. The first path over the snow cuts my trail, and every lap gets easier as I go. My lungs engage, my muscles warm, the wind doesn't seem so bitter and Winter doesn't seem all that long anymore. It's just me and the snow.
It's Just Write Tuesday, Version 19.0.