This amazing Stollen recipe that I'm posting has been made possible by the good folks who created Facebook and the hundred bajillion people who have made it the most popular (and fun) social networking site available.
Here's the Stollen to keep you interested while I regale you with my tale of adoration. For the bread…… this love is about the bread, folks.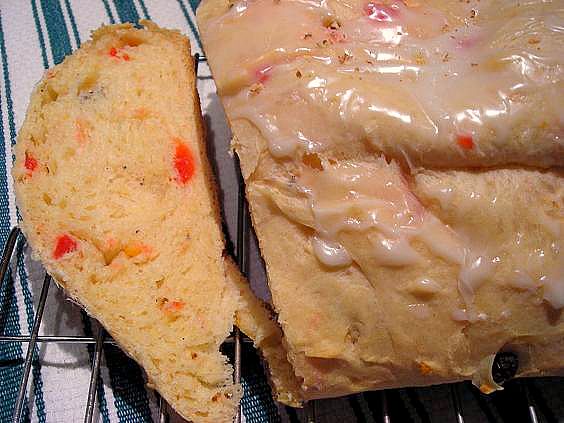 My love affair with Stollen started at the artisan bakery where I was employed in the office for five years. Every Christmas there would be Stollen, which I coveted heavily. It was rich and buttery, coated with dusty powdered sugar and full of sweet chewy fruit.  After the chocolate cherry bread that was made there, I loved the Stollen the most and would look forward at Christmas to having a loaf or two of it to enjoy. It's been one item sorely missed since departing that job, and that was almost seven years ago now. That's a long time to miss bread, but that job introduced me to some of the most stellar breads I have ever had, and cemented a lifelong love affair with those yeasty fragrant loaves. I could never do low-carb; bread is like oxygen to me.
I was able though, through the magic of Facebook friends, to ask my former boss if the bakery was making Stollen this year, as it seemed all I could think about was the sweetness of that bread. He told me it was available at a local gourmet grocery store so I made a trip to find out and came across one gorgeous loaf that was stamped with a $12.00 price tag.
Um, no. And I mean a big ol'   'Oh HECK no!'
Even my coveted Stollen was not worthy enough of that amount. Not in these lean financial days. I knew in my culinary mind that I could probably make half a dozen loaves for less than the cost of one of those in that store.
Back home, full of sad face about Stollen, I set about making a pan of Scotcheroos for a party that night and again, with Facebook, I posted a status about wishing I could make Stollen instead and lo and behold, the very next day came a message from one of my distant FB friends (through the magic of networking) with an authentic German Stollen recipe from her grandmother, who brought it with her when she came to this country from Frankfurt.
By this point, I think I can't get any more crazy about Facebook. There's a tight community of food bloggers there and not only has it allowed me to reconnect with almost all of my old high school friends, some whom I haven't spoken to in 20 years or more,  it's given me a lot of new connections, mostly through food lovers, that have led me to some pretty amazing finds. Like Stollen.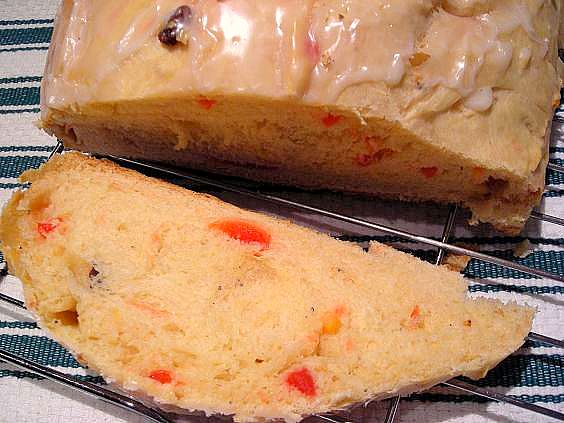 The message and recipe couldn't have come at a more opportune time as a major winter storm descended on Minnesota yesterday, and there was little to do but hang tight in the domicile and do something to keep busy. I took my cross country skis out in the morning to the convenience store and, much to my surprise, found candied cherries there, but no yeast. Mike was gracious enough to brave the snowy roads to the grocer to get my needed ingredient- bless his kind heart.  So I made Stollen and watched the snow come down, down, down. By dinnertime there were three glistening loaves on the countertop,  my mouth was in the throes of sweet carb overload and there was a thick fresh layer of glorious winter white over everything in sight.
And for this very first official day of Winter '08-'09, it was a terrific way to start.
(jump for recipe)

Traditional German Stollen
* 1 1/2 cups milk
* 1/2 cup sugar
* 1 1/2 teaspoons salt
* 3/4 cup butter
* 1 ounce yeast cake
* 1 tablespoon sugar
* 2 whole eggs
* 2 egg yolks
* 3 cups sifted all purpose flour
* 1/2 teaspoon ground cardamon seed
* 1/2 cup raisins
* 1/2 cup finely cut citron (i used orange peels from a clementine)
* 1/2 cup sliced candied cherries
* about 2 2/3 cups sifted all purpose flour
* For the Powdered Sugar Icing
* 1 1/2 cups powdered sugar
* enough cream to make a thick paste
* 1/2 teaspoon vanilla extract
* 1/4 teaspoon almond extract
* 1. combine all ingredients. Mix until smooth
makes 3 Good sized Stollens.
1. Scald milk. Add sugar, salt and butter. Cool to lukewarm.
2. Mix yeast with 1 tablespoon sugar. Add to lukewarm milk. Stir to dissolve.
3. Add whole eggs and egg yolks. Beat well.
4. Add 3 cups flour. Bear until smooth and lump free. Cover.
5. Let rise in warm place about 1 1/2 hour or until doubled.
6. Add cardamon, raisins, citron, cherries and enough flour until dough pulls from side of bowl and is no longer sticky to the touch.
7. Knead on lightly floured surface until smooth and satiny.
8. Place in lightly greased bowl. Cover. Let rise about 1 1/2 hours or until doubled in bulk.
9. Divide dough into thirds. Use 1/3 for each stollen.
10. Roll on floured canvas into and 8×10 inch oval. Spread with melted butter. Press down center, fold over lengthwise.
11. Place in shallow greased baking pans or on greased cooky sheets. Brush with melted butter.
12. Let rise about 45 minutes or until doubled in bulk.
13. Bake at 350 degrees about 30-40 minutes until lightly browned.
14. Frost with Powdered Sugar Icing. Decorate with cherries citron and blanched almonds
KATE'S NOTES:
Being the dairy-free gal I am, I subbed in soy milk, but kept the butter. Real butter imparts a flavor that can't be subbed and I won't even try with a non-dairy version. The recipe calls for a one ounce yeast cake. I had yeast in packets and misread the equivalency, adding three packets of yeast to the recipe when I should have only added two. It was fine though and the rise times went quickly. The first part of the recipe yields a very wet dough, almost a starter and required a lot of extra flour in the second step, so be aware that the amount of flour listed in the recipe is only the beginning amount. While the first part of the dough was rising, I combined the candied cherries, citrus peel and raisins with the ground cardamom and let it all sit together until it was added. I think it helped the flavor a lot.

For those unaware of it, citron is preserved or candied lemon peel. I subbed in orange peel from Clementines as I had them on hand. I simply chopped it very fine and put it into the batter as it was and it was delicious. Don't skip the cardamom. It's necessary for flavor and quite frankly, I think you can add a tad extra, but not too much. For the icing, I used pure lemon extract along with vanilla as I had no almond on hand and the taste was really stunning. Brush the loaves with the glaze while they are still warm.