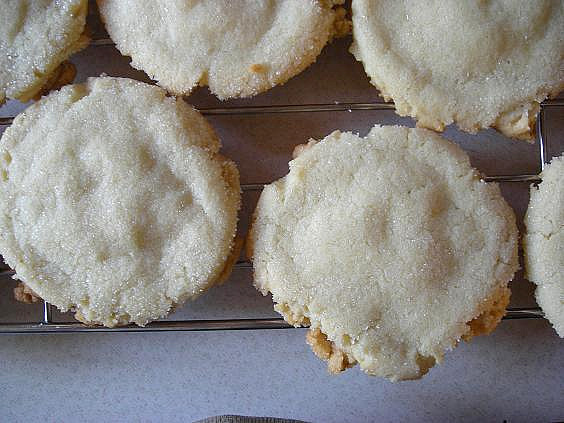 This is one of my 'tried and true' recipes; the one to turn to for comfort and understanding that you know will never let you down. Not that I can't find a million cookie recipes at the touch of my fingers, for cookies that look amazingly thick, decadent, and pillowy, with that perfect blend of crisp edges and soft interiors and I'm certain that they would be delightful and all, but there's this thing about cookies and my taste for them; I don't like to stretch myself all that much. I don't need fancy in a cookie; I crave basic and and elementary. I might sub in a fancy ingredient, like good quality chocolate chunks for a bag of chocolate chips, but there's a ceiling of cookie indulgence above me and it's solidly in place. Give me a straightforward cookie, please.
These Sugar Cookies are perfect. They're quietly uncomplicated, yet worthy in flavor of bringing back memories of a Sugar Cookie I loved as a child. I've passed this recipe on to many people and all the feedback I've had has been nothing short of glowing. Stellar all on their own, they accept decorative toppings in any form, making them a must for holiday cookie-making. You can scoop the dough or roll it out and use cookie cutters too. It freezes beautifully too, as do the finished cookies themselves.
Basic Sugar Cookies

1 c. softened butter, no substitutes (reserve one of the wrappers)
1-1/2 c. white sugar
2 t. pure vanilla extract
1 egg
2-3/4 c. AP flour
1 t. baking soda
1/2 t. baking powder

Heat the oven to 375° and line two cookie sheets with parchment paper. Place about 1/3 of a cup of white sugar on a small plate and set aside.

Cream butter and the 1-1/2 cups of sugar together until very light and fluffy. Add in egg and vanilla extract and blend thoroughly until smooth and creamy. You really can't overmix at this point. You want a base that is smooth and creamy as it makes the end result stupendous. Stir together flour, baking soda and powder, and with mixer on low, gradually add to butter until fully incorporated and mixture is in large, somewhat dry chunks. It will not be a smooth batter, but granular, like pie crust. The dough should hold together when pressed between your fingertips. If it doesn't, give it a few more turns with the mixer. Here's where you don't want to mix more than necessary. The dough will come together when it bakes.

Using a small scoop (I used a #60 sized) press dough tight into a ball and drop onto cookie sheet. With your butter wrapper, wipe the bottom of a smooth glass, then dip the glass onto the sugar you've set aside. Gently press down on the cookie dough, dipping the glass before each one. If any dough falls loose, lightly push the pieces into the sides of the cookie. Bake for 8-10 minutes, reversing trays from front to back, and swapping top to bottom about halfway through. Allow to cool slightly on the sheet, then remove to a cooling rack.
KATE'S NOTES: I find that the super fine bakers sugar elevates the texture of these cookies quite a bit. You can mix up white and wheat flour if you wish, the end result will be darker though. I have substituted 1/2 c. of honey for the white sugar and love how tender it makes them.