Growing up in South Minneapolis, there was a bakery that my Mom went to regularly on W. 50th St. between Aldrich and Bryant called Meyer's Bake Shop. It was a tiny little place with decorated cakes in the windows and mirrored cases along the walls, loaves of yeasty breads in baskets on the countertops and long glass front cases that held every imaginable delight, right at eye level for a kid my age. I remember the decisive creak of the door as we pushed it open; the warm of the room, the smells…oh the smells!…. that rushed forth in the humidity inside to meet us. My head swoons just recalling what it was like.  Mom would load up on sandwich breads, rolls or buns and chat with the friendly ladies behind the counter as me and my sisters would oogle the baked goods, the luscious cupcakes, fudgey topped brownies and petit fours, waiting until the expected moment when Mom would tell us to pick out our cookie. We always got to choose one. Karen wanted Oatmeal Raisin, Kris usually took Chocolate Chip. I asked for a Sugar Cookie every single time.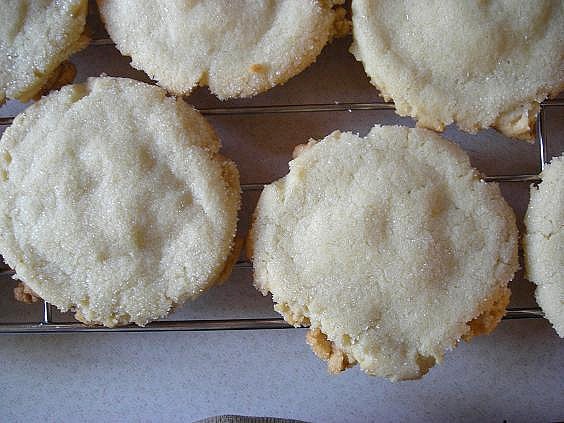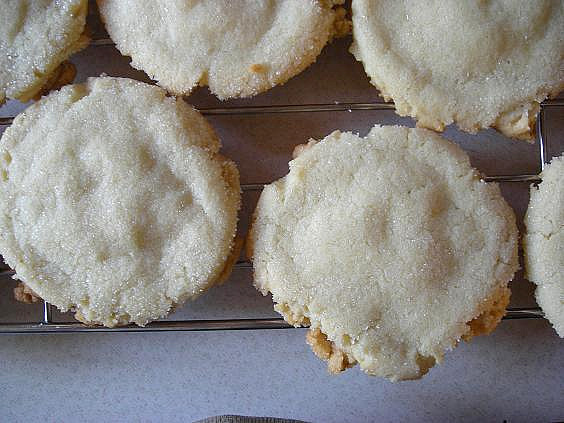 Meyer's had the finest sugar cookies. They had scalloped edges that had the perfect crispy snap to them, with centers that were soft and moist. The cookie nearly melted in my mouth and was rich in vanilla and butter, with crystallized sugar covering the surface. I never refused a trip to the bakery with Mom. Meyer's meant Sugar Cookies. Getting just one was a wonderful experience, although I easily could have eaten as many as I could hold, if just once given a chance. It was perfection in waxed paper.
But then life as we knew it ended, and suddenly there were no more trips to the tiny neighborhood bakery, no more moments of sugar cookie bliss. We moved too far away, life became more about making it through each day than about bakery breads and kindly chatting. And even when Mom made me a batch of specially requested Sugar Cookies, the flavor was flat and uninspiring. I ate them, but they didn't have the same snappy crunch or sweet tender bite. Sometimes I would ride by Meyer's and see the decorated windows, and think in my mind that I had to get back there and buy myself a sack of their Sugar Cookies. A sack that would be full of the nostalgia I sought, and craved. When I was in high school, which was about a half mile or so from that bakery, I went down there one day after school and pushed open the big heavy door. The creak was still there, and the smell of yeast and sugar came rushing to my nose like I hoped it would, but my teenage eyes took note of the worn countertops, the dusty curtains in the window and had I ever realized that those cakes were fake? The ladies behind the counter weren't very friendly, mostly they looked tired and worn. The glass cases were scratched and one had a long crack in it. The selections of breads were minimal, but in the cookie case lay the prized scalloped sugar cookies like always. I bought six of them and eagerly dug into the bag as I left the store, yearning for the first buttery bite. I was going to stuff myself with each one of those golden discs and no one was going to stop me.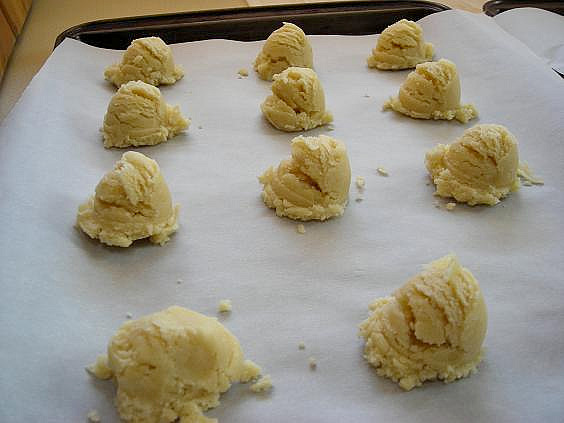 But the cookie that came to my mouth was nothing like I remembered. It was pasty and dry, and left a coating on my tongue and lips that could only have come from shortening. The butter was gone, a wisp of memory. It was crunchy through and through. There was no soft interior or moist crumbs. It looked the same, but it was wrong. All wrong. And it was a crashing disappointment. Somewhere along the way life had veered off into the direction of adulthood, and the whimsy of simpler days ends up left behind in nothing more than shadowy memories. What I wanted from that cookie was to be taken back to something that no longer existed; a trip to a neighborhood bakery, holding on to a trusted hand and the sweet buttery bite of love. I know that life has to change, and we have to grow and move on, learning hard lessons along the way and laying waste to a warehouse of memories, but really, do the beloved flavors have to go with it? Maybe the cookie was exactly the same, but my mouth, having now experienced the bitter plate that life pushes our way, had become jaded and sour. It's probably a combination of the inevitable change for both the cookie, and the hands that consumed it.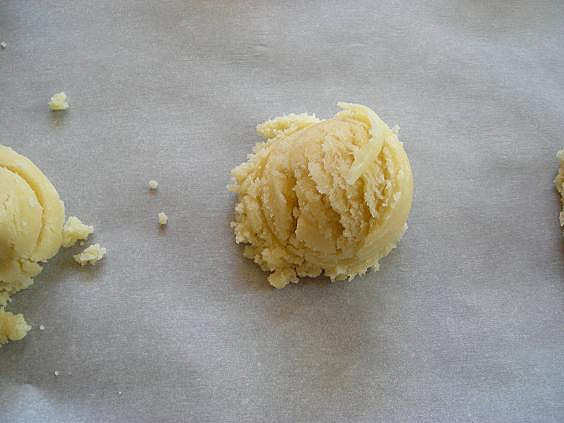 So it would stand to reason that I've looked long and hard for a recipe that closely duplicates that flavor and crunch. It has to be with butter and just the right touch of vanilla. The edges need to be crispy, the interior moist and soft. And it needs the scent of my childhood. I'm fairly certain that what was in that cookie memory from days back when wasn't much different than any recipe out there, but surrounding the standard butter, sugar, egg, flour and vanilla was the cozy cocoon of a life that had yet to break at the edges, where trust was all you needed that from the moment you awoke to when you lay to sleep at night, someone had your back, and was holding your hand. At some point we're all cast out into the chasm, finding our footing and learning how to navigate a life we know nothing about. We seek comfort in our foods to help remind us that it wasn't always this way. This recipe comes awfully close
Sugar Cookies
1 c. softened butter, no substitutes (reserve one of the wrappers)
1-1/2 c. white sugar
2 t. pure vanilla extract
1 egg
2-3/4 c. AP flour
1 t. baking soda
1/2 t. baking powder
Heat the oven to 375° and line two cookie sheets with parchment paper. Place about 1/3 of a cup of white sugar on a small plate and set aside.
Cream butter and the 1-1/2 cups of sugar together until very light and fluffy. Add in egg and vanilla extract and blend thoroughly until smooth and creamy. You really can't overmix at this point. You want a base that is smooth and creamy as it makes the end result stupendous. Stir together flour, baking soda and powder, and with mixer on low, gradually add to butter until fully incorporated and mixture is in large, somewhat dry chunks. It will not be a smooth batter, but granular, like pie crust. The dough should hold together when pressed between your fingertips. If it doesn't, give it a few more turns with the mixer. Here's where you don't want to mix more than necessary. The dough will come together when it bakes, I promise.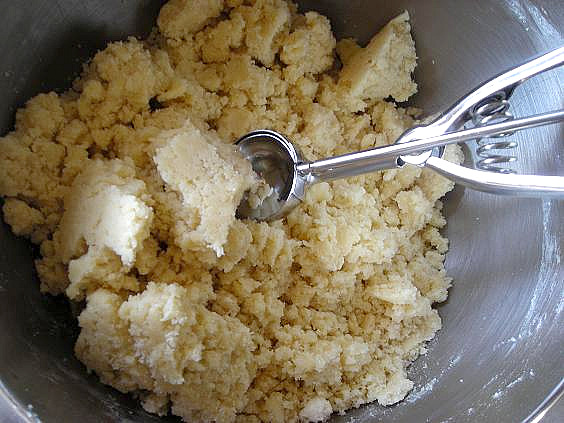 Using a small scoop (I used a #60 sized) press dough tight into a ball and drop onto cookie sheet. With your butter wrapper, wipe the bottom of a smooth glass, then dip the glass onto the sugar you've set aside. Gently press down on the cookie dough, dipping the glass before each one. If any dough falls loose, lightly push the pieces into the sides of the cookie.
The cookies will bake up just fine if you don't wish to flatten them; that's just my preferred method. Bake for 8-10 minutes, reversing trays from front to back, and swapping top to bottom about halfway through.
I like to remove the cookies right way, on the parchment to a cooling rack. These are pretty sturdy once baked, and will slip off the parchment easily with a gentle nudge. You simply must eat at least a few of them warm. Of course, a glass of cold milk, or a nice cup of coffee or tea is an excellent accompaniment. The cookies will become firmer as they sit for a day or two.