I came away from a long visit to the Minnesota State Fair this year with two prominent thoughts:
#1- The absolute BEST way to attend such a gastronomic event, where most everything is deep fried, with enormous portions, not so very healthy and most always made with meat is to go with a big group of like-minded friends so you can share all the gustatory delights and not leave feeling bloated and ill.
#2- I went to the Fair, knowing all the above regarding the food offerings and I ate everything that I felt like eating- including meat- sort of as a means to remind myself why I prefer to fill my belly with healthy and nutritious foods instead of the crap that often constitutes the American diet.
And that night, after sharing in the consumption of fried cheese curds, an Asian style pork burrito, fried pickles, cajun french fries, honey sunflower ice cream, sweet corn ice cream (FOUR portions shared between six of us- wow, so darn good), falafel, gyros and a strange but satisfying vegetarian dish that included lentils, rice, pasta and fried onions, I went to bed with aching legs from the 7 hours of walking, and woke in the night with a fully expected belly-ache. And I mean a raging hurricane of complaints from the tummy, saying over and over and over again "What did you DO to me!!!???"
I mean, four months is not a lot when compared to a lifetime in terms of good eating. But four months IS a lifetime though, because really, it took me only two days at the start of those four months to realize that changing the eating game for me was really beneficial. And it doesn't take but one day of eating lousy to send my body back into a whirlwind of pain and suffering. It's that easy, and your body is pretty good at reminding you of what happens when you feed it junk. My poor belly whirled and twisted, like an angry toddler with flailing fists as if it just couldn't believe what I'd done to it.
The harder part however, was fighting off the urge to continue eating more junk, despite the protesting belly. It was like a switch was flipped in my head, a switch that said 'GIMME!!' with red-hot intensity, to grease and fat. One day of eating poorly and I suddenly was flooded with urges for food I hadn't regularly eaten in years. Mike made oatmeal for breakfast and I couldn't eat it. With my tummy still doing cartwheels over the previous days intake, a bowl of something warm and healthy was the last thing it wanted, but really what I was craving was a huge carb and fat feast the likes of which I haven't consumed for a long time. I drank a protein shake instead and that sort of helped, but I still fought off intense cravings for junk all day long. By late afternoon, I gave in and devoured a partial bag of chips that was in the cupboard, then by dinnertime my stomach was pleading with me to give it something green and chock full of vitamins. I can't recall ever feeling so desperate for something healthy. Ever. With my mind and body at war over the onslaught, I was disoriented and restless, feeling depressed and scattered. It was eye-opening and somewhat scary how quickly all that junk food took over my mind and belly and fought for domination.
But I am nothing short of stubborn.
And my belly and mind can try and fight for domination over my heart and common sense but it won't work. I knew what I needed and thankfully, it was all right there in the kitchen. A bag of chard, the remains of a container of cherry tomatoes and a can of great northern beans and soon I was happily consuming something green, sending my belly the message that those cries for help had been heard.
I even included the colorful and crunchy chard stems in my meal.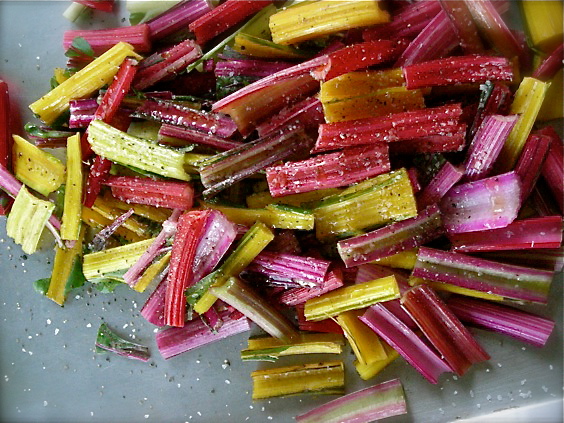 Tossed with a bit of oil and dusted with salt and pepper, I roasted this batch of stems until they were tender and nicely chewy, giving a pleasant added texture to the soft earthy chard. The stems are a really nice touch to any medley of roasted vegetables, especially tiny red potatoes and fresh carrots and they are rich with chard's lush, dark flavor. This dish is quick to come together, making it a cinch to readily step up and cure what ails you, whether it's a gastronomic overload of wanton delights or just a stressful, busy day.
Simple Chard Sauté

1 bunch chard, stems removed
1 15-oz can Great Northern beans, rinsed well
1 small leek, split, washed and sliced thin
2 cloves garlic, minced
1/2 pint cherry tomatoes

Wash the chard leaves thoroughly and spin them dry. To make them easier to cook and eat, rough chop them into manageable pieces. Wash the stems, trim the ragged edges and chop them in to bite sized pieces.

In a medium skillet with a lid, heat a small amount of oil and add the leek and chard stems. Season with a bit of sea salt and cook, stirring occasionally, until the chard stems are tender and the leek is browned slightly, maybe 10-15 minutes. Add the garlic and cook, stirring, for a few minutes, until the mixture is very fragrant.

Add the chard leaves by the handful, stirring the leaves to begin wilting them. Continue adding leaves and stirring until they cook down to a manageable size. Add about 1/3 cup of water to the skillet, stir in the beans and tomato and then cover the skillet. Allow to steam over medium-low heat for about 10 minutes undisturbed. Remove the cover, season with sea salt and fresh cracked pepper.