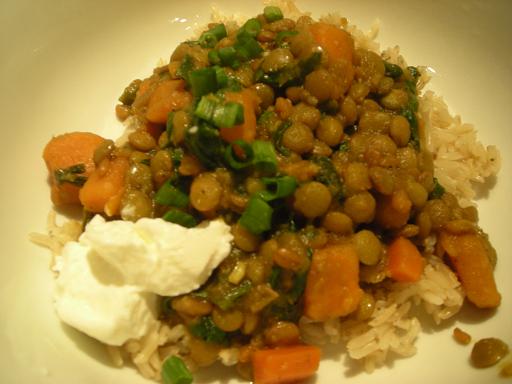 Curried Lentils With Sweet Potatoes and Swiss Chard
Yield: 8 to 10 side-dish servings; 6 main-course servings.
2 tablespoons extra virgin olive oil
1 medium onion, chopped
4 garlic cloves, minced
1 1-inch piece fresh ginger root, peeled and grated
1 1/2 teaspoons garam masala
1 1/2 teaspoons curry powder
1 jalapeño pepper, seeded if desired, then minced
4 to 5 cups vegetable broth as needed
2 pounds orange-fleshed sweet potatoes, peeled and cut into
1/2-inch cubes (about 4 cups)
1 1/2 cups dried lentils
1 bay leaf
1 pound Swiss chard, center ribs removed, leaves thinly sliced
1 teaspoon kosher salt, more to taste
1/2 teaspoon ground black pepper
1/3 cup chopped fresh cilantro
Finely grated zest of 1 lime
Juice of 1/2 lime
1/3 cup finely chopped tamari almonds, for garnish (optional), available in health food stores
1/4 cup chopped scallions, for garnish.
1. In large saucepan, heat oil over medium heat. Add onion and sauté until translucent, 5 to 7 minutes. Add garlic, ginger, garam masala, curry powder and jalapeño. Cook, stirring, for 1 minute.
2. Stir in 4 cups broth, sweet potatoes, lentils and bay leaf. Increase heat to high and bring to a boil; reduce heat to medium, partially cover, and simmer for 25 minutes. (If lentils seem dry, add up to 1 cup stock, as needed.) Stir in chard and salt and pepper, and continue cooking until lentils are tender and chard is cooked, about 30 to 45 minutes total.
3. Just before serving, stir in cilantro, lime zest and juice. Spoon into a large, shallow serving dish. Garnish with almonds if desired and scallions.
RECIPE NOTES: I am not a fan of swiss chard, so I used spinach instead. I added several diced carrots to the dish as well as the potato and that was delicious. At the end of the cooking time I dumped in a cup of cooked wheat berries (i keep them in the freezer). It adds more nutritional value to the dish and a nice nutty and chewy texture.
I cooked this for at least an hour and I think it could have cooked much more as the lentils still seemed a tad chewy. It's hard to determine how much time is needed, but the potato was getting mushy and I didn't want to cook it too much longer for fear they would fall apart. The spinach, if used, can be stirred in just a few minutes prior to serving; it won't need much to make it wilt. It can be eaten alone, no doubt; we love the rice; so for us that was perfect. We did not top it with almonds.