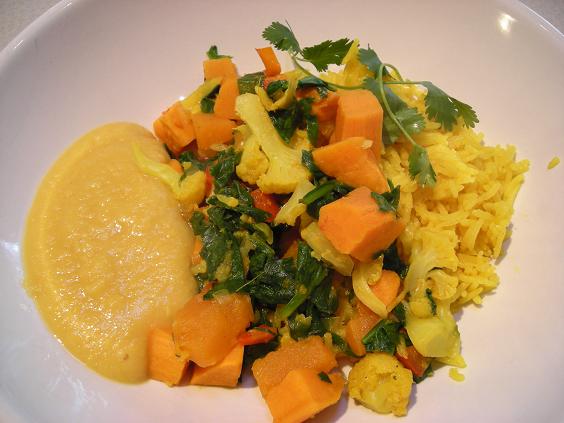 Curried Vegetables with Yellow Daal and Coconut Rice
For the Daal:
1 ½ c. either red lentils or yellow split peas
4-5 c. water
Use 4 c. water for lentils; 5 for split peas. Rinse legumes well. Place legumes and water in heavy pot, cover and bring to a boil. Reduce heat and simmer for about 30 minutes, until legumes are tender. Puree in batches in food processor with cooking water, adding more if necessary for smoothness. Daal will thicken upon standing.
Curried Vegetables:
Vegetable oil or ghee
1 chopped onion
2 red peppers, cored and diced
½ head cauliflower, broken into florets
2 sweet potatoes, peeled and diced
5-6 oz. fresh spinach
2 T. fresh grated ginger root
1 T. mild curry powder
1 t. ground cumin
1 ½ c. water or vegetable broth
Juice of half a fresh lemon
Salt to taste
In a deep skillet, heat oil or ghee and add onions, cook until soft and translucent. Add peppers, cook until soft. Stir in cauliflower, curry powder and cumin. Stir to combine and cook for 5 minutes, stirring occasionally. Add in sweet potatoes and grated ginger. Stir to combine. Pour in water, stir to incorporate and bring to a boil. Cover and cook until cauliflower and potato are fork tender but still firm. De-stem and coarse chop spinach. When vegetables are tender, stir in spinach and lemon juice. Simmer to wilt spinach then serve immediately with the Daal and Coconut Rice.
Coconut Rice
1 ½ c. water
1 c. basmati rice
½ c. coconut milk
½ t. turmeric
¼ t. kosher salt
1 cinnamon stick
¼ c. currants or golden raisins
In a saucepan with a tight fitting lid, bring water to a boil. Rinse rice well, and add to boiling water along with all the remaining ingredients. Stir to combine, reduce heat to simmer, cover and cook for 15 minutes. Fluff with a fork and remove cinnamon stick before serving