If you hang around me and the blog long enough, you'll realize that I really love quick breads. Scan my Recipe Index and you'll see the spoils of a bowl of dry, a bowl of wet, a loaf pan or paper lined muffin tins and a hot oven. Some gals get their bake on through cookies, or lofty cakes slathered with buttercream; they perfect treats of sugar and spice, with fondant or piping, bars and brownies worth gloating over. I do love cake, and grew up with a Mom who never bought cookies from a store, rising in the summer before daybreak to bake prior to the sun releasing it's intense heat on the day.  But there's something magical about a muffin, or tempting tea breads with a perfect moist crumb. I can't get enough of them.
I'm always paying attention to quick bread recipes, but am often driven to dismay over ones that are choked with sugar and oil. I've managed to make a few of these into something a bit more healthy, but these days, I want recipes that offer abundant flavor without the tooth-aching sweetness.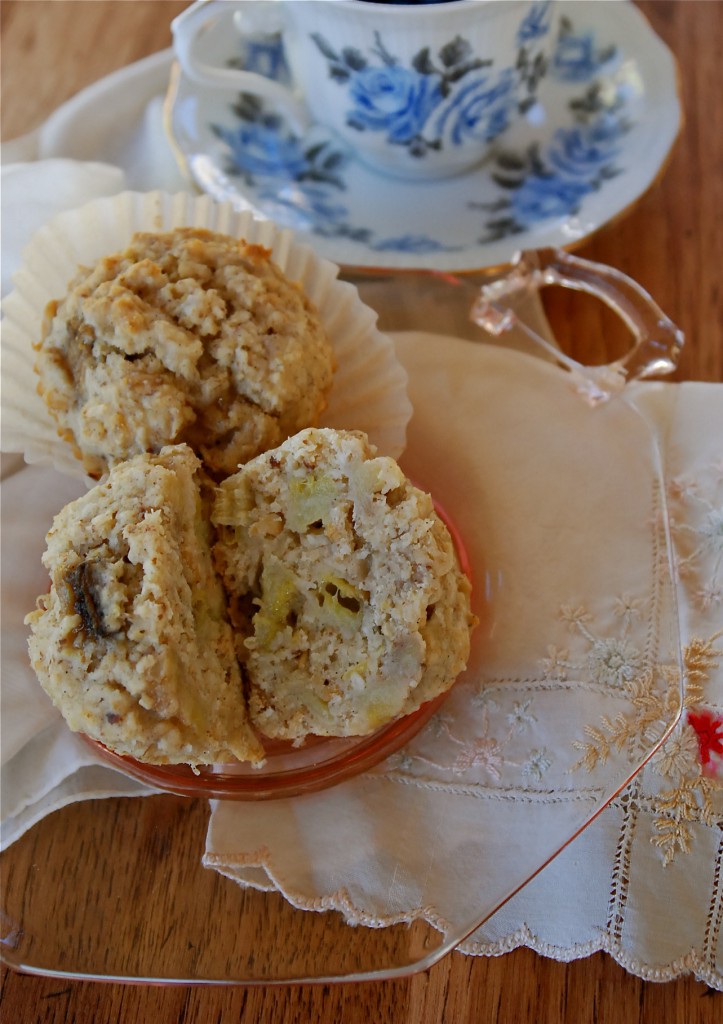 I came across this muffin recipe on The Kitchn and immediately wanted to make it as I've sufficiently restocked on Coconut Oil for a while now, and in glancing over the ingredients I was impressed with the amount of flavor these muffins would have, without dumping a ton of sugar in them. They've got coconut oil! And flaked coconut!! A vanilla bean! Whole oats! Fruit! What's not to love?? The original recipe called for mango, so I selected one from the store and a few days later when it was ripe, I began tossing flour and oats together, melting coconut oil and tenuously scraping down the ONE vanilla bean that I had remaining in my kitchen. Then I cut open the mango, and nearly started crying. It was stringy and bone dry inside. I angrily tossed in in the trash, envisioning a few dollars being dumped there, then glanced around my kitchen, studded with lined muffin pans, full bowls and an oven blinking its readiness. What now??
Thank goodness there lay several bananas in the utmost condition for baking in to a tropical themed muffin.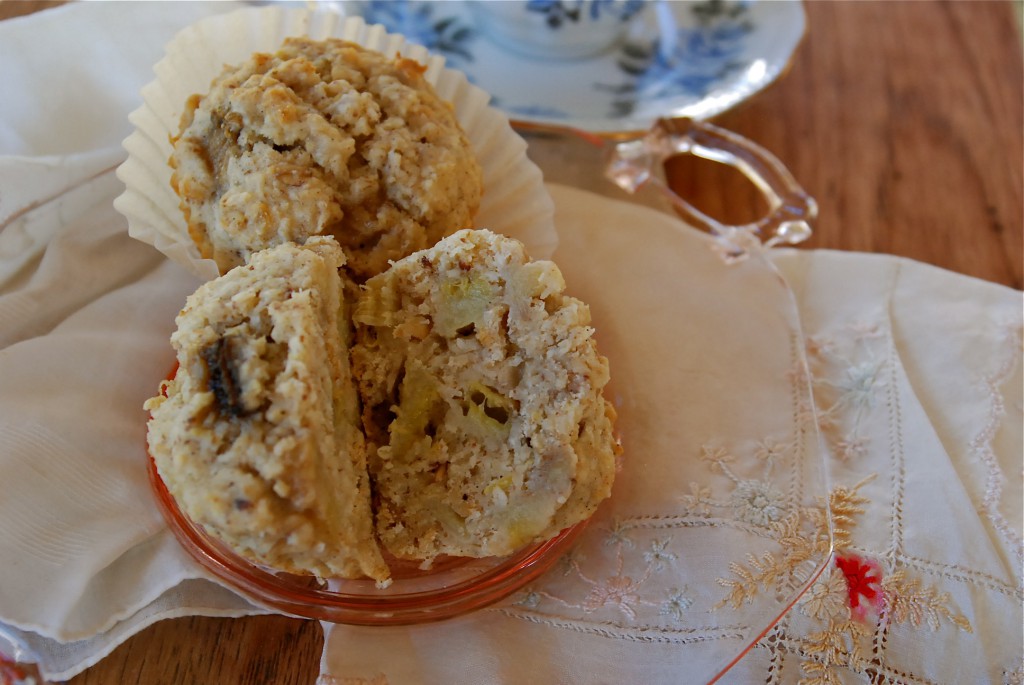 A few deft turns of a sharp knife, and swipes of a rubber spatula to pull it all together and soon I was being treated to the most amazing scent coming from my oven. I know that I should never think that I've ever found the most perfect muffin recipe because there is always something out there to top it. Guaranteed.
These moist and perfect muffins are one of the finest I've eaten. And I've consumed a great deal of muffins. The tender banana chunks in them get sweeter and more intense after a day or two, and the coconut, subtle taste of vanilla and the crunchy oats add oh so much goodness. Although I'm certain that a perfectly ripe and juicy mango would be utterly divine in them, having only a banana to work with was not a step down, by any means. I'd do these again, without one change. They're that good.
Coconut Oat Banana Muffins

1/2 c. virgin coconut oil
3/4 c. wheat flour
3/4 c. oat flour (you can make this by grinding whole oats in a food processor or coffee grinder)
1/2 c. old fashioned whole oats
2 T. ground flaxseed
1-1/2 t. baking powder
1/4 t. kosher salt
1/2 c. unsweetened flake coconut (if you have the wide flakes, the original recipe called for those; I only had fine)
1 c. full fat sour cream, room temperature (I used Noosa Honey flavored yogurt and would do that again, hands down)
1/3 c. granulated sugar
1 large egg, room temperature
1 t. lemon zest
1 T. fresh squeezed lemon juice
1/4 c. milk of choice (I used vanilla almond milk)
1 split vanilla bean
1 c. diced banana (I used two bananas, which came out to be more than 1 cup)
1/4 c. shredded coconut to sprinkle on top of muffins, if desired

NOTE: You DO want the sour cream (or yogurt) and egg at room temp because if you mix those cold with the melted coconut oil, the oil will just seize back up again. Measure the sour cream and egg in a large 4-cup measuring cup, or small bowl and let it sit on the counter for a few hours.

Preheat the oven to 375°. Line two six-cup muffin tins with paper liners.

Split the vanilla bean and scrape the insides, adding it to the sour cream/egg mixture. Heat the coconut oil gently in a microwave safe container (I did about 40-50 seconds on 60% power) and add the vanilla bean shell to it. Allow the oil to cool, but not to the point of being solid again.

In a medium bowl, whisk both flours, the oats, flaxseed, baking powder and salt together. Stir in the half cup of unsweetened flake coconut.

To the sour cream/egg and vanilla bean mixture, add the sugar, milk, lemon zest and juice. Strain the coconut oil through a wire strainer right into the bowl and whisk to combine everything. Mix this with the dry ingredients until about halfway incorporated, then add the banana and fold gently until everything is uniform. Be sure to scrape across the bottom of the bowl with the spatula to get all the dried ingredients.

Scoop into the muffin tins. You can fill them pretty full, but if you don't care to, you may need another tin. I filled 12 cups completely full and still had a bit of batter left in the bowl. Next time, I will make them smaller and use another six-cup tin.

Bake for 20-25 minutes until tops spring back when you touch them, or a toothpick inserted in the center comes out clean. Dare to wait until cool enough to eat; they will smell so enticing that you'll find that to be a challenge.
Original recipe from The Kitchn, here with heavy modifications.