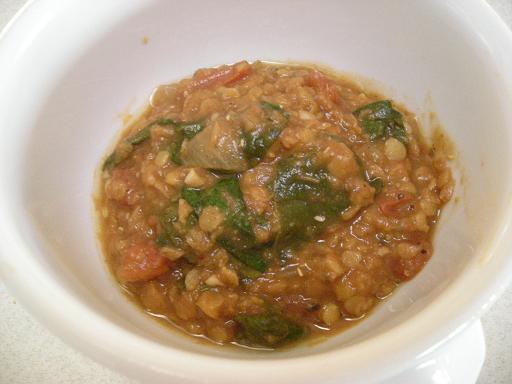 Red Lentil Dhal
makes 6-8 servings
Toasting and grinding your seeds is so worth the effort, and doesn't take long at all. Serve this dhal as a main dish with rice or as a side dish. It is aromatic, rich and delicious.
Ingredients
3 tablespoons peanut oil
1 medium yellow onion
1 tablespoon fresh ginger, grated
4 garlic cloves, minced
1 teaspoon salt
1 cup dried red lentils
2 tablespoon tomato paste
4-5 cups water or veg broth
5 plum tomatoes, chopped
juice of 1 lime
1 cup lightly packed chopped fresh cilantro
Spice blend
2 teaspoon mustard seeds
1 teaspoon fenugreek seeds
1 teaspoon coriander seeds
1 teaspoon cumin seeds
6 whole cloves
4 cardomom pods
2 dried red chilis (seeds removed)
1/4 teaspoon ground cinnamon
Directions
In a saute pan over medium heat, toast the seeds (but not the dried red chili) for about 5 minutes, stirring frequently. Remove from pan and let cool. Transfer to coffee grinder, along with the dried red chili and cinnamon, and grind to a fine powder. Over medium-high heat oil a soup pot, add onions and saute for 5 minutes. Add garlic and ginger and saute 5 more minutes. Add spices and salt, saute 5 minutes more. Add 4 cups of water and stir to deglaze the pot. Add tomato paste and lentils. Bring to a boil then lower the heat a bit and simmer for 20 minutes. Add the tomatoes, lime juice and cilantro and more water if it looks too thick. Simmer 10 more minutes, or until lentils are completely tender.
RECIPE NOTES: Surprise! I didn't vary too much from this original recipe except to add about two cups of shredded spinach to the last 10 minute simmer. I also grated in some lime zest simply because I love how it tastes. It needed no extra water after 30 minutes of simmering, and as it sat and cooled it thickened quite a bit, so if you get an end result that seems thin, don't despair. After a night in the fridge it was thicker still.
I did cook the onions until they were slightly browned and rather soft; I love the flavor they impart with this amount of cooking. Beware when you add the water after cooking the spices and onion mixture- the pan will splatter a lot!
TOAST the spices!! TOAST the spices! TOAST the spices!