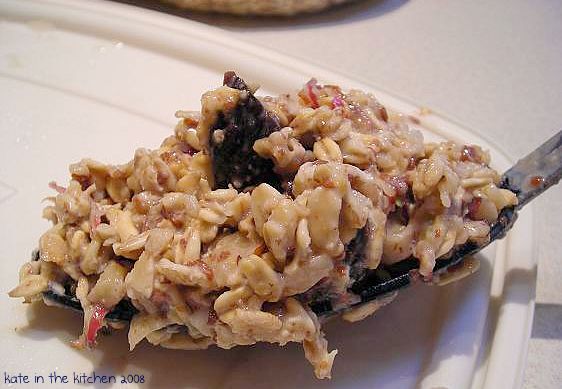 Overnight Apple-Date Muesli
By Robin Asbell, The New Whole Grains Cookbook
1/2 c. slivered almonds
2 medium apples
1 1/2 c. nut milk, or other milk
2 T. maple syrup
1 1/2 c. thick rolled oats
1/4 c. soy protein powder (optional)
1/2 c. pitted dates
Preheat oven to 325 and spread almonds on a baking pan. Bake for 10 minutes or until golden. Let cool.
Get out a large storage tub or bowl with a lid. Quarter the apples and core, then shred right into the bowl, skin and all. Add remaining ingredients, including almonds, and stir well to combine. Cover tightly and place in refrigerator overnight.
In the morning, stir thoroughly. Spoon desired amount into individual bowls and serve cold, or warm in the microwave for up to 2 minutes per bowl.
KATE'S NOTES:
I tried this the first time with the protein powder and decided I didn't care for it, but that's just me. I always, always, always add in about 2-3 tablespoons of ground flaxseed to this, regardless. I double it and we enjoy it for several days. It will get softer and a bit less flavorful the longer it sits, but if you're like us, it rarely lasts that long.
I am not a fan of dates but I. Love. Figs. so I chop those up into it instead. The variations on this, like I said, are infinite. Use raisins, currants, dried cherries, craisins, dried apricots or any type of dried fruit you like in any combination; vary the apple flavor by going tart or sweet; add in a multitude of nuts, use other cereal flakes, like barley. Skip the maple syrup or use an alternative, like raw or maple sugar sprinkled over the top before you eat it. Give it your own fingerprint and I'm sure it will also become a favorite for you.