Yesterday was a wonderful day all around. The weather broke above zero for the first time all week- and actually made it to +22 degrees!!- and my guys took over the kitchen to make tasty treats and an amazing dinner.
First Mike made Chili Lime baked tortilla chips, a recipe he found in the current Eating Well magazine. It's simple to prepare which is exactly what he likes.
Mix the juice of half a lime with 1/2 t. chili powder.  Spray tortillas with oil on both sides, then brush tortillas on one side with the chili-lime mix.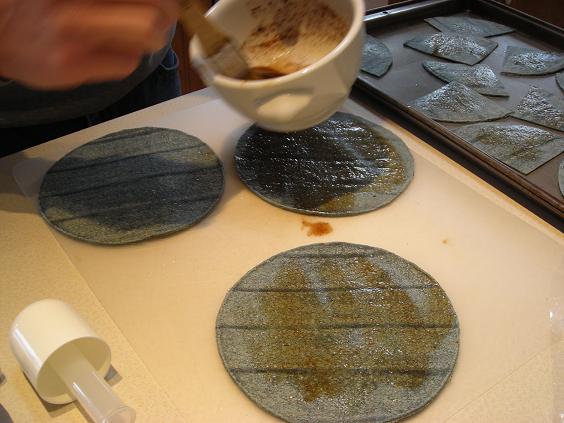 Cut tortillas into wedges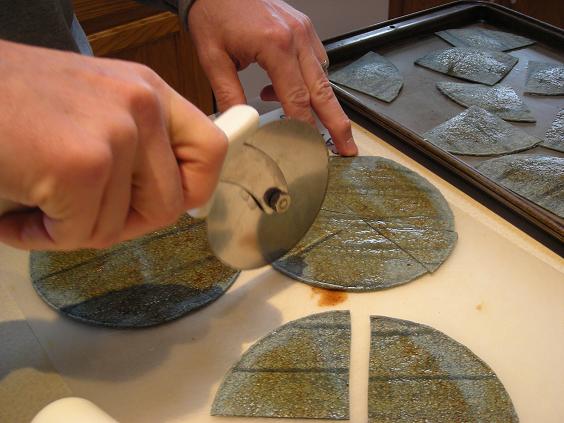 Place on cookie sheet and sprinkle with sea salt. Bake them until crispy at 375 degrees. Then enjoy them any way you want. We had fresh guacamole on hand from our Friday Night Nachos.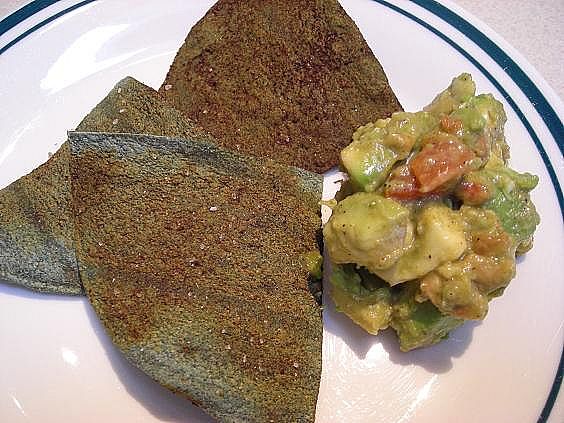 These are blue corn tortillas we had on hand. Use any soft tortilla type you wish. They are not burnt, as Griffin observed; that's the chili-lime mix coloring the chip brown. They were fresh, crispy and just tart enough from the lime.
And for dinner, Griffin wanted his favorite Chicken Enchiladas. He's made this dish for us before so I settled down in the kitchen to observe and direct. I really didn't need to do much more. This guy is  a chip off the block, I'll tell you!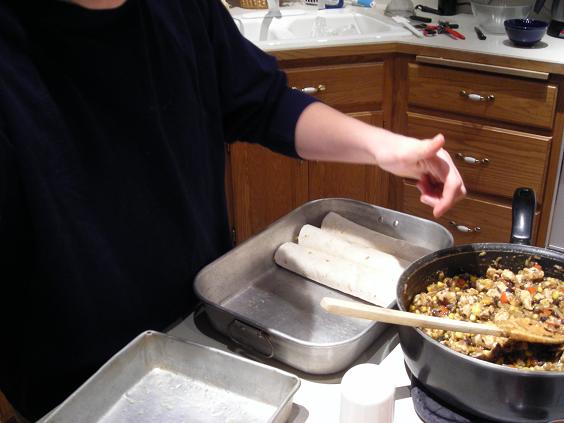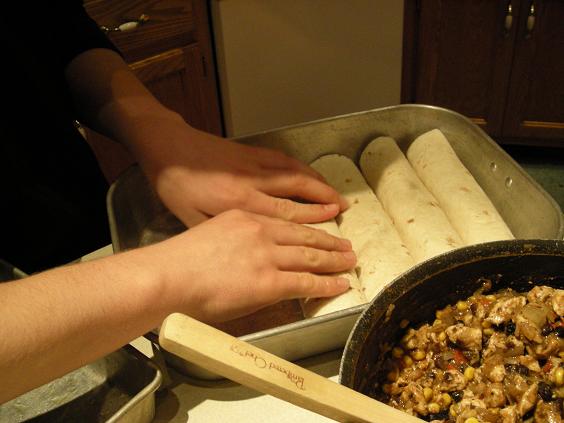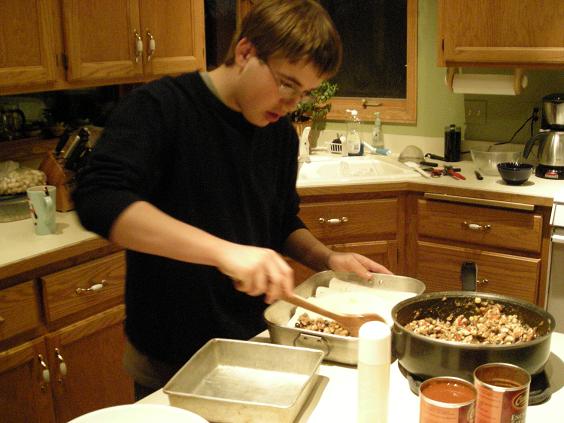 Enchiladas don't really photograph that well, especially in winter light so there's no finished product picture to show you. They were stellar, however. And Griffin was really proud of the effort and the result. We were too. I've been trying to get him to take over cooking more often. I guess I just need to motivate him with the right meals.
Here's how we make enchiladas:
1 pkg boneless chicken breasts, diced (or of choice)
1 red pepper, seeded and diced
1 medium onion, diced
2-3 garlic cloves, minced
1 15-oz can drained and rinsed black beans
1 15-oz can hominy, drained (0r about 2/3 c. frozen corn kernels)
2 15-oz cans enchilada sauce of choice- we use Carlita brand
Shredded cheese
Flour tortillas
Saute onion and pepper in skillet until soft, add garlic and cook, stirring for about a minute. Remove to bowl and stir in hominy. Add chicken to pan and cook, stirring, until pink is gone, about 3-5 minutes. Add vegetables back to pan and half of one of the cans of sauce, stir to mix all together. Cook for about 5 minutes.
Spray a 9×13 pan with cooking spray. Lay one tortilla in pan and scoop about 3/4 c. of filling into center. Top with a sprinkle of shredded cheese. Roll up so seam side is down. Repeat until pan is full- ours hold six, and we use an 8×8 pan to hold three more. That's about the extent of our filling. Pour enchilada sauce over top and cover with cheese.
Bake at 400 degrees for about 15 minutes or until cheese is melted and sauce bubbly.
KATE'S NOTES:
I added a shredded zucchini to the vegetable mix once it was added back to the pan with the chicken.  This recipe is fine meat-less as well, and the vegetables can be substituted with others if you wish. I have also done this recipe with just beans, brown rice and vegetables with excellent results.