I am one of those cooks who use recipes only as a fundamental guideline to a finished product. I can trust my own cooking skills enough, and what I know about how my family eats, to be confident when I look at a recipe in determining what ingredients in it won't work, or what needs to be enhanced. Even simple basic products can be made better with a little creativity and an eye towards a higher nutritional value.
Take a jar of spaghetti sauce. It's high on the convenience scale, and has a reasonable amount of nutritional value, provided you avoid the sugar-laden brands and stick with a purer variety. With the addition of sauteed onion and garlic, along with shredded zucchini, carrot and spinach, a few chopped fresh roma tomatoes, some fresh basil or rosemary and a little tomato paste to bring it all together, you get a pasta sauce brimming with vegeteble content, better flavor and more nutrition.
I often come across recipes too, that when I do follow them to the letter and get that anticipatory excitement of what the finished product will be, I often end up sorely disappointed, especially if I ignore my inner urgings to add something of my own liking. It is a rare occurence indeed when I work through a recipe and come to a conclusion,  after following the prescribed steps, that what I see in front of me might be way better than what the original end result offered. That was the case with this Savory Millet Risotto.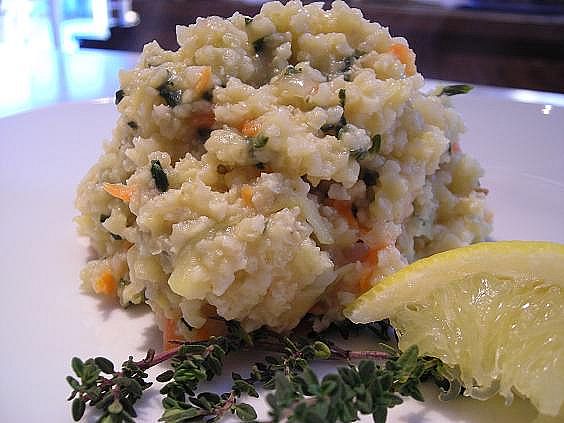 The recipe, from the current issue of Eating Well magazine, was supposed to be for a Millet Cake, similar in structure and use to Polenta. Even though I have given up on using Polenta in any of my meals after repeated attempts to enjoy it always fell flat, I earmarked this recipe as an option. The millet cooks with shredded vegetables, parmesan cheese, fresh thyme and lemon zest to a creamy consistency, at which point it would be cooled, then shaped into patties to sear in a pan. It never made it that far.
This is Millet, a tiny delicate cereal grain that is widely consumed in India, as well as South America, China and Russia. It's protein content is similar to wheat, but it's gluten-free and has B vitamins, fiber and trace minerals like magnesium and copper. Although the USA uses millet primarily in bird seed, this nutritional whole grain deserves more respect than being tossed on the grass for the avian population. It's a nutty, crunchy alternative ingredient for pilafs, bread baking and salads, cooking quickly with little fuss.
That it turned out to be so similar to Risotto was, at least I think, rather serendipitous. I love Risotto, and have made it and blogged about it no less than four times in various forms. I love it's versatility, and the fact that Griffin will consume it without question even when it has no meat in it, loading it with vegetables that barely even register with him. What it's not is a quick dinner fix; I can make it without the constant stirring and you'd never be the wiser, but it requires planning and time. This version, with quick cooking millet, required roughly half the time to cook, and only needed continual attention in the last 5 minutes or so to prevent the mixture from sticking to the pan.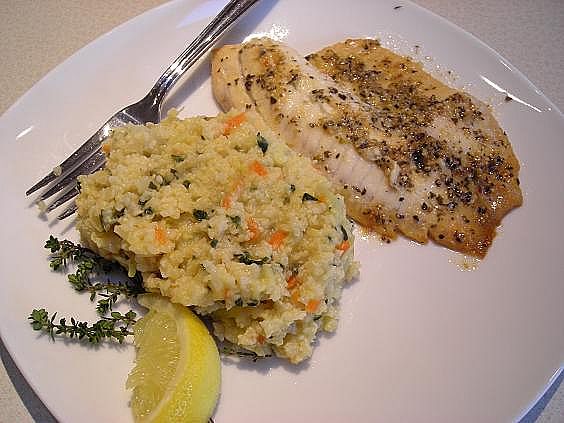 Paired with a quickly seared tilapia fillet, this was a light and flavorful meal, yet warmly satisfying. The millet risotto was airy and less heavy than it's arborio counterpart, but equally as satisfying, fresh with lemony tang and the flavor of parmesan. I think, in a future format- because it most certainly will be repeated in our kitchen- more vegetable content is required.
And, because I was fraught with curiosity about the cake version, the real end result of the recipe, the next day I did take the remains of the mixture and shape it into two patties, searing them in a hot skillet until they were nicely browned, and a perfect bed for sauteed spinach with tomato and bacon. It was, not surprisingly, a superbly satisfactory breakfast.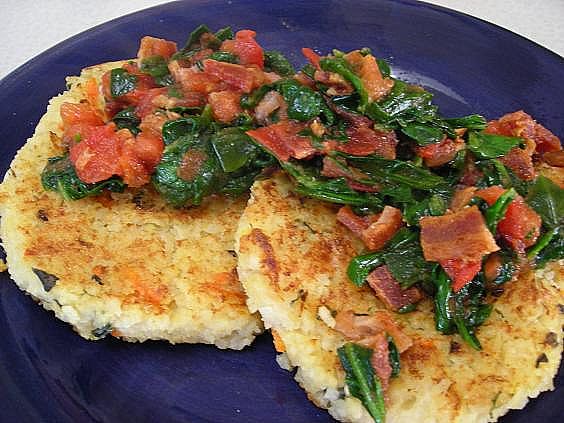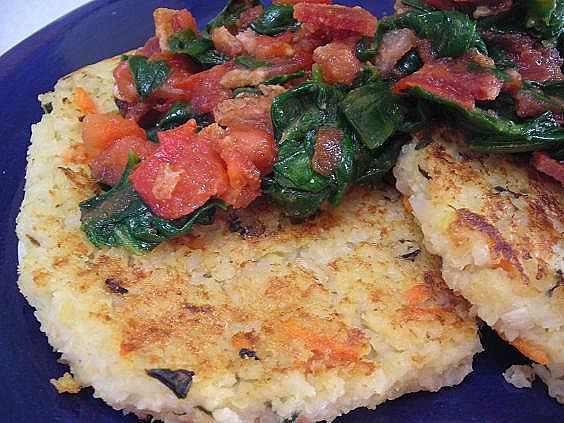 Savory Millet Risotto (and Cakes!)
original version from Eating Well magazine,  March/April 2009
Kate's Note- I've separated out the process of making the cakes, as I found that the mixture was much easier to work with the next day after a full night to chill. A chief complaint of this recipe on the EW website was that it was too crumbly to form good patties and fell apart easily. They were delicate the next day, but with gentle hands, they held together nicely.
1 tablespoon extra-virgin olive oil
1 small onion, or two shallots, finely chopped
1 cup millet
2 cloves garlic, minced
3 1/2 cups water
1/2 teaspoon coarse salt
1 small zucchini, peeled and shredded
1 medium carrot, peeled and shredded
1/2 c. finely shredded spinach (Kate's addition)
1/3 cup grated Parmesan cheese
1 1/2 teaspoons minced fresh thyme or 1/2 teaspoon dried
1 teaspoon freshly grated lemon zest plus 1 T. fresh lemon juice
1/4 teaspoon freshly ground pepper
1. Heat 1 tablespoon oil in a large saucepan over medium-low heat. Add onion and cook, stirring, until softened, 2 to 4 minutes. Stir in millet and garlic and cook, stirring, until fragrant, about 30 seconds. Add water and salt and bring to a boil over medium heat. Reduce heat to low, cover and cook, stirring once or twice, for 10 minutes. Stir in zucchini, carrot, spinach, Parmesan, thyme, lemon juice and  zest and pepper. Cook, uncovered, maintaining a simmer and stirring often to keep the millet from sticking, until the mixture is soft, very thick and the liquid has been absorbed, about 10-15 minutes more. In the last 5 minutes or so, lift and fold the mixture regularly. (I used a heat-resistant rubber spatula so as not to bruise the grains too much)
Remove from the heat and let stand, covered, for 10 minutes. Serve garnished with more cheese and a few thyme sprigs.
For Making into Cakes:
Uncover and let stand until room temperature, then chill overnight.
With dampened hands, shape the millet mixture into 12 cakes or patties, 3-inch diameter (a scant 1/3 cup each).  Coat a large nonstick skillet with cooking spray and heat over medium heat. Add 4 millet cakes and cook until the bottoms are browned, 3 to 5 minutes. Carefully turn the cakes with a wide spatula and cook until the other side is browned, 3 to 5 minutes more. Coat the pan with cooking spray again and cook the remaining cakes in batches, reducing the heat if necessary to prevent burning.