Summer kind of smacked us around this past week in Minnesota. We're a state that lives for Summer, for beach time and hours spent outdoors engaging in just about any activity that means we escape our houses and enjoy the weather, but then there are those Summer days that are so hot, so thickly humid and uncomfortable that we have no choice but to stay home, avoid the triple digits outdoors and attempt to entertain ourselves while the sun tries to burn holes in our roof.
I've experienced some hot Summers in my lifetime; 1988 was a blistering hot Summer that saw temperature records fall by the score, knocking out ones that had stood the test of time since the 1930's. I was living in a third floor walk-up apartment with no A/C and I've never been so miserable in my life. One evening in July, as I sat out on the stoop with other exhausted and over-heated residents of our building, the night air at 10:30 was still hovering around 105°. Trying to sleep was impossible. At 3:30 that morning, I finally gave up and turned on the radio, only to hear that the current temperature was 88°. During that particular Summer, we saw a stretch of weather where the temperature did not fall below 85° for more than a week. At that point in time, central air-conditioning was still a novelty.
I don't recall much about what I ate during that sweltering Summer, and having this cool, crunchy and fresh salad around might have made those awful days a bit more tolerable, but at that point in my life, my culinary exploits were just about non-existent. Thankfully, for our current heat wave, and after a quick and sweaty trip through the Farmers Market, we were stocked to the hilt with fresh greens and lettuces and crisp vegetables, making this dish a mainstay of those sticky days blessedly spent inside our comfortable, fully air-conditioned house.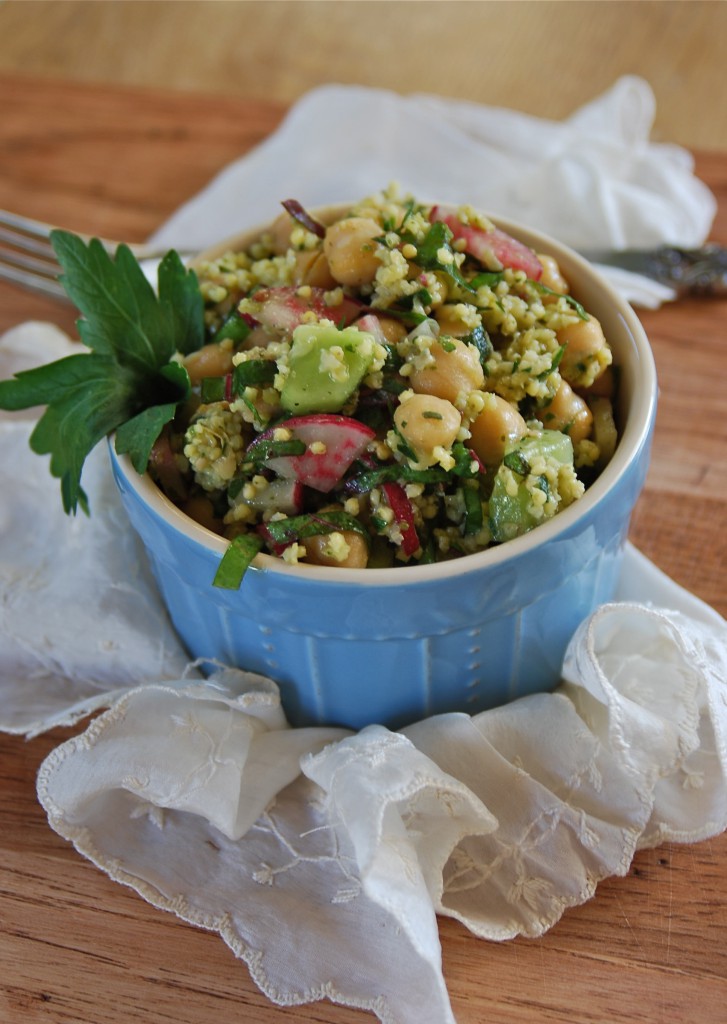 Not familiar with millet? Most of us in the USA see it only in birdseed, and that's a sad fate for us humans, but terrific for the birds. Millet is widely cultivated  in the form of pearl millet in India and parts of Africa, and is popular there due to it's high productivity and and short growing season. In the USA, the most widely cultivated form of millet is proso millet, grown and used as birdseed. Millet is an ancient grain, known for being the least allergenic and most digestible of the gluten-free ancient grains that are becoming more popular. Millet is high in fiber and all the B vitamins, iron, calcium and zinc. It cooks in less time than quinoa and has a pleasantly sweet and nutty flavor.
This salad, born of desperation and some choice nightmares over stressful memories of past sticky summers, made our stretch of housebound days feel a bit easier. Even in the cool comfort of home, with the heat and humidity kept at bay by closed shades, eating becomes almost an afterthought. There's no comfort in foods that are heavy or rich; no desire for flame or heat, and when the mood strikes to eat something, it's good to just reach in the refrigerator and pull out a bowl of summertime goodness. The crunch and snap of fresh vegetables, the headiness of herbs cut straight from the garden outside your door and a blind eye turned from the weather forecast was welcome relief as the calendar page turned to July.
This salad is endlessly versatile, and if Millet isn't available, you can use just about any small grain you wish. With the wide variety of fresh vegetables in season, as well as delicious greens, putting your own personal thumbprint on this salad is a cinch. I loved the addition of the radish greens to the salad, offering their unique peppery bite, but if you use them, seek out organic radishes to insure that the greens aren't laden with pesticide residue. And as always, with time in the refrigerator, this salad takes on a lot more flavor.
Now we're all set for the next heat wave. Let's just hope it's not too soon.
Millet & Chickpea Salad

1/2 c. raw millet
1 15-oz can chickpeas, drained and rinsed
1 small cucumber, peeled and diced (remove the seeds if desired)
1 small bunch radishes and their greens, washed and sliced
1 c. fresh chopped herbs such as basil, oregano, thyme and parsley
1/4 c. good quality olive oil
2 T. white or red wine vinegar
Sea salt and fresh cracked pepper to taste

In a small saucepan, bring 1-1/2 cups of water to a boil. Rinse millet in a wire mesh strainer until the water runs clear. Add millet to boiling water with a generous pinch of salt. Bring to a boil, reduce the heat and simmer for about 10 minutes. Test the grains. They should still be firm, with a bit of softness, like rice. All the water might not be absorbed either. If tender, remove from heat and drain remaining water. Spread cooked millet on a parchment lined baking sheet to cool.

In a large bowl, combine the cooled millet, chickpeas, cucumber, and radish, greens included. Whisk the oil and vinegar together in a small measuring cup, season with salt and pepper. Pour over vegetables and toss to coat. Taste and season with more salt and pepper, if you wish. Add half the herbs, toss together. Chill for about an hour. Taste before serving, adding more seasoning and herbs to boost flavor.