For anyone holding the September issue of Gourmet magazine, you've no doubt been taken in by the Vegetables A to Z index, and maybe like me you've been drooling over the rich bounty of recipes to help you with the expected garden delights that you'll have at your disposal in the weeks ahead. I love the idea of sweeping through the end of the gardening season in grand fashion, drawing the curtains on Summer and ushering in the glory of Fall, cool weather cooking and warm hearty dishes. Our summer hasn't been all that hot, really, and I've toyed with the desire to make a steaming pot of soup last month to ward off some cool evenings. Now September has come, and it won't feel so odd to consider soups, a good stew or an afternoon of baking. It's a September sort of thing.
And along with the alphabet offerings in the magazine are menu options composed entirely of one letter. Being somewhat of the orderly sort, I first drooled over the 'C' menu with it's Cold Cucumber and Cubanelle Soup with Cashews and Chives, the Caramelized Chipotle Chicken, and this delight, Cheesy Creamed Corn with Cilantro.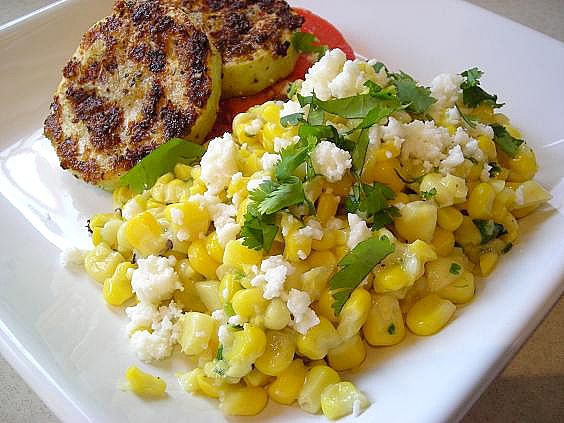 Corn season has begun in earnest here in Minnesota, and trucks at the markets are overloaded with cobs. It's not at all unlikely that when I hand my bag to the kindly people behind the tables that they dole out an extra ear here and there just to whittle down the mass behind them. I'm happy to relieve them of their bounty as sweet corn is a fleeting season, and an even more fleeting taste. It's best still rich and moist with the morning dew, it's silk wet and sticky and the shucks thick and damp. Peel it down, cook it any way you wish, but for me, an ear slathered with real butter and sprinkled liberally with salt is the finest means to chomp through my haul. However, this recipe is really delightful as well.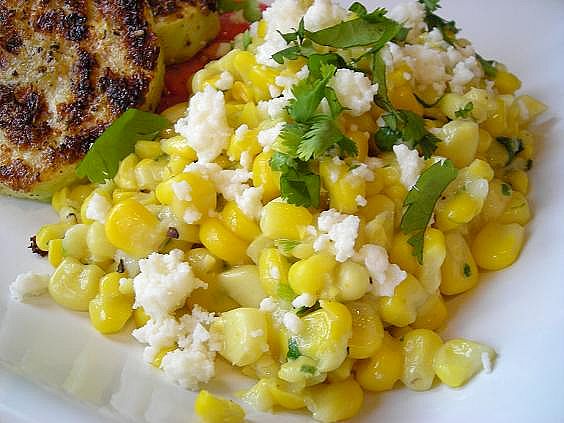 The corn is stripped from the cobs prior to cooking, then sauteed in a skillet with green onion and garlic, mixed with a little milk and cornstarch and topped with cilantro and a crumbling of queso fresco cheese. It's pretty simple, and a cinch to pull together. The corn taste is out of this world delicious, a tiny hint of of onion kissing every bite and the rich creaminess beats anything that could come out of a can. I served it with my favorite Parmesan Grilled Zucchini and a fresh garden tomato for a light, simple and quintessential summer dinner.
Cheesy Creamed Corn with Cilantro
from Gourmet magazine, September 2009
3 T. unsalted butter
6 scallions, minced
6 ears corn, kernels cut from cobs (before cooking)
2/3 c. cream or milk (I used plain soy milk)
2 t. cornstarch
1 garlic clove, minced
2 oz queso fresco, crumbled
1/2 c. cilantro leaves
Heat butter in a wide and deep skillet and add corn. Stir to coat and cook, stirring occasionally until it's bright yellow, about 5 minutes. Add in onions and garlic, stir well and cook for about 3-5 minutes more. Whisk milk and cornstarch together and pour into pan, stirring to combine well. Allow to simmer for about 2-3 minutes, then serve corn topped with cheese and cilantro.