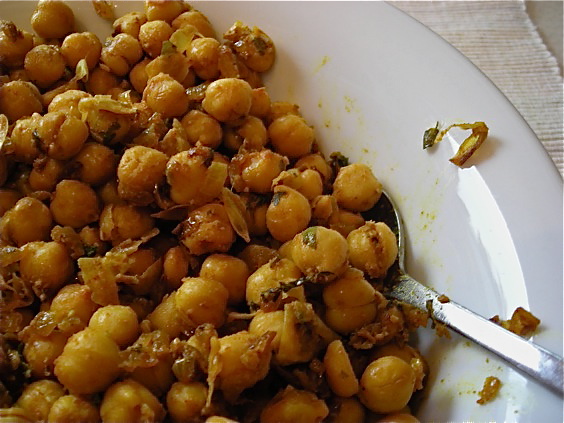 The flavors of a good curry will always be an experience that I seek fervently. I've learned as I've gotten older that more complex flavors in my mouth are highly desirable, and even a basic curry recipe can be so loaded with ample taste that it's like fireworks on the tongue. A really good curry, as I have gathered from reading through some of my Indian cookbooks, is a process; it takes time to develop and gets better as it sits. In fact, Julie Sahni's 'Classic Indian Cookbook' is full of recipes that simmer and bubble slowly over hours, and then goes on to say something to the extent of "Cover your pot and allow to sit for two hours or more, preferably overnight to create a deeper flavor."Whoa now.
My love for a good curry dish is too high, too frenetic and too enthusiastic to consider making something such as Julie's amazing dishes, then forcing myself, with a household of warming spices permeating every surface, to put aside the final product and WAIT to eat it. I may have patience for many things in life, such as a good loaf of bread, Spring to follow Winter and the ending of a long and complicated novel, but curry indulgence is not something I can set in the fridge, ignore and go about my business. When that baby is done and ready, I want to dig in. I want to indulge, feel the play in my mouth and the warmth filling every corner of my stomach and soul. Maybe in another life I was born to a land of coriander and ginger, soothed with the brightness of turmeric and weaned on cumin. How else would I have such a cuisine so infused in my blood? I'm a white girl with blue eyes, but place the aromatic Indian spices in front of me and I turn golden like a cheetah, speeding to pounce in delight on my meal.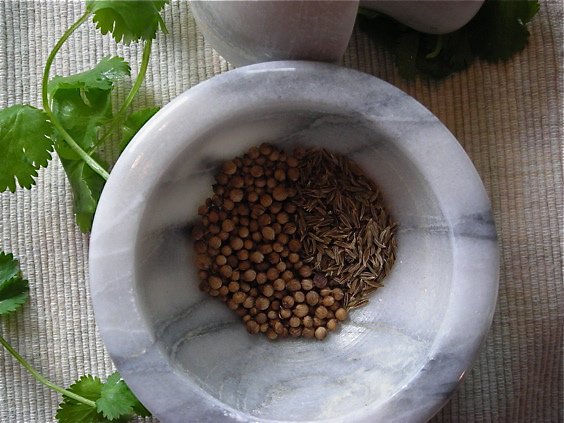 A quick fix is always a good thing among the tried and true, slow creations hidden in the pages of any Indian cookbook. This recipe for highly pungent -and fast cooked- Curried Chickpeas has the warm spices of those stalwarts without the long waiting period. Now I could have used dried chickpeas for a slight flavor edge but in a pinch, for this eager mouth to devour, the canned are a perfect choice. It was barely 15 minutes from start to finish, and a steaming aromatic bowl of tiny, golden infused orbs sat on my counter. One bite and they 'POW'd and 'ZING'd their way to every one of my taste buds, delighting me and easing the need for some kind of spicy fury on my fork. Not overwhelming, and certainly not one to make my eyebrows sweat -a sure sign of potent heat- but again with the subtle means of infusing curry to the deepest layer of my skin. And fast. With a deep breath of relief, I was soothed once again.
Curried Chickpeas
From The Los Angeles Times, 10/21/09
1 medium onion, diced
1 t. turmeric
1 t. coriander seed
1 t. cumin seed
1/2 t. cayenne pepper
2 15-oz cans chickpeas, drained and rinsed
2 T. chopped cilantro (more to taste)
1 T. each fresh squeezed lemon juice and zest (lime would work fine, in fact I think it might be better)
With a mortar and pestle, or a spice grinder, crush the coriander and cumin seed into coarse powder.
In a saute pan, heat oil of choice and add onions over medium-high heat. Saute onion until deep golden brown and crispy, about 8-10 minutes, stirring frequently. Add the turmeric, coriander, cumin and cayenne. Cook, stirring frequently until aromatic and toasted, about 2-3 minutes. Stir in the chickpeas, cilantro and lemon juice. Cook, stirring occasionally for about 10 minutes to allow the flavors to develop. Remove from heat and taste. Season with salt if desired. Allow to cool, transfer to a container and chill prior to serving. Adjust lemon juice and seasoning if you wish.
KATE'S NOTES:
I like the fresh flavors of using whole coriander and cumin seed in recipes. If you don't keep a mortar and pestle, or spice grinder on hand, use pre-ground spices in the same quantity.