No fruitcake jokes. None. This is NOT anyone's nightmare of a fruitcake, the hefty, dense and vastly feared offering that comes around this time of year. No sir. This is what something labeled 'Fruit Cake' should really be.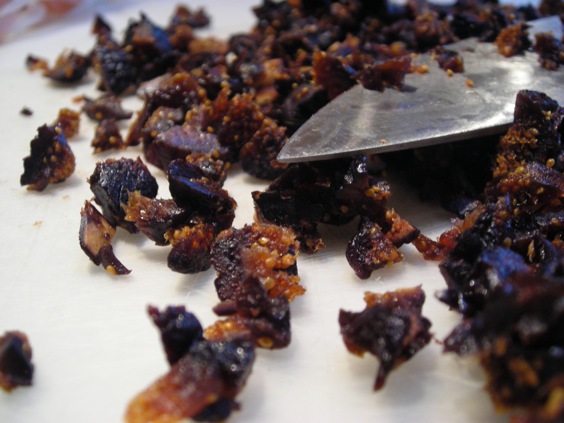 Of course, with me, if I see anything with figs in it, I'm suddenly propelled to make it. I adore figs. Fresh from the pack and popped in my mouth, crunchy seeds and chewy pulp and I am a very happy girl. Me and figs are tight.
But there was something else about this recipe that touched a distant spot in me, something so long ago that I can't even begin to place it. This cake, an authentic and traditional Swedish Christmas offering, spoke to me from my past, in a whisper so quiet and unassuming that I barely heard it until the required fruit mixture of raisins, dried apricots and figs was marinating in it's liquid bath on my counter, and I popped open the lid to stir it around. Has that ever happened to you? A scent stirs in you a touch of something from the dark recess of memory that springs back to life and yet you can't understand it's origin. But somehow, you just know you loved it at one point when you were small and trusting, and you'll love it all over again, as an big grown up adult. We're built like that, you know. Aroma is so powerful, and your nose can carry you backwards like no other part of your body, leading your mind to a precious but forgotten memory. I love when it happens. That's why I bake. For the smells.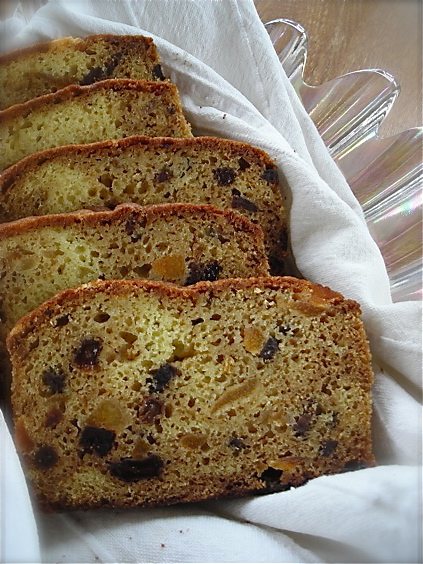 But it's also for a plate of this, a moist and densely loaded sliced cake that is buttery, sort of spicy and altogether flavored much like a cascade of tastes that tumble across your mouth as you nibble. The macerated fruit is chewy and tender. A slice jogs that memory and I wish I could place where it started but all I know is I've got it now, it's on a page and I don't have to be without it again. How wonderful it was to find such a taste that I never even knew I had missed. It tastes a bit like a late afternoon in winter, where the amethyst twilight shares itself with a cup of steaming tea. With lingering aromas of something glorious from the oven, and enchanting like a first snowfall.
It was even enchanting to Harmon.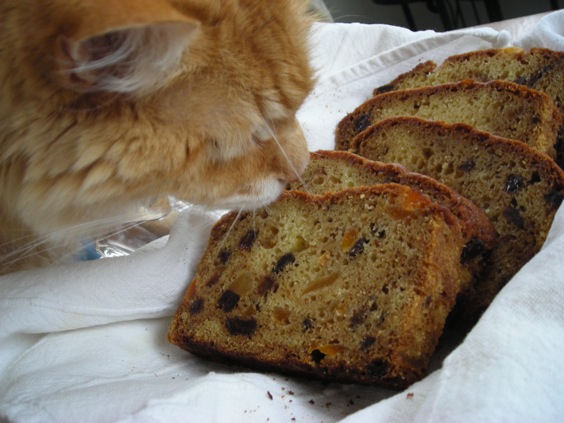 But then again, we've known for a long time that he's pretty much made out of sugar and spice.
Fruktkaka
From the December 2009 issue of Saveur magazine
4 oz. each dried figs, apricots and raisins- fine chop figs and apricots
1/2 c. dark rum
1 T. orange zest
1-1/2 t. lemon zest
12 T. unsalted butter, softened
1-3/4 c. AP flour
1 t. baking soda
1 c. superfine sugar
4 eggs
Combine figs, apricots, raisins and both fruit zest with rum and stir to combine. Cover and allow to sit at room temperature for up to 4 hours, and as long as overnight. Stir the mixture on occasion.
Heat oven to 350°. Grease the bottom and sides of a standard loaf pan and dust with flour. Tap out excess and set aside.
Whisk flour and baking soda in a measuring cup and set aside. Combine the sugar and butter in the bowl of a stand mixer, and blend on medium speed until pale and fluffy, about 3-4 minutes. Scrape the bowl a few times to make sure it's uniform. Add the eggs one at a time and blend thoroughly after each one. Add the fruit, then the flour mixture and blend until fully combined. Scrape the batter into the prepared pan, smooth the top and bake for 40-45 minutes, or until a toothpick inserted into the middle of the loaf comes out clean. Unmold cake after 15-20 minutes, then cool completely on a wire rack before slicing.
KATE'S NOTES:
I chose to macerate the fruit in apple cider, as opposed to the suggested rum. I'm not a huge fan of rum due to an excess of cheap drinks in college, and I found apple cider to be an appropriate and worthy substitute. Being that I somehow KNEW I was going to love this recipe, I doubled the batch, but the doubled fruit amount was excessive. I did not add it all to the cake or there would have been little 'cake' and way too much fruit. The extra fruit compote is perfect on oatmeal, spooned over yogurt or simply enjoyed with a spoon. Warm it up and it becomes even more sublime.