Winter weekends sure can be a mixed blessing. You've got an entire day spread out in front of  you with endless possibilities; time on your hands and hours to make just the way you want, and yet, if you're like those of us in Minnesota, you often wake on those long days to crackling cold air and sunshine thats full of promise but delivers nothing in warmth.
Those are the days that just require waffles.
There's something about a crisp and aromatic waffle that deems it a culinary perfection for a chilly winter morning. A morning that you know needs to lead to a productive day. A morning where the coffee pot seems to be endlessly working, where your pajamas are often more desirable than a pair of blue jeans, mornings such as one that finds you casually sipping your brew, and noticing that the bright sunshine has highlighted your neglect of the vacuum cleaner, the dustmop and a Swiffer cloth or two.
I'm sure others can relate, right?
I grew up with Sunday morning waffles. It was eagerly anticipated to come down the stairs to the pungent scent of the percolator on the stove as it bubbled away, competing with the creaky old waffle iron, hissing emphatically, cranking out perfect rectangles of golden hued delectable treats. I do love pancakes, especially ones that stray off the beaten track of breakfast food; pancakes with shredded apples and yogurt in them, bananas and pecans in a whole wheat pancake, chocolate chip flecked ovals cooked to soft perfection and then topped with summer cherry sauce. Pancakes even spread with peanut butter and eaten out of hand. Oh, do we know about pancakes in this house, yes we do. But waffles, why there is really no other means needed to enjoy them other than good butter and syrup, because the waffle, in all it's dented glory is the perfect palate to top with a few slices of cold butter and then drizzle warm maple syrup over to run through tunnels, cubes and edges to dress them in sweet buttery delight. Those edges crunch, the syrup absorbs and the bites come together in the mouth, a marriage to linger over, knife and fork in hand, coffee to the side. I'll eat pancakes for dinner, and often we do, but waffles are strictly breakfast, and best on the weekends when their sturdy personality buoys you up for the long day ahead.
And who wouldn't love the crunchy and wholesome addition of some cornmeal to the waffle?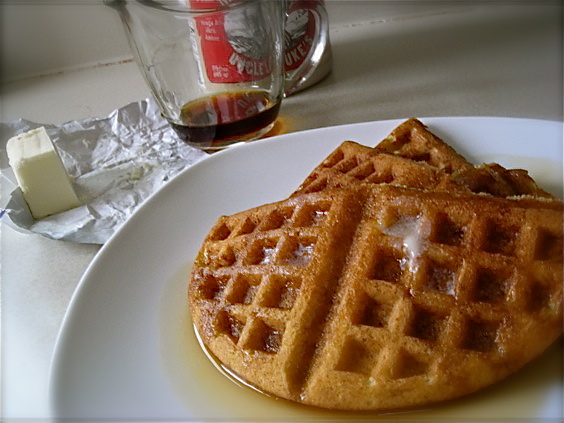 I've made cornmeal studded pancakes before, and really, they're pretty good and all, but there's something about the added crunch of cornmeal on batter placed in the waffle iron that just sort of gets me right there. I don't know how to describe it any more than that. And when I came across the recipe for these crunchy beauties on Kristin's lovely blog, somehow I knew I would adore them like a treasured memory so I put together a double batch. People, I made waffles for hours, it seems. Hours. Did I care? Oh no, not at all. You see, after I made the first one and dressed it appropriately, I consumed it with gusto. My tummy, loving the introduction of it, politely asked for another. And I complied. The batter seemed endless, but I stockpiled waffles for the next few days and two packs to go into the freezer. We are happily away in waffle ecstasy. Don't bother to look for us, ok? We'll be fine, really and I will come back when they're gone and do it all over again.
Oh yeah, and after I ate that delicious breakfast, it spurred me on to clean my house from top to bottom and boy, did it look nice in the dazzling but cold winter sunshine then. All thanks to a perfect little cornmeal waffle.
Buttermilk Cornmeal Waffles
(from Kristin at The Kitchen Sink Recipes, slightly adapted from Gourmet magazine)
1 cup sifted all-purpose flour (sift before measuring)
1 cup yellow cornmeal, preferably stoneground
2 teaspoons baking powder
1 teaspoon baking soda
1/4 teaspoon salt
3 large eggs
2 cups well-shaken buttermilk
6 tablespoons vegetable oil plus additional oil for brushing waffle iron
Into a large bowl sift together flour, cornmeal, baking powder, baking soda, and salt. Repeat sifting 2 more times.
In another large bowl whisk together eggs, buttermilk, and oil. Add flour mixture all at once and whisk just until combined.
Preheat a waffle iron and preheat oven to 200 °F.
Brush waffle iron lightly with additional oil. Spoon batter into waffle iron, using 1/4 cup batter for each 4-inch-square standard waffle and spreading batter evenly, and cook according to manufacturer's instructions. Transfer waffle to a baking sheet and keep warm, uncovered, in middle of oven. Make more waffles with remaining batter in same manner, brushing waffle iron with more oil before adding each batch.
Serve waffles with syrup.