When making something like Pumpkin Pancakes, after a long day in which I awoke at 5:15am and couldn't get back to sleep, and a rough but magical, much needed visit to the chiropractor that left me limp and relieved, trying to explain these pancakes to a teenager with a selective hearing problem might result in necessary culinary shorthand. Like saying 'Pumpcakes'. It felt a little like baby talk, but it made The Teen smile and giggle just a little and when you're the mother of a big boy on the verge of 16, making him giggle, regardless of how it's extracted, is pretty heart-warming. Especially when he sort of coos "Aww. That's kinda cute." Shhh. You didn't hear that from me, ok?
And also, on the tail end of a two-day snowfall that blanketed us with about 10 more inches that had to be put somewhere- like on top of and over the 4-foot plus piles around our slowly disappearing house- these Pumpcakes were awfully darn heart-warming all on their own.
Anyone want to take bets on whether this pile will still exist in July?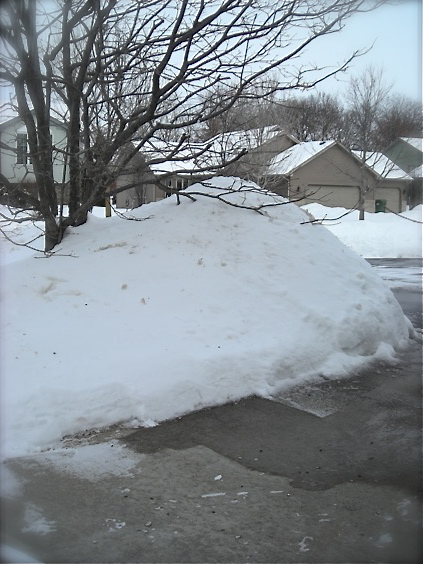 Pumpkin pancakes have never crossed our griddle, although I've seen them all over the 'net; perfect dark rusty rounds of batter, thick and substantial. I always thought they looked pretty good. I love pumpkin bread, and muffins and scones and just about any baked good made better with the flesh of a gourd, but pancakes? It was time for me to explore. Plus, I was thoroughly out of inspiration for anything else and the little hand on the clock was rapidly approaching the 5:00 hour. I punted, did a quick Google and came up with this recipe.  Now, does it say something that this was the only recipe out of the first dozen or so that Google spit out to me that did NOT contain a base of Bisquick? Gah. I hope not. Scratch pancakes are pretty basic, requiring little else but flour, leavening, a bit of sugar and salt, liquid and egg. I had this recipe completed and sitting on the counter in about 5 minutes. It required only for me to climb on a chair to dig the container of baking soda out from where it had been pushed to the back of a top shelf.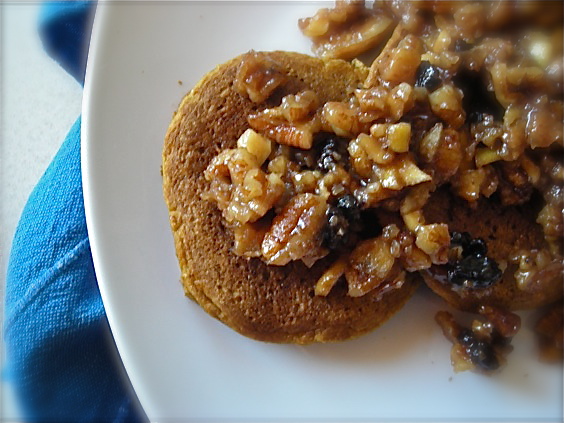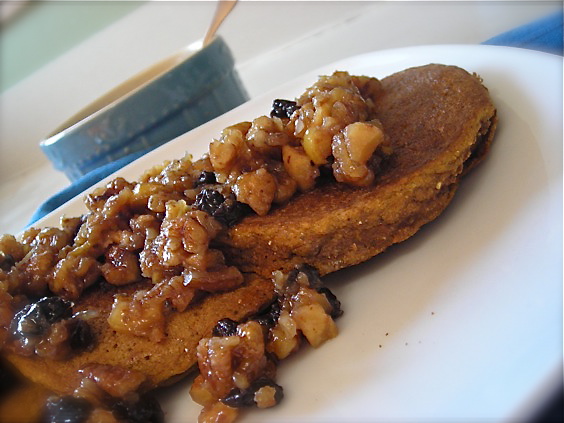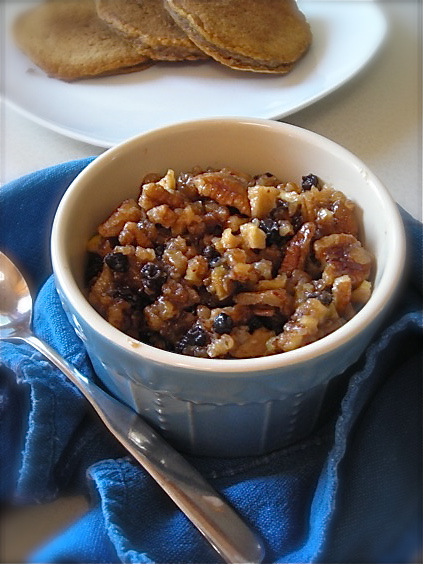 The compote was total cowboy cooking. There was a leftover apple that I didn't have room for after lunch and I quickly chopped it up, sauteing it in a small pat of butter before adding chopped pecans, a handful of currants and some leftover maple syrup blended with butter that we'd drizzled over roasted squash earlier in the week. It simmered while the pumpcakes cooked and in a few twists of a spatual, a hearty and aromatic dinner was on our plates. We could sit down with a sigh, the opalescent glow of fresh snow all around us and imbibe in these richly scented cakes with a sweet and crunchy topping and be warmed from both the food and the company. I do love days like that.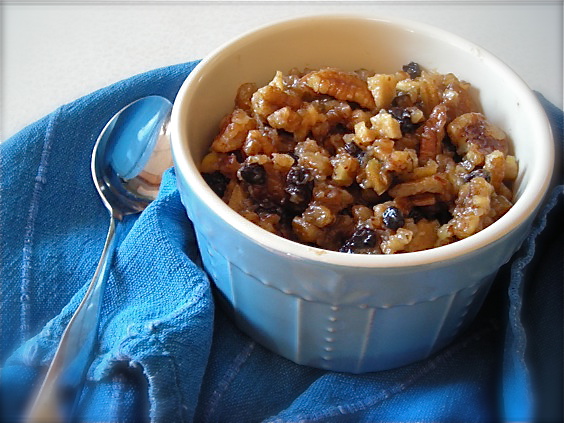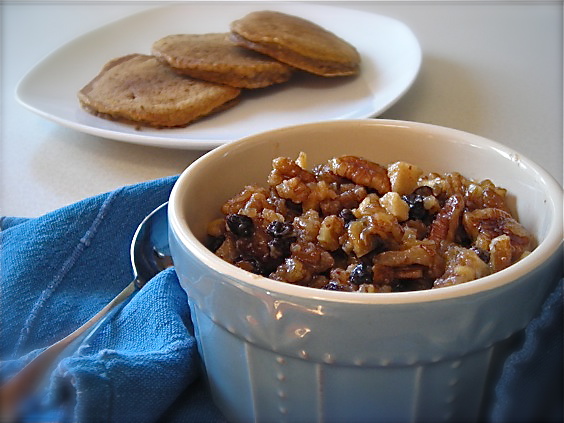 Now here's my take on these Pumpcakes. They were good. No, scratch that; they were great. Really flavorful and hearty and thick. Lumberjack fare, if you know what I mean. Maybe it was the recipe but they took a rather long time to cook, and even when some of them were so robustly bronzed that I thought they'd be tough as shoe leather, they still seemed to me to be a little moist inside. Griffin even brought his to me and said "Are these done?" poking a fork suspiciously at the interior. I was expecting, like any pancake, that it would be fluffy, but given the added pumpkin, it would stand to reason that they'd be more dense. They tasted fine. Just plan on allowing them extra time on the griddle. The batter that resulted from this recipe was very thick. That should have been a clue to me. After a long day and with the added relief from my aches and pains, I can't always sufficiently tie two strands of obvious together. On a side note, for some added nutrition I used WW flour in place of AP in the recipe, added 2 tablespoons of ground flaxseed and a 1/2 cup of cornmeal, and subbed unsweetened applesauce for the oil.
And that compote? Now that was a winner. I wish I had made more to have on hand for oatmeal, or to spread on toasted bread. It was stellar, a perfect winter treat and way open to personal experimentation.
Apple, Pecan and Currant Compote
by Kate
1 medium tart apple, washed, cored and diced fine (I used one called 'Jazz'- it was tart, but subtly sweet too)
1 c. chopped pecans
1/3 c. currants
1 T. butter
1/2 c. pure maple syrup
In a skillet over medium heat, melt the butter and add the apple. Saute for a few minutes until the apple is soft, then stir in the pecans and cook, stirring regularly, until the nuts are slightly toasted and fragrant. Pour in the maple syrup and reduce the heat to low. Cook, stirring occasionally until the maple syrup has been absorbed. Stir in the currants and heat through. Serve warm over pancakes or waffles. Will keep refrigerated for several days. If you can resist. Reheat in the microwave if desired. This tastes amazing if sprinkled with a light dusting of sea salt prior to serving. Something about that salty sweet crunch…..
I love the idea of pears, almonds and figs for another version of this.