I'm Minnesota born and bred, raised on summer sunshine, hot dish and 10,000 Lakes. Although there are times that I wish I had the experience of living in other places, experiencing other cultures, I can't deny my roots, the ones that run deep. My entire family is from this area and I've never considered living elsewhere.
Almost all of my upbringing occurred in South Minneapolis. As an adult, I migrated across the river and took on Saint Paul, learning to love it's unique fingerprint, then I packed up and ditched the urban landscape for the quiet of the exurban living, out where frogs sing to the glory of a spring night, coyotes howl and possum wander lazily under the bird feeders (and pick the underside of your sunroom for their demise- ugh!!) Deer are pretty used to seeing humans, and vice versa. But my heart, my life and all my stained glass mosaic of childhood are firmly rooted in the 55419 zip code. There isn't a time of my entire life, from my first permanent memories onward, that did not include the tiny commercial corner of 50th and Bryant, the two brick buildings that lined 50th Street, home to an ever-changing parade of tiny businesses. It was a nod to "Locally Owned and Operated" before anyone even knew what that really meant, or how important it was to a community.
And it simply shredded me inside to watch it burn.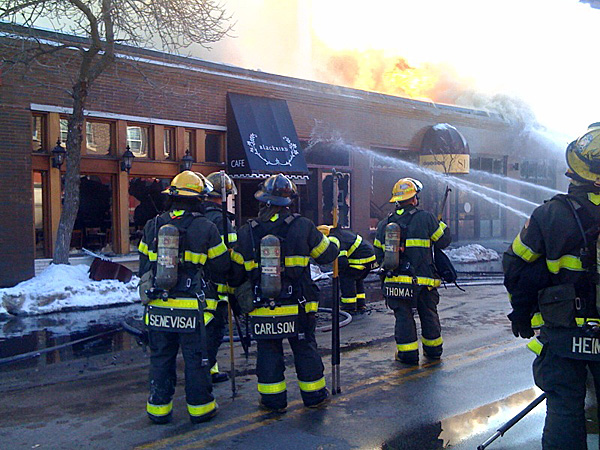 All photos courtesy of Kate NG Sommers of The Heavy Table
The power of social media and the internet reaches beyond almost any scope of comprehension. I turned on my computer around 1:30pm on February 18th and took in one Tweet from the local Twitter populace that said 'Corner of 50th& Bryant in SMpls is scene of large fire" and something clutched deep inside me. I could see the area in my eyes, and as the tweets, news videos and updates began pouring through the internet, I sat utterly transfixed with tears streaming down my face. The heart of my upbringing was so deep in that area. I sadly posted the news on Facebook and the lifeline reached out even more.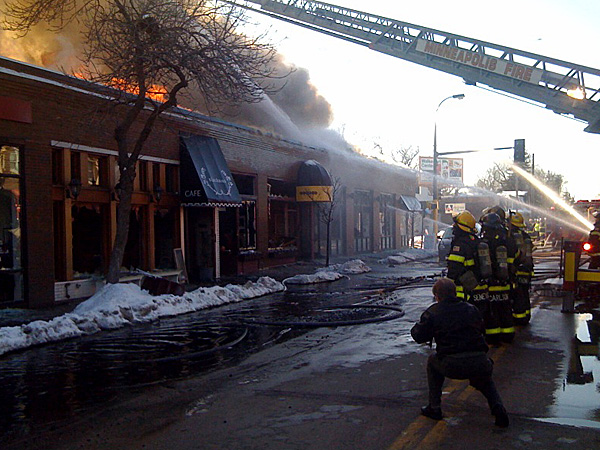 My high school is just up the road from there- Washburn High School, of which I entered in 1978 as the first Freshman class, and exited in 1982. Through the magic of Facebook, I have gotten back in touch with all of my old high school friends and they are scattered around the US, and even in other parts of the world, but when they started seeing my update, the shock and grief overflowed. As did the memories. It was a flood. Between that and the Twitter updates, the scenes of devastation playing out live in front of me, it was all I could do to keep from laying my head on my arms and weeping uncontrollably.
I lived barely 1/4 of a mile from there as a child, and as a very young girl walked with my sisters and the neighborhood girls, nickels clutched tight in our hands to the tiny store that was once in that building. The owner, a crotchety guy named Paul, always intimidated us a little, but the candy selection gave us reason to face him. Back when candy was a nickel, we got off easy at that place, gleaming through bags of Sugar Babies, ropes of Bub's Daddy bubble gum and Black Cow suckers. One of the earliest and most painful memories of my life occurred at that store; it had a huge heavy door that we always struggled to push open, and one day as I attempted to dart through it, it slammed shut on my hand shattering the tip of a finger. It was a ugly bloody mess that dripped all over the worn linoleum floor of Paul's store. And the stain never went away. I could go back time and again only to see the shadow of my blood on the floor. Paul eventually passed away from a heart attack, and the store closed.
There was an incredible deli in that building at one point, named Zorka & Ollie's. It was a tiny, tiny space that made monstrous and delicious sandwiches, slathered in their signature Zorka sauce that was both spicy and sweet. It was the first place that dared to sell thick cut potato chips, and I distinctly remember the initial magnificent crunch that hit my mouth. Z&O's had wonderful coleslaw and terrific potato salad. It was way ahead of it's time with the fresh made flavor, variety and personal touch that everyone craves, and these days actively seeks out. A sandwich from Z&O's was a feast.
In the corner of the building, long before Patina took root- an event I remember feeling quite ambivalent about- there used to be a store called Punky's Corner Consignments, and long before that, a gorgeous Antique store. That antique store was where I honed my love of antiques, and of classic old china to be exact. As a young girl I would go in there with my Mom and marvel at the patterns, the delicacy and the array of beautiful dishware and serving pieces. To this day that love remains. And Punky's was a fun, funky and odd place that you could find any manner of interesting and unique items. My friends and I could roam there for hours.
All of these memories came roaring through my head, as I watched video and took in photos of the flames eating up a piece of history.  The loss of the current businesses is sorrowful; the two restaurants were stellar destinations in the local dining scene, and at the forefront of a whole movement bringing fine dining into neighborhood pockets of the city. I don't doubt the area will be rebuilt, but the historical aspect of that building, with it's artistic brick work and façades can never be duplicated again. Driving through there, even with the new businesses so well established and a more modern feel to the block, I never failed to sense the tremors of history, the laughter of my friends and I, the wonder of the small child in me as acutely as if those moments were still occurring. With the collapse of the roof, and the imminent wrecking ball, it likely will all be pulled down, memories gone for good. Hopefully a new generation of locals will come to know and love what stands on that corner in the future.
Even with such devastation, two high points are well worth mentioning; other than minor injuries to two firefighters, no one was injured and there were no deaths from the blaze. And the venerable Malt Shop, in a building across a tiny alley was spared any damage. The Malt Shop holds a vast sea of memories for myself, my friends and more people than I even care to imagine. My friends and I almost lived there in high school, and the wait staff knew many of us by name. One underlying current that came in from many of my old classmates flung far and wide was the urgent need to know that The Malt Shop survived. Some of these old friends of mine left Minnesota after graduation and have returned only for visits, but the history, nostalgia and a piece of their heart is still there with me in Lynnhurst.