I hope that I never get to a point in my life where I think I've seen it all. Especially when it comes to pancakes.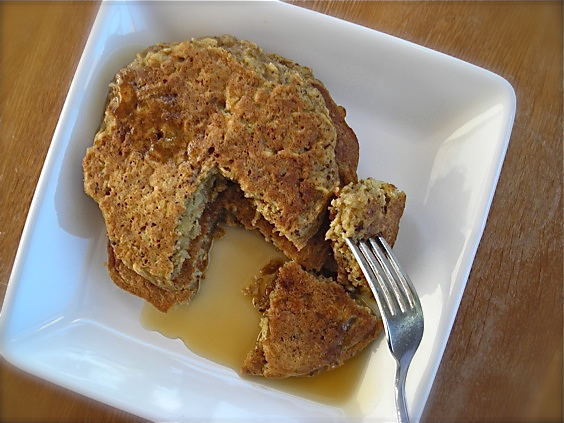 If I had to pick a favorite breakfast option, pancakes might be fighting for top billing. While I do really enjoy pan roasted potatoes, especially with onion and pepper and topped with a soft egg, there is something so versatile and endlessly appealing about the simple pancake. With your standard batter, you can create an enormous palette of tastes and flavors- apple and spice, banana and pecan, chocolate-cherry, blueberry buckwheat, peach with almonds, mango and coconut….. I mean, wow. What can't you put in a pancake? Or maybe more so, what wouldn't you put in??
Oatmeal is the same blank breakfast slate. A simple bowl can be doctored in dozens of ways, and yes, many of them in the same manner as listed above. They all work, so why wouldn't oatmeal and pancakes work together? I'm here to tell you, with much enthusiasm and horn-trumpeting that they absolutely do. It's a happy breakfast marriage.
These oatmeal pancakes, courtesy of Molly, were the epitome of hearty and satisfying, and so easily zipped into what breakfast should be all about, with maybe the tiny exception that you have to plan just slightly ahead with this recipe. While you probably could use quick oats and get away with it, I strongly recommend using the thick cut version to get the best affect that these stick-to-your-ribs cakes can offer, such as a breakfast that lasts for a good long time. Really, there isn't much point to eating in the morning if your tummy doesn't remember it even a few short hours later.
And there's no better idea on a chilly Saturday morning than to pull a bowl of soaked oats from the fridge and quickly mix them into a substantial batter that sizzles from your griddle, filling the house with the aroma of 'Come and get it!'.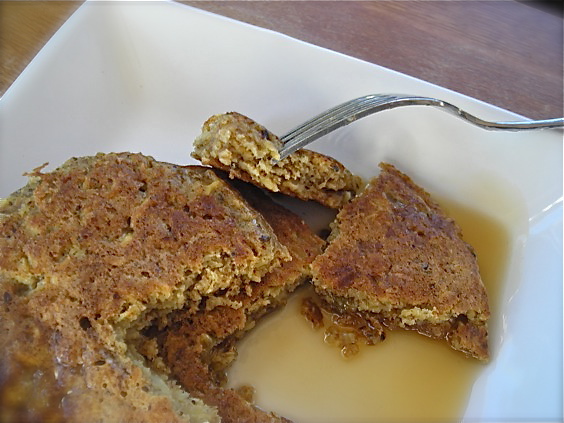 If you've ever had Baked Oatmeal, where you mix your oats with eggs, brown sugar and spices and bake them into a thick pudding, then the flavor of these pancakes will be familiar to your mouth. The oats, so soft and tender from their overnight soak in buttermilk, bake into a firm pancake that happily soaks up your maple syrup. I'm really not up for much on any given Friday night, and I owe all the remaining energy from the week to dinner prep and a bit of couch time with Netflix on Demand and my two favorite guys, but I somehow managed to stop myself from climbing the stairs to my bedroom, at 9:15 no doubt- and whoa does that make me sound OLD-  and instead turning around to the kitchen to prep the oats for the next morning. I even washed and grated an apple into the mix, shredded in some lemon zest and then cleaned up my little mess. That's motivation. It made the trip up the stairs to bed even better knowing that I was set for morning, because, you know there's just something about Saturday morning that begs and whispers just the slightest bit for something special, something that clearly says "Oh yes. It's the weekend."
Oatmeal Pancakes
2 c. rolled or thick oats
2 c. buttermilk (or like I did, soy milk with lemon juice and zest mixed in- yum!)
3/4 c. AP flour (I subbed whole wheat)
2 T. sugar (I used turbinado, but brown I think would be best)
1 t. EACH baking powder and baking soda
1/2 t. sea salt
2 large eggs, slightly beaten
1/2 c. melted butter (equiv. to 1 stick. I only used 4 T., or half a stick and it was almost too much for my taste)
The night before, mix oats and buttermilk in a large bowl. Cover with plastic wrap and chill overnight. In the morning, remove from the refrigerator and stir gently.
Blend the flour, sugar, powder and soda and salt together in a large measuring cup. Add the eggs and melted butter to the oat mixture and stir well. Then gently fold in the dry ingredients. Do not overmix.
Heat your griddle or skillet and add about 1/4 cup of the batter. Allow to cook until browned on one side, then carefully flip and cook until golden brown on the second size. Serve topped with maple syrup or fresh fruit.
KATE'S NOTE'S– There isn't much that I think can improve these pancakes, but I do feel that a bit of cinnamon and fresh grated nutmeg would really be stellar. As I mentioned, I grated an apple into the oats the night before. It could also be done in the morning too.