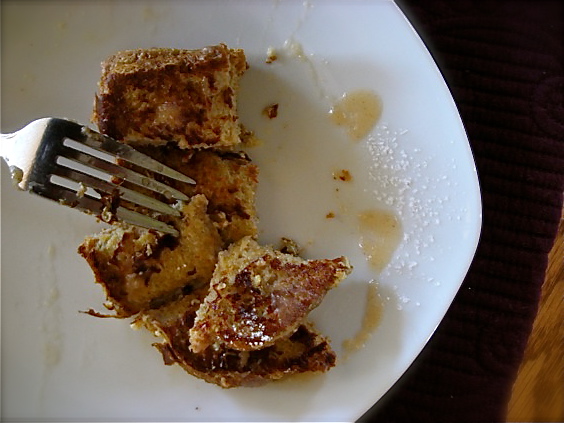 Have I mentioned my new job? No? I can't believe I haven't shouted it from every rooftop I find. I'm pretty excited for it. I'm the Garde Manger chef at a local Yacht club. It's a seasonal job through early October, but it's good work and a paycheck right now is a huge blessing. Most of you may remember that the job situation for me lately hasn't been all that rosy. Thankfully, for a while anyway, we will be breathing easier.
But I am working a lot, as I hoped to be. And since most of the past 18 months have been idle ones for me, to be on my feet working in the very physical job that is a professional kitchen, I've been fairly worn out. But it's getting better, as I get more accustomed to the work, the pace and being on my feet all day long. My schedule, once it settles in, likely will keep me working into the early evening hours. That means Mike and Griffin will be fending for themselves for dinner most of the time. Thank goodness for good shoes and understanding spouses. I have both, and they're making this transition so much easier on me.
A recent Sunday morning came that I simply could not raise my weary head from my pillow and the guys went off to church while I cuddled the two content felines and dozed through a sunny, but chilly early morning. By 9:00am I felt like I could stumble down the stairs and operate the coffee pot with a fair amount of dexterity, and by 10:00 or so, I was particularly famished. On top of all that physical work comes the accompanying expenditure of calories, and I have been so hungry I can hardly believe it. With the guys gone, I could make something with eggs and not offend my egg-o-phobic spouse and it had been ages since a piece of French Toast had crossed my plate. I spied a container of cooked fresh rhubarb and on a whim, I dumped a few spoonfuls into the batter, dunked my bread into it and placed it in the skillet.
I didn't really know what to expect, but I like rhubarb, and I like French Toast. Sometimes I get kind of a wild hair about combining two things I love into one, and often I am rewarded greatly. Other times…. meh. It either doesn't work or I just don't like it, leaving me to try and continually remind myself that just because it tastes great separately, it doesn't exactly make it a match made in heaven. But this…. hot, caramelized Rhubarb French Toast. Oh, this worked. Beautifully.
And here's the thing; it's Rhubarb season, is it not? The stalks are everywhere, and if you've got friendly neighbors or friends with a big patch, it's pretty likely that some has been pawned off into your eager hands. What do most people do with rhubarb? Make a cobbler, sure. A pie?? Oh absolutely! Rhubarb sauce? For certain. And that was what I did with the small sack that made it's way into my kitchen. It doesn't take much. Time on the stove. Some brown sugar. A few turns with a spoon and you've got a delicious and versatile sauce for ice cream, yogurt, biscuits or even just to scoop up happily for a treat. Or, as it worked out, into your French Toast batter like I did. I took the mystery out of it for you.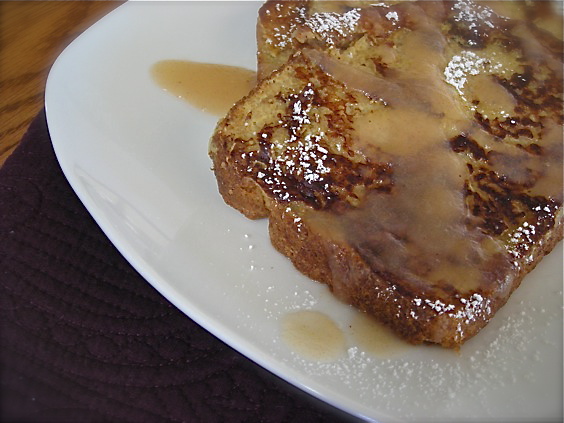 My slices turned out perfectly; crispy yet tender with a perfect sweet and tart Rhubarb flavor. I drizzled some of my own scratch pear butter over the top, adding a snowy dusting of powdered sugar because it's French Toast, isn't it? It's simpatico with powdered sugar. And you know what? It didn't even need anything. The fruit adds a nice sweetness to the slices, and fresh from the skillet, all you really need is a plate and a fork. That and a gnawingly empty stomach. I munched and sighed my way through four slices watching the sun shine brightly and the newly green trees whip around in a stiff wind. This is one of those dishes that would only pass my lips in this house; Mike is anti-egg and Griffin won't eat rhubarb. So it was perfect for a gorgeous and solo Sunday morning.