As I write this, there's quite a cool, blustery wind outside whipping the treetops around. I'm in fleece, and slippers. This morning after Mike arose at his customary hour of half-past the cat alarm, I pulled a wool throw over the quilt to snuggle under. It was raining, a cool breeze through the crack of the window left open was whispering it's inevitable words to me: Fall is here.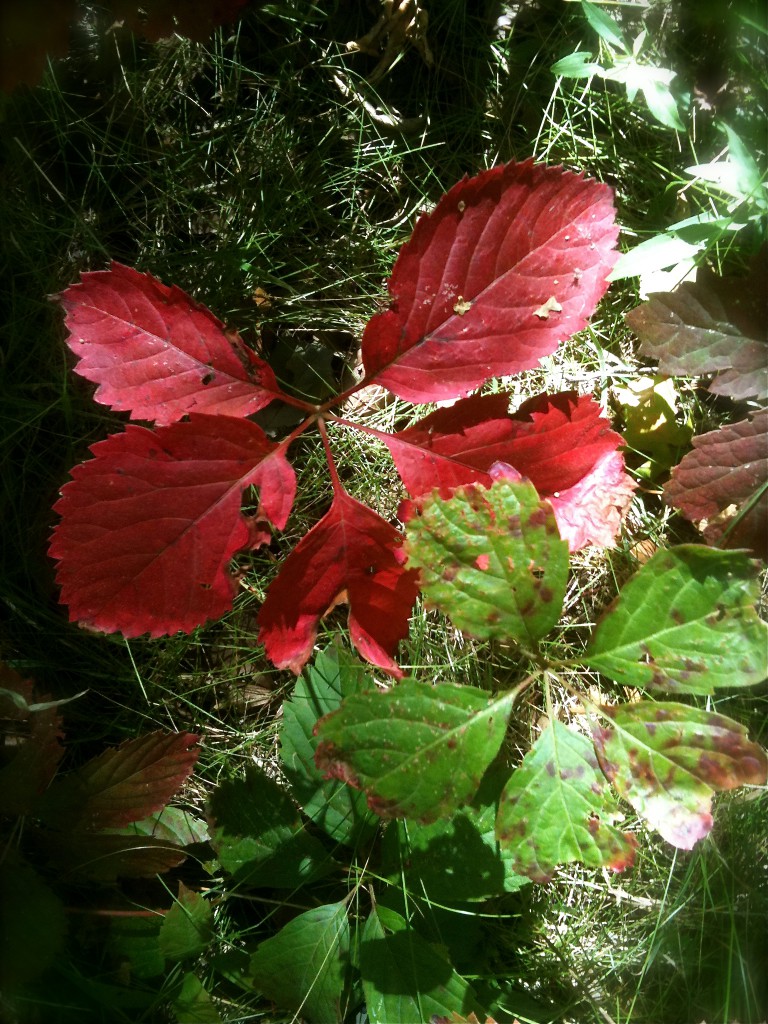 Sometimes the change in seasons sneaks up on you, and other years it's as if you awake one day and the very air around you is different. The sun seems to weaken, the air has a certain scent to it that hums of cooler nights and impending frost and you begin pulling open drawers holding clothes you almost forgot you owned. The jump from August to September was quick and precise. August kept showing us her gutsy heat and blazing sunshine, then with a swift turn of a page, September chased August away and said 'There, there…. I'll give you some relief.' Instead of a cool smoothie for breakfast, now I want a cozy bowl of oatmeal. Soup recipes are more appealing. It's time to bake, a warm oven competing with the breeze through the window. School buses rumble by on the road. There's homework, earlier bedtimes, earlier sunsets.
I kind of got lost in August, only posting twice here. I'm sorry. It was a hard month for me, and the view from my eyes shrank considerably. I worked a lot, a crazy amount of hours. I slept, or tried to, a lot. It seems like the only thing I did at home was drink coffee and do laundry; I tried to stay cool in the terminal heat of the professional kitchen as the sun and humidity slackened the air outside,  and I tried to keep my sanity through the seemingly never-ending parade of task after task after task. I sweated more than I ever have in my life. I missed my friends. I missed cooking in my own kitchen, the things I wanted to eat. I missed my life, quite frankly. I was caught in a vortex, and it was ugly. Then, like the seasonal change that's happened outside, September brought it's own reform to my life. Work slowed down considerably. On a few evenings I was able to leave while the sky was still light, miraculous indeed. I took some much needed time off and within a short weekend, there occurred several transforming events that filled the hollowness that had taken hold. I saw my friends. I became inspired. I met new people. I spent time with my family, splashing in the pool with Nina, snuggling in a hammock with baby Sara and getting that Love Bank filled to the brim. There were plenty of hugs and smiles. Life came back. And I took a hike.
And I spent some time in the kitchen. With apples.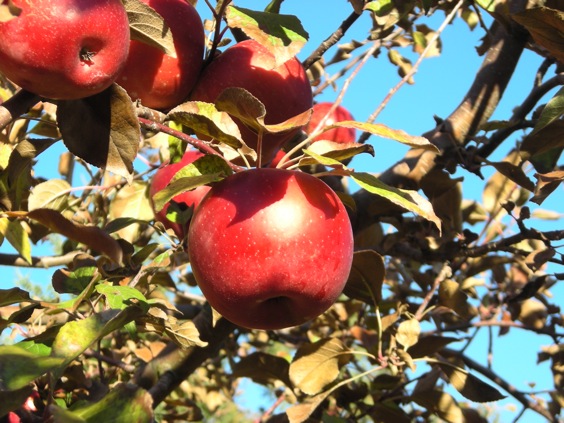 Making Applesauce with maple syrup and cinnamon.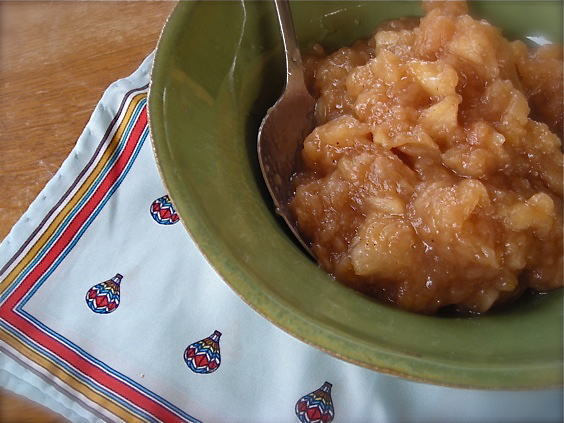 Really, can we be any more "Fall" than fresh Applesauce? Or anything with apples plucked right from an orchard tree? It's quintessential. It's perfect. It's necessary. And this recipe is so, so simple. Any Applesauce recipe is, if you can manage the peeling and coring process required. I use one of those nifty devices that peels, cores and slices your apples all for the crank of a squeaky handle.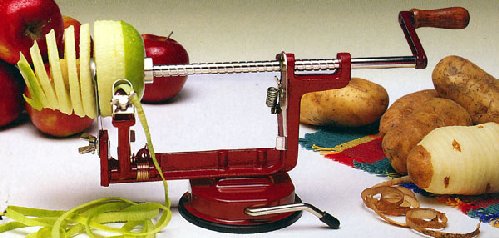 (photo courtesy of Nutrition Lifestyles)
I'll tell you my friends, owning one of these is vital, even if I only pull it out in the Fall during Apple season. It makes any apple dessert almost like an afterthought because it does all the work for you. I placed it on the counter next to the stove, and as each apple came off the device, I simply broke it up right into the pot. In less than 10 minutes I had a 6-quart stockpot full of apple slices. I made an Apple Crisp too, and for almost the time it took to mix together the crumb topping and heat the oven, it was ready to bake. Kids love cranking the handle and watching their apples transform. And no, I'm not pitching anything, you blog-scoping watchdogs. Just telling it like it is.
But back to that Applesauce-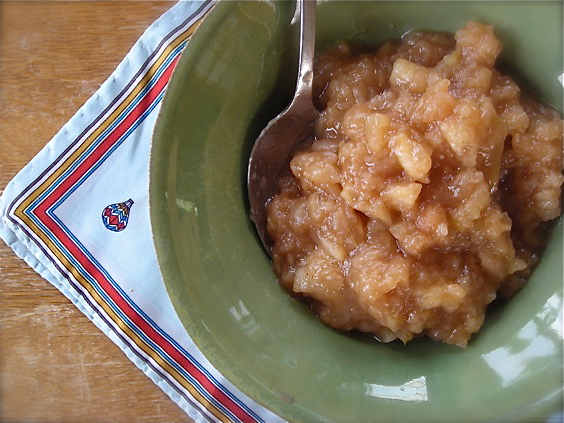 The recipe comes from Eating Well magazine. It's three ingredients- apples, syrup and cinnamon. It takes about 20 minutes, not counting the time spent prepping your apples. After it was cooled I simply placed it in the fridge because I know we will devour it so there's no need to think about canning. Does your family love applesauce, with thick chunks of fruit, a hint of maple and a nice warming dose of cinnamon? The markets are bursting with fruit and who doesn't love a trip to an orchard, a walk among the sagging trees and the delight of plucking your own fruit to take home? This time of year your bag of apples will keep well in the garage, provided we don't get too cold too early. Really, you have no excuses. Ok. Except time. I'll give you that.
Maple Cinnamon Applesauce
from Eating Well magazine, Sept/Oct 2009
6 McIntosh or other tart apples, peeled, cored and cut into 1-inch pieces
2 Golden Delicious or other sweet apple, peeled, cored and cut into 1-inch pieces
1/4 cup water
2 tablespoons pure maple syrup
1/2 teaspoon ground cinnamon
Combine apple pieces and water in a large saucepan. Bring to a boil, then reduce heat to maintain a simmer. Cover and cook, stirring once or twice, until the apples are very soft and falling apart, about 30 minutes. Mash the apples to the desired consistency and stir in maple syrup and cinnamon.
KATE'S NOTES:
I made a 6-quart stockpot full of applesauce as we love it so much. It will freeze too, if you make a large batch and can't eat it all within, say, a week. Adjust the syrup and cinnamon to taste when you make a larger quantity. I added some nutmeg too as it's the BFF to cinnamon in baking recipes. My sweet apple was a PaulaRed, but feel free to swap the balance between tart and sweet to your own personal taste, and mix in the syrup accordingly. To make it ultra-smooth, place the mixture in a food processor or high-powered blender and process in batches until desired consistency.