This is the best kind of morning. It's so quiet as I'm the only one awake. We decided last night to attend the late church service this morning, so instead of rolling everyone out of bed to get out of the house by 8:30, we're not needing to be coherent until a few hours later. And when the cats started their pre-dawn routine of scratching at the bed to get someone up, I arose to greet the sunrise with them, affording my hard-working spouse yet another day of extended sleep. Five days a week he rises before the sun to delve into his work, to think and sip his coffee and deal with these cats that somehow think going outside on these dark, cold mornings is a really good idea. And apparently, it is for like 2 minutes, then they race back in for the nearest blanket and cozy fleece bed. The little turds.
But today is my day. And I've found an amazing sense of calm in these quiet hours. I can write, and think and plot and dream. I can surf, lurk and sip dark, rich coffee. I can hear myself think and often find some wonders brewing in my own head.
And I can nibble on these incredible Sweet Potato biscuits.
This is my morning; it's me, the coffee pot, my big mug and a stack of inspiration. It's the sunrise outside the windows, a fleece blanket on my lap and sometimes a cat. It's peaceful. It's contemplative. The birds flit around the feeders outside, gathering in the hawthorn tree while I watch and observe. The cardinal flashes his bright red feathers against the white of the snow. The bluejay squawks. The goldfinch chatter. The crows call from the rooftops and the sun turns the sky from winter's deep blue to hints of azure and bronze. The sunrises lately have been lovely, even when so fleeting. I'm happy to be sitting here to appreciate them.
It's my morning time. It's perfect. And these biscuits? Well, you would do yourself a favor to have a pan of them at any meal, and then steal away one quiet morning with a mug of dark coffee and a few of them on a plate to fill your belly. The lovely hue of orange is one of their many appealing features, but the fluffy, moist and tender crumb that spills out when you crack one open is the best part about them. With a cat, or not; with a sunrise or a bowl of steaming soup, served with any meal they will compliment it highly. They will inspire. Like the sunrise and a quiet morning.
Sweet Potato Biscuits
from The Kitchen Sink Recipes (and from Bon Appetit)
Yield: 12 to 15 biscuits
One 3/4-pound red-skinned sweet potato (yam), peeled, cut into 1/2-inch cubes
1 3/4 cups all purpose flour
1 tablespoon (packed) dark brown sugar
2 1/2 teaspoons baking powder
1 teaspoon salt
1/2 teaspoon baking soda
Pinch of cayenne pepper
8 tablespoons (1 stick) chilled unsalted butter, cut into 1/2-inch cubes, plus 2 tablespoons butter, melted
1/3 cup chilled buttermilk
Cook sweet potato in medium saucepan of boiling salted water until tender, 8 to 10 minutes. Drain, cool, and mash.
Position rack in lower third of oven; preheat to 425°F. Butter bottom and sides of 8- or 9-inch cast iron skillet (or 8- or 9-inch cake pan).
Whisk flour and next 5 ingredients in large bowl. Add cubed butter to flour mixture; toss to coat and rub in with fingertips until mixture resembles coarse meal. Whisk 3/4 cup mashed sweet potatoes and buttermilk in medium bowl. Add to flour mixture; toss with fork. Gather mixture in bowl, kneading until dough comes together. Turn dough out onto floured work surface and pat into 1-inch-thick round. Using 2-inch round biscuit cutter, cut out biscuits, flouring cutter after each cut. Gather scraps; pat into 1-inch-thick round. Cut out additional biscuits, until the dough has been used.
Arrange biscuits side by side in prepared skillet or pan. Brush with melted butter. Bake until puffed and golden on top and tester inserted into center biscuit comes out clean, about 22 minutes. Cool 10 minutes in pan. Turn biscuits out and gently pull them apart.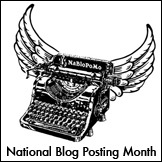 Just a few days left of National Blog Posting Month!!!