My friend Missy, the Marketing Mama has gathered some blogging friend together to talk and reminisce about Christmas ornaments that they love, and the reasons why they're so important to them. I knew I had to participate in this fun blog carnival because I've often considered the fact that should I ever have a fire in my home, one thing I know I would be crushed to lose would be my boxes of Christmas ornaments. The history that unfolds each year as I pull them out and unwrap them never ceases to amaze me, and to fascinate Griffin. He loves looking them over as much as I do, and has contributed many ornaments over the years that are absolutely priceless to me.
And that's where I will start…. with the first ones he gave me.
This wreath was made when he was in Kindergarten, in the after school program he went to each day.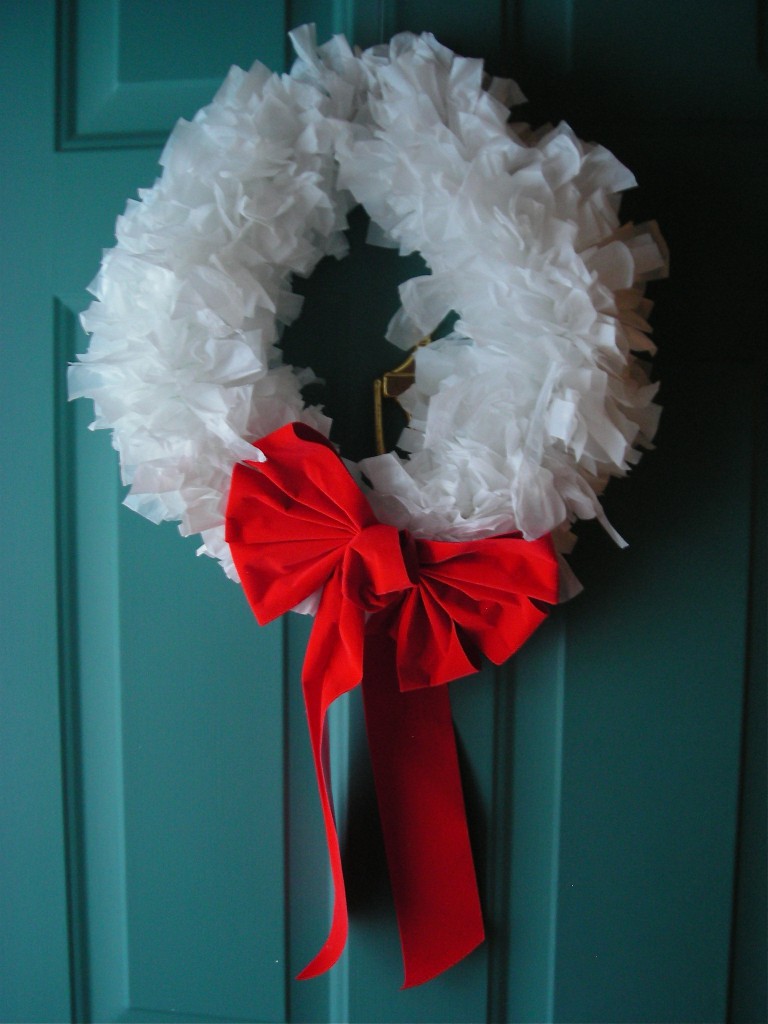 It's the simplest thing; a hangar twisted until it was round and then covered with dozens of strips of cut white plastic garbage bags that were tied on. Here you can see a little more detail.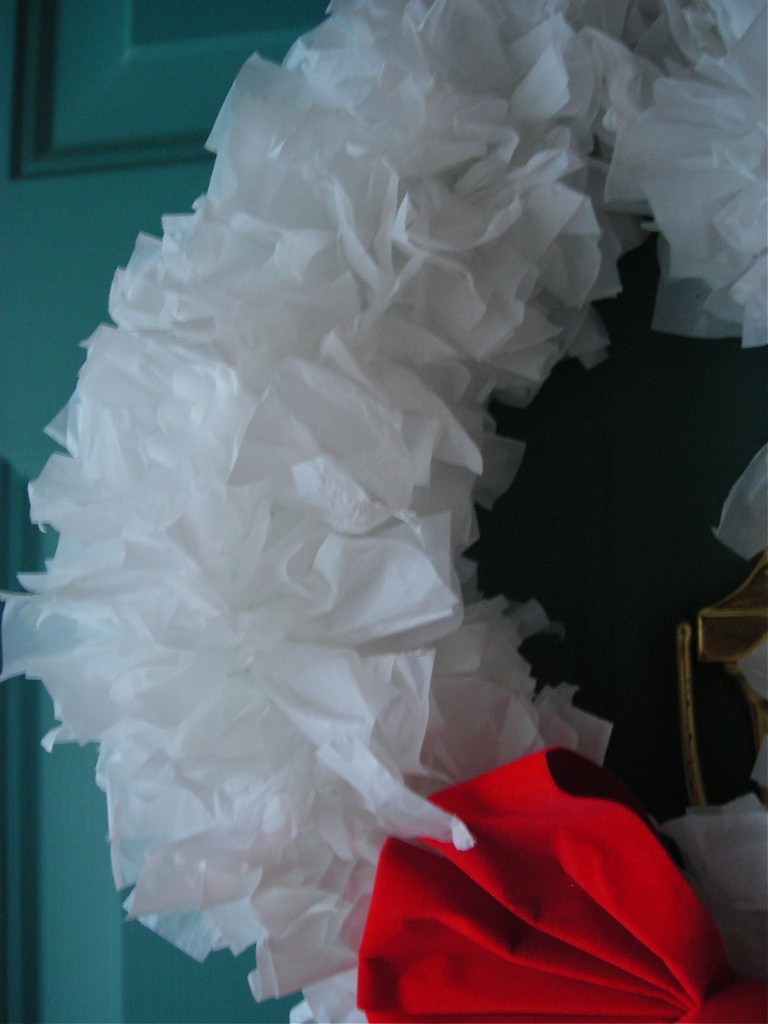 My little guy was mighty proud of this when he showed it to me, and I was really impressed, especially when his teacher told me that he was very diligent about tying his strips on to 'make it look really nice'. I'll never forget his face as she praised him, and when he handed it to me. He looked like he could burst wide open. This wreath graces our front door every year, and I love how it looks against the lovely green tone.
The very same year, from his actual Kindergarten class came this adorable little Christmas tree, complete with his Kindergarten picture. It's faded almost to gray and most of the glitter has worn off, but it is always placed in a very prominent position on our tree every year.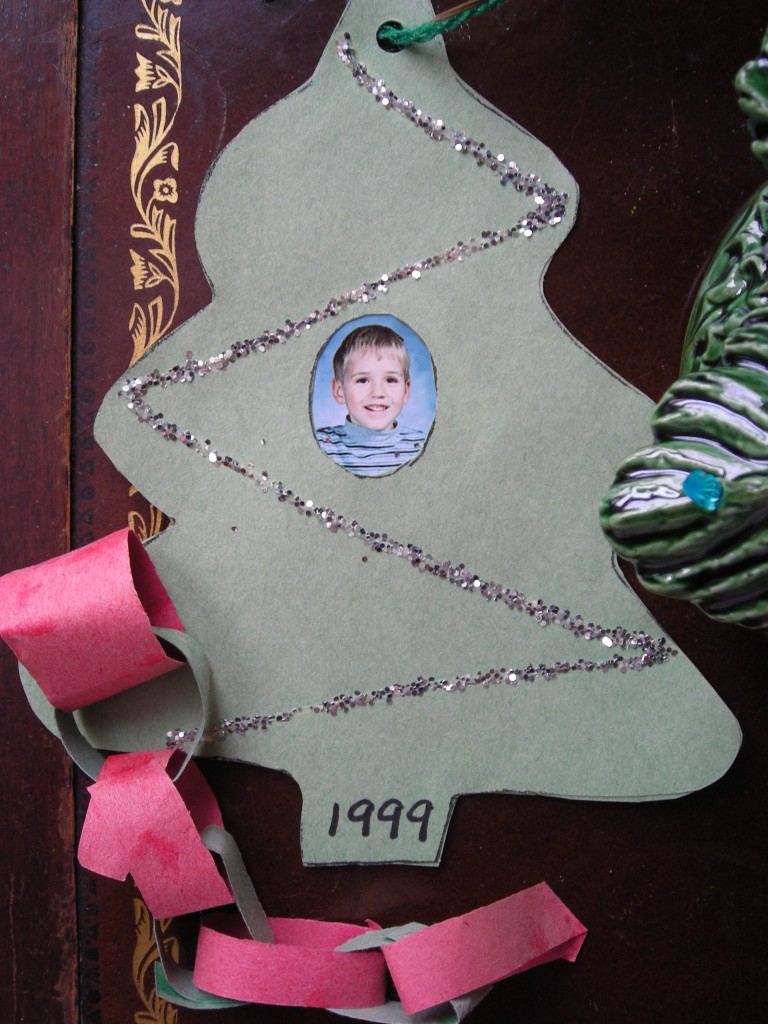 The best part about this particular one is that I have one to match it from when I was in Kindergarten. That faded little paper chain was something I put together when I was but a five-year old too, some 30 years before my own young man. His is imbedded with the year 1999, and mine was made in 1969. These two ornaments always hang next to each other.
Another treasured set of ornaments date that far back as well, and likely even before. These are ones that my Grandma made for us each year.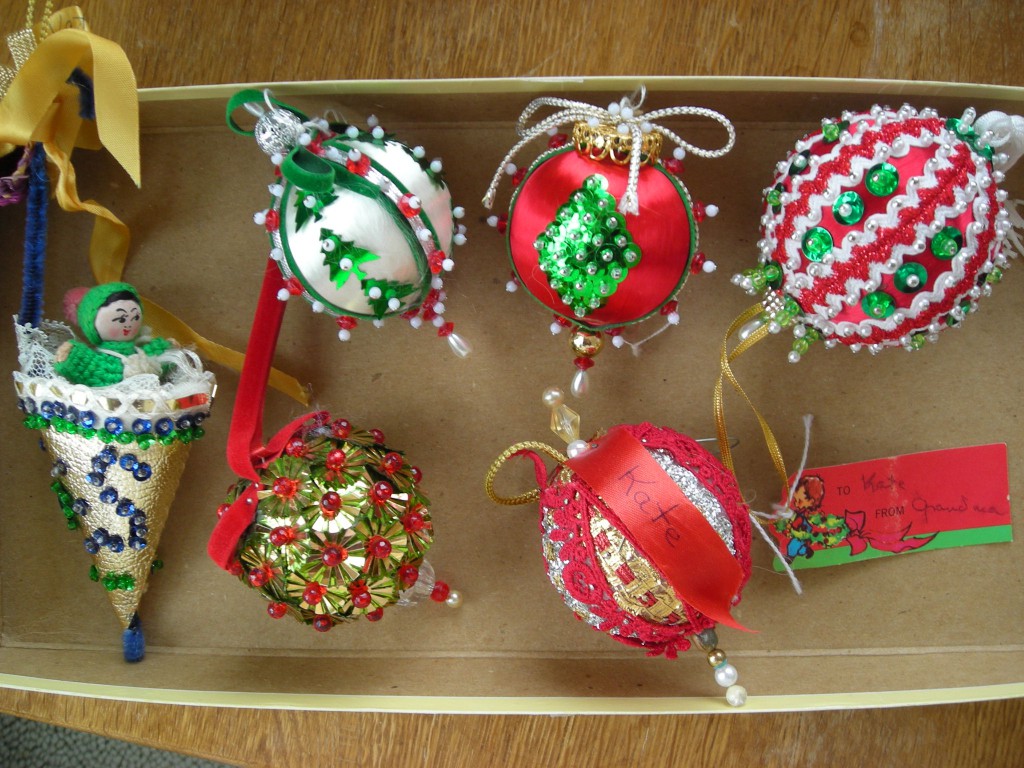 Some of them even still carry the tags she attached, penned in her careful script.
Each year on Christmas Eve, my Grandma came to our house for dinner. We loved her arrival because she always had a box with her, filled with her handmade ornaments, one for each of us. She had 15 grandchildren, and she did this for all of them each year. We loved the anticipation of what was to come, and often mobbed her to help her with her coat, get her boots off and have her situated so she could bring out our box. We would then rush to our huge tree in the corner to add it to the staggering wealth of ornaments hanging there already. It seemed like each year when we opened our boxes that we had so much to place on that tree. I get that same feeling now, but I place them all carefully so that I can see each one. My Grandma passed away in 1988 and had long gotten out of the habit of making our ornaments each year, but to have these on my own tree always reminds me of her warm smile and the way she would throw her arms around us to give us those perfect grandmotherly squeezes.
I have even yet another set of very special ornaments that were given to me by a friend when Griffin was three years old.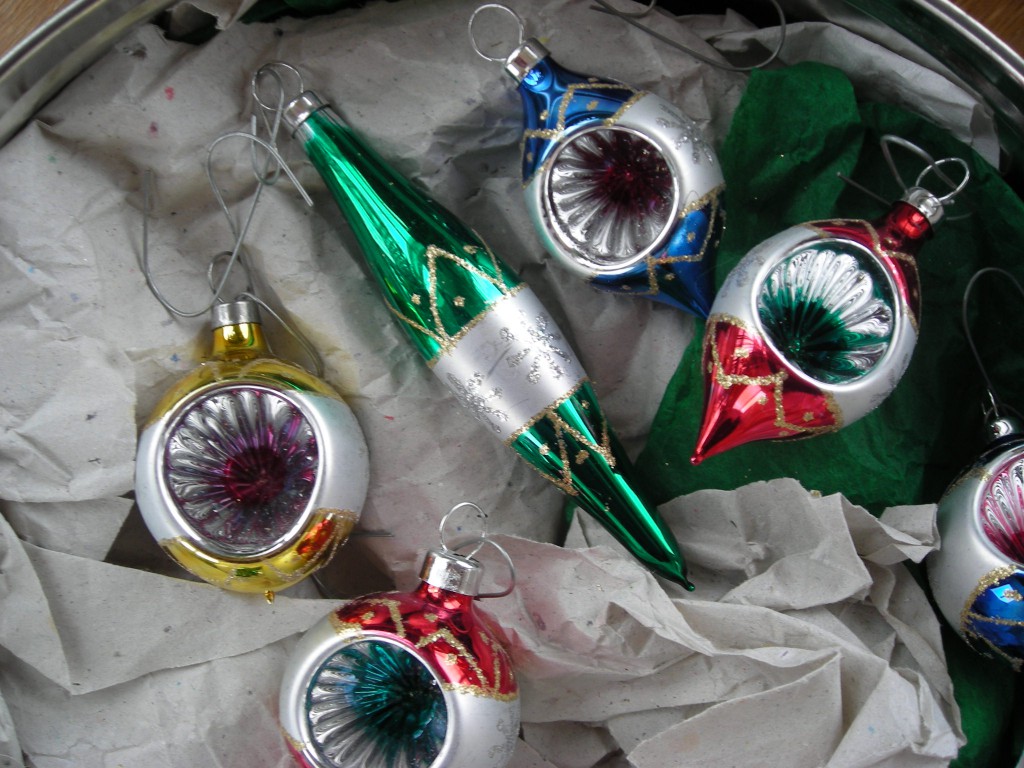 These are superbly old fashioned glass ornaments and are very fragile. I've lost a few over the years to eager little fingers but when I pull them out of their tissue packing I remember a year that was very difficult for me, and a friend that stepped up to try and add some necessary cheer to a cheerless situation. It was my first Christmas as a single parent, I had little money and was feeling extremely sad about celebrating. This friend took me out shopping one evening and bought me a small little tree for my tiny apartment, a stand to put it in, a cute holiday tree skirt for underneath, some light strings and a few ornaments, including this set. They simply said 'You need to have Christmas for your little boy.' and I was not allowed to say 'No'. I'm very grateful for that generosity because it helped make our first Christmas alone a little bit better. Growing up, we had a small box of old-fashioned ornaments that were very similar to these so they carry fond memories of when I was really young too.
One last decoration that requires special mention is this porcelain christmas tree.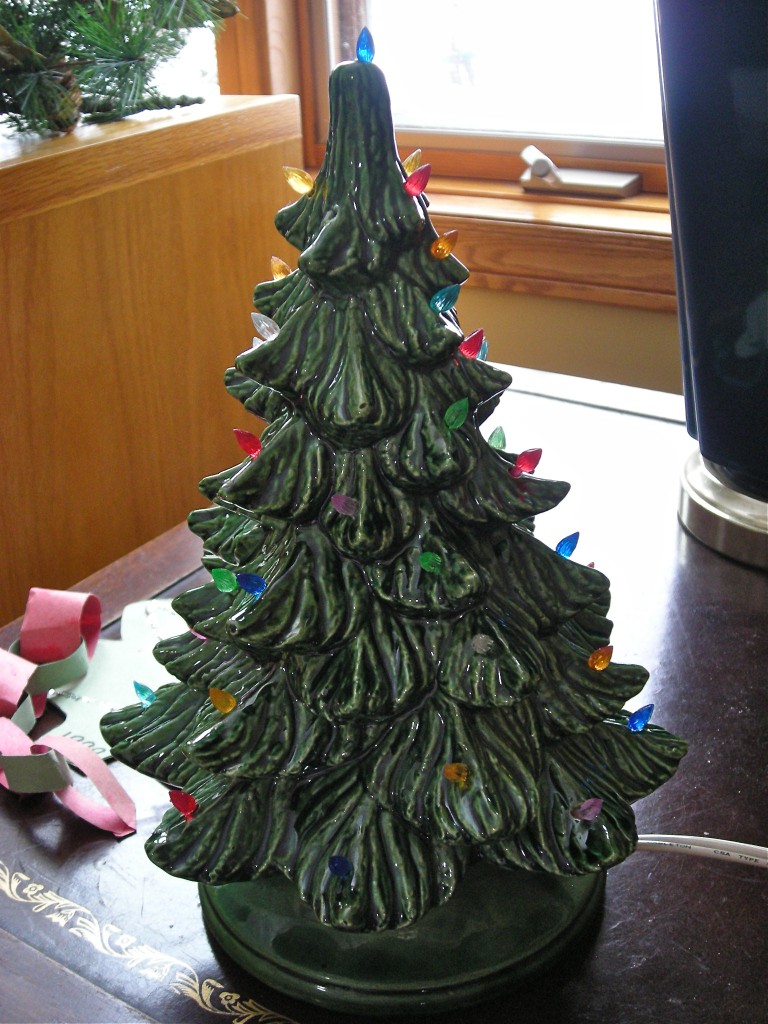 Griffin's paternal Grandmother gave this to me many years ago. I had always admired it in her home each season, and when she moved from a house to an apartment, she passed on many treasures to me, including this little tree. It has tiny glass bulbs that slip into holes on the tree branches, and when it's plugged in it shines with it's numerous colored lights on a lamp stand in my office. It's so unique, and so perfect. Grandma Annie passed away this past March, yet she left me several wonderful keepsakes of her and this tree will always have a place in our holiday decor.
This year, on a whim, I took that old tree skirt from my friend, the one that covered that tiny Christmas tree in 1997 and laid it out for the cats to use as a festive means of celebrating Eli's first Christmas with us.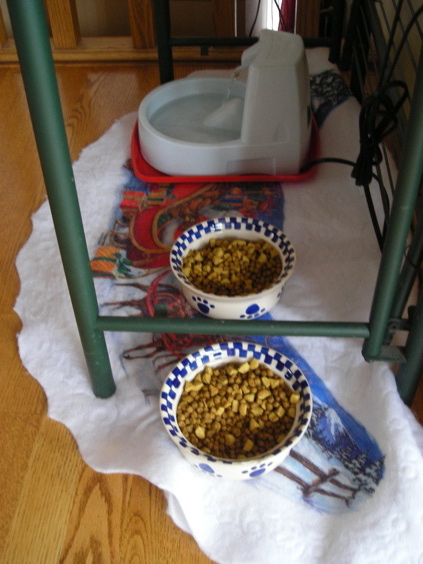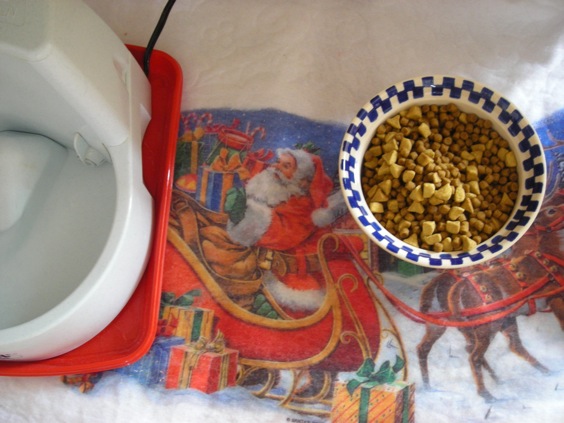 Because I think everyone in this house should get into the holiday spirit, even if they're covered in fur.
Join the rest of the bloggers participating in this fun walk down memory lane. Follow the links to their sites to see what they've got hanging around their homes this holiday season.