And I don't just say that to reel you in. If you enjoy a good creamy and altogether crazy delicious flavorful spread for that corn chip addiction in your life, then look no further than this recipe. Because once you lifted that first chip to your mouth, dripping with this vegetable laden, kicky dip, my friends, you will never again look at bean dip the same way.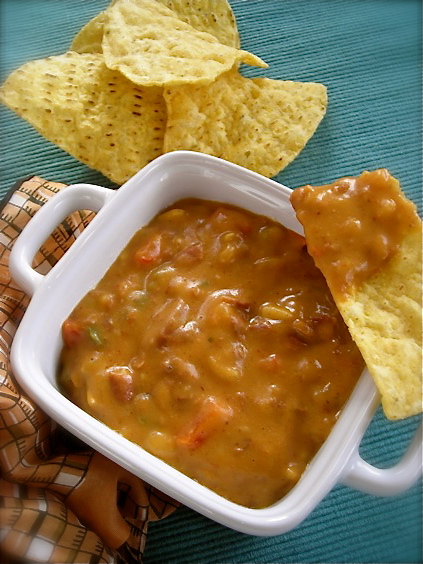 And what better option to have on hand for the any upcoming major sporting events, you know, like Football or something? As I was making this, and then after that first heady bite, where I swooned and 'Oooh'd and 'Aaaah'd myself into a tizzy, I had this thought that it was too bad we weren't football folks, because this dip would be a welcomed addition to any snack table, kept warm in a crock-pot, ready for copious scooping. So if you like throwing a big gathering to cheer on your favorite team, you can't really go wrong with this.
The key for the extreme delicious flavor is two things: one, you use Chili flavored beans to make it, and two, you stir creamy mexican style cheese dip into the final product, creating a 1-2 punch of taste, worthy of swooning and lots of compliments. Not to mention corn chips. Although any gooey cheese dip will work, I can't recommend enough making a cheese dip from scratch, and not only from scratch, but from the authority of all things Texan in style, please do yourself the Rio Grande favor of making Lisa's Chile Con Queso as it too will knock your socks off. With that recipe bubbling on the stove, you make this fantastic bean dip, whisk some of the Queso into it and you'll have not one, but TWO awesome options for the next party that graces your house. Or just a delicious snack to chase away a chilly winter evening.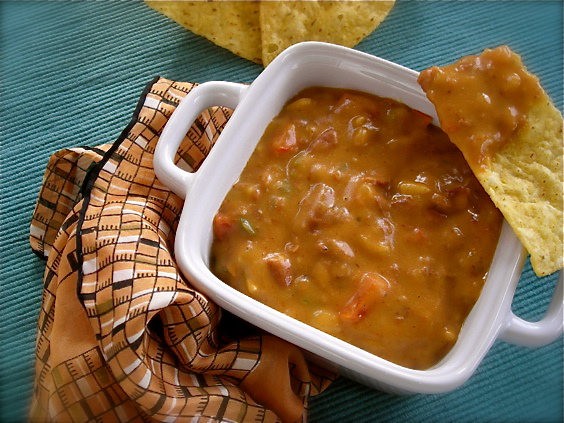 Chili Bean & Queso Dip

1 red bell pepper, chopped
1 poblano pepper, chopped
1 jalapeno pepper, chopped
1 medium onion, chopped
2 cans chili flavored beans (DO NOT drain)
1/2 c. frozen corn kernels
1 can Hunts Fire Roasted Tomatoes (or equivalent)
1 T. chiopotle en adobo sauce (optional)
2 t. ground cumin
Approximately 2 cups Chile Con Queso cheese sauce, either scratch made or commercial.

In a deep skillet, saute chopped onion and peppers until very soft and beginning to turn brown in spots, about 10-15 minutes, stirring occasionally. Add the beans with their liquid, scraping the cans with a rubber spatula, and stir them into the vegetables. Heat for about 5 minutes. Using a heavy spoon or potato masher, mash the mixture until most of the beans are broken up and smooth. Leave some pieces whole for good texture. Stir in the corn, tomato, chipotle and cumin. Heat until bubbling.

When bean mixture is hot all the way through, add in about 1 cup of the cheese sauce. Stir quickly to incorporate the cheese into the bean dip, making sure no lumps are left behind. Add the remaining cup and stir to mix this in as well. Heat through and taste to adjust seasonings. Make it spicier if you like it that way.

The dip can be kept warm in a crock pot, or on the stove. Stir occasionally to keep blended. This reheats beautifully.