Hey everyone…. remember the Iron Foodie Contest I entered last December? I made an amazing Warming Winter Soup with soba noodles, porcini mushrooms, fennel pollen seared tofu….. it was a mob of flavors in my mouth and it was good enough to earn me 2nd Place in the contest. And that distinction then paved the way for me to participate in yet another cook-off with fellow bloggers, sponsored by Marx Foods.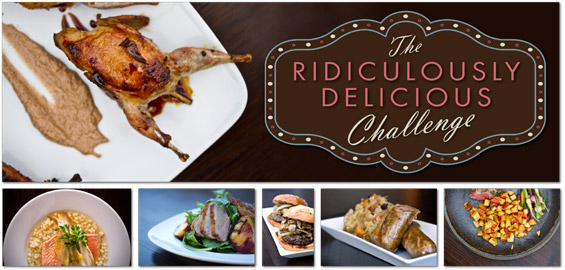 This, folks, is a complex and involved contest that yet again, like the Iron Foodie, offers us a chance to utilize some of Marx Foods gourmet products to create original recipes. The first part, however, is a short essay on which three of the following products you would like to have, and what ridiculously delicious thing would you do with them if you won?
Selecting three of these was no easy task, made more complicated by the fact that if indeed you are the last one standing in this elimination type contest, those items you select in this stage will be the ones that you win. I have to be prepared to accept these items in my kitchen if I'm clever enough to rise above the other bloggers and sweep up the competition.
So my choices are the Specialty Sausage Sampler, the 20-lb Heirloom Potato Sampler and the Pink Salmon Fillets. And with these three choices, the ridiculously delicious thing I would do with them if I won would be to host a food sampling party and showcase these amazing items for anyone who attends. Simple, yes, but what a feast that would be!! How could you lose with 9 pounds of sausages made from Buffalo, Duck, Venison, Lamb, Boar, Pheasant, Elk and Rabbit? Imagine those luscious links, grilled to a crackling crisp, split along their sides from the heat to reveal the juicy meat inside? I'd pop open a jar of my homemade Roasted Garlic Mustard, break out the spicy dill pickles, add a crunchy slaw and make sure we had plenty of napkins for the lip-smacking goodness that would ensue from such a feast. Along side those delectable sausages would be served delicate, tender Pink Salmon in a variety of flavorful options such as Lemon and Fresh Herbs, and then seared with either Sweet Sesame, Orange Cranberry or my Spicy Maple glazes. I'd slice the potatoes and roast them to browned and tender perfection so that everyone can sample to their hearts content. Of course, we'd need some good micro-brewed beer for the sausages and several wine selections to sip alongside that salmon. It would be an utterly hedonistic feast to help usher out Winter and welcome the coming Spring. Mmmmm…. I can just about TASTE it!!
Our entries are due by Monday February 7th for consideration by judges at Marx Foods. Should we be selected to move to the next round, by the following week we'll receive a mystery box of ingredients from Marx Foods. Two of those ingredients will be utilized for an original recipe of our choice. From there, it gets a bit more complicated. So first things first, I'll send this in for consideration and cross my fingers.