Every once in a while, exciting new things sprout up around my kitchen; fun events that I'm participating in that I think you would find interesting. Most of these fun events have arrived via my relationship with The Motherhood, which began last November and has proven to be a win-win for both of us.
The first event happens this Wednesday. And it's all about breakfast.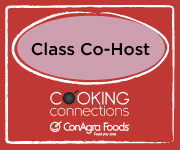 Once again, I'm co-hosting a virtual chat on The Motherhood, and we're going to talk all things breakfast, most importantly- what's the best meal options to start your day? Did you know that the USDA nutritional guidelines have changed once again? They have. There'll be some talk about nutrition too.
Here's the details:
What: You're invited to a Kellogg virtual breakfast to discuss morning nutrition and the recently released 2010 Dietary Guidelines.

When: The virtual breakfast is happening on Wednesday, April 20, at 11 a.m. ET.
Where: In TheMotherhood – http://themotherhood.com/talk/show/id/62187

Who: Join Sarah Woodside, registered dietitian for Kellogg, and Liz Ward, registered dietitian, author and one of the Kellogg's Breakfast Council members, to discuss the nutrients a good breakfast should provide, options for healthy breakfasts on the go, recent research findings on nutrition, and more.  Sarah and Liz will speak to us via live streaming video, while we chat and ask questions through a real-time, text-based conversation.
And if that isn't enough……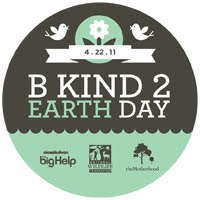 Do you know this coming Friday, April 22nd is Earth Day? It is, once again. And through The Motherhood, I've agreed to be a state representative for Minnesota, taking my own measures to Be Kind to the Earth, on Friday, and every day.
I'm a huge advocate of reusable shopping bags, and carry a big stash in my car. During the growing season in Minnesota, I put all my compostable kitchen waste on our garden, digging it right into the soil and often getting lots of volunteer plants coming up from the seeds. Our garden and yard is all organic (much to our neighbors chagrin!) We recycle, of course, and we have a yard waste bin that our trash haulers collect each week from April to November. We just replaced our washer and dryer with more environmentally friendly options, including a water sensor on the washer that only fills it according to the amount of clothes you place in the tub. I've eliminated paper napkins in our house by using cotton washable napkins, and old worn out towels get re-purposed for garage and cleaning. Last year I swapped out all my personal care products for natural, eco-friendly options without sulfates, petrochemicals or pthalates. This year, the cleaning products are on my hit list.
What are your best eco-friendly habits? Will you join in and make your own pledge to care for the Earth?
DISCLAIMER:
I am being compensated for participating in the breakfast chat, but being the Earth Day representative is just a lot of good karma. And everybody needs good karma.
Make Earth Day count for you and your family this year!! In all fifty states on Earth Day, families will get outside, appreciate our planet and do good things for the Earth – and their collective actions are going to count, big time. B Kind 2 Earth Day is a project of Nickelodeon, the National Wildlife Federation, TheMotherhood.com and incredible bloggers across the country.
To encourage people to promise to do at least one earth-friendly action on April 22, 2011 — and beyond.