No, not Impatiens, like the potted flower on everyone's doorstep. This is true impatience, the feeling brought on by delayed spring time, blooms that just don't occur, endless gray skies and parades of devastating storms and the fleeting thought that I can't recall what my warm weather clothes are like anymore. It's almost Memorial Day. We briefly met 70 degrees this Spring, only to quickly plunge back to the 60's, the 50's and a few shivering days where 40's were all the atmosphere could muster. Who's hogging all the 80-degree days? Minnesota needs you to share. Now.
Despite the cool weather, the lettuce and radish seeds I planted are flourishing and I'm dreaming of amazing salads. The annuals in the garden are coming along nicely, albeit several weeks behind schedule. And with the drenching rains and lack of sun, the emerald greens around us are amazing. Simply amazing. While Spring hasn't exactly been the most glorious in terms of the temperatures and sunshine, it's still showing me it's fragrance and the visions that we wait all Winter to appreciate.
I missed the very brief window of opportunity to love up the crabapple tree in our front yard, as it hit full bloom on a Thursday, only to be wiped clean of it's lush petals through a series of weekend storms that unleashed torrents of rain on us, and some terrifying sky.
And a subsequent walk through the neighborhood revealed glorious pink petal carpets from the stripped crabapple blooms.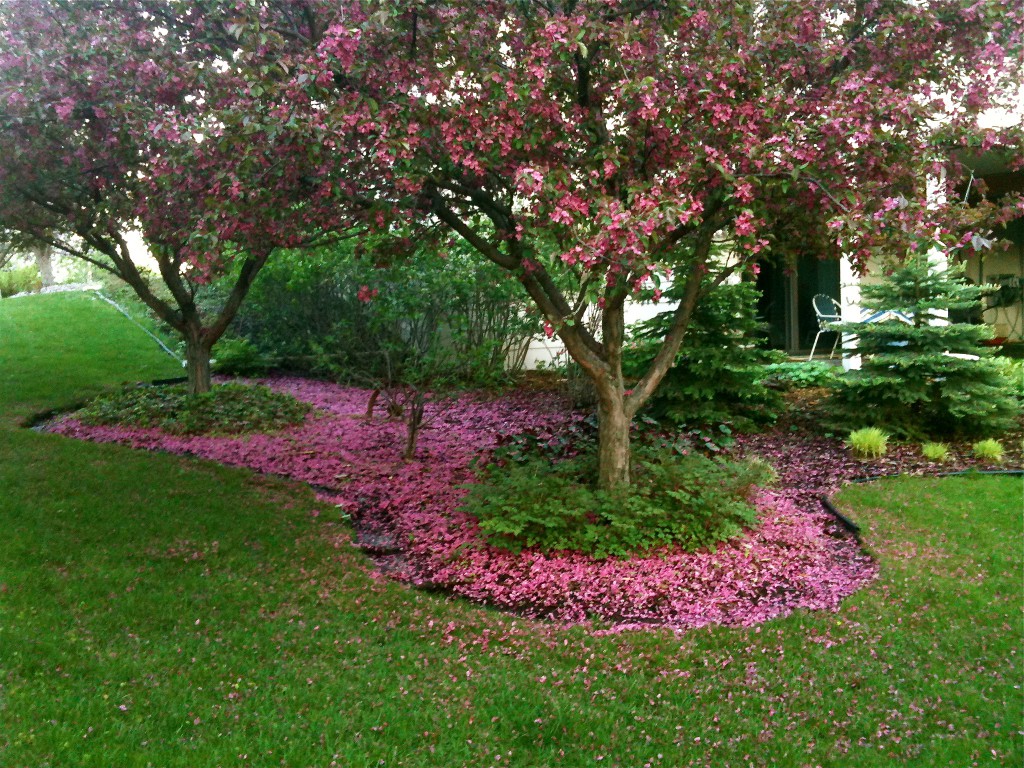 In my garden, the Creeping Phlox filled out it's little garden bed beautifully.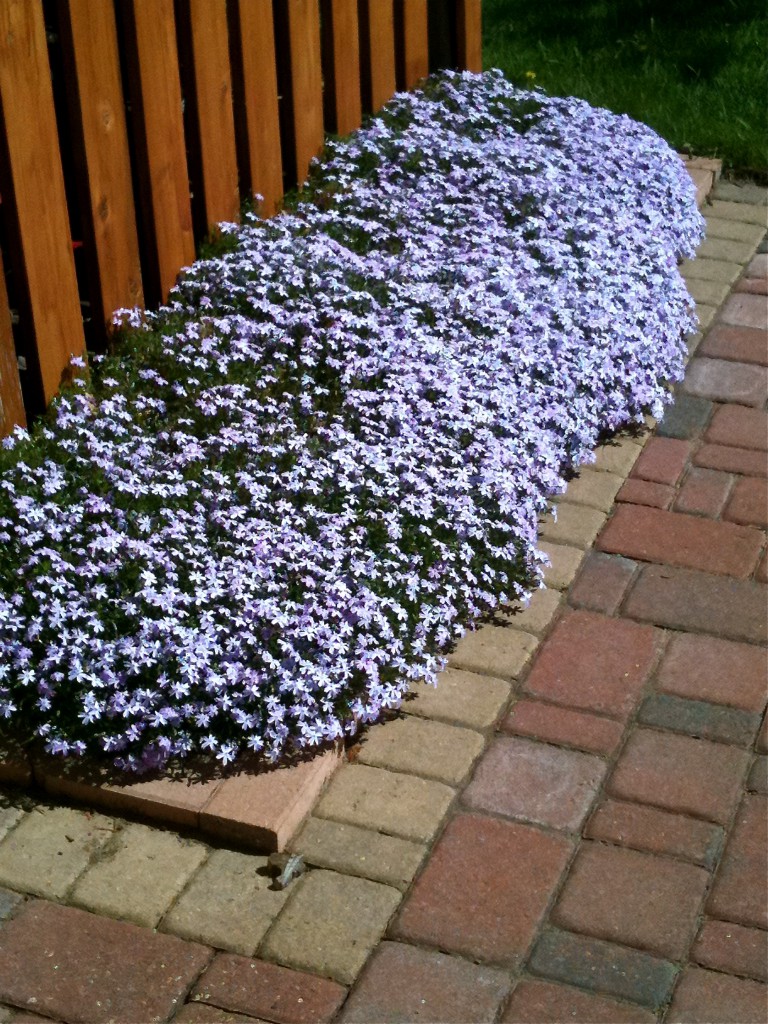 The Adjuga along the front garden path burst into a rich and full display, basking in a rare sunny day while hiding among the new Hosta blooms and the fallen pink petals.
Adjuga is a wonderful ground cover, and it grows on a flagstone path right along the front of our house. It's mostly for shade, but can handle a little sun and it forms a nice thick carpet. In the Spring, it sends up flower stalks about 6 inches high that have these tiny little blue flowers on them. It's one of the most favorite, carefree and reliable plants in my yard.
What else has May brought?
Oh yeah. An adorable cat of course, with nary a care in the world it seems.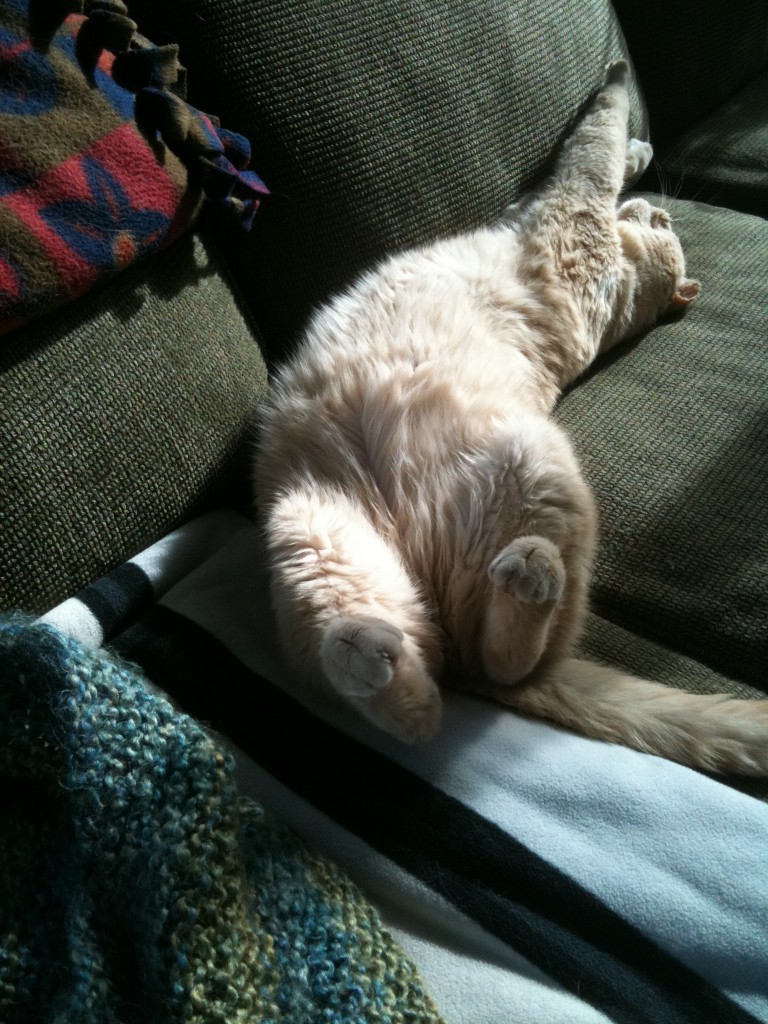 A gorgeous new stove!!!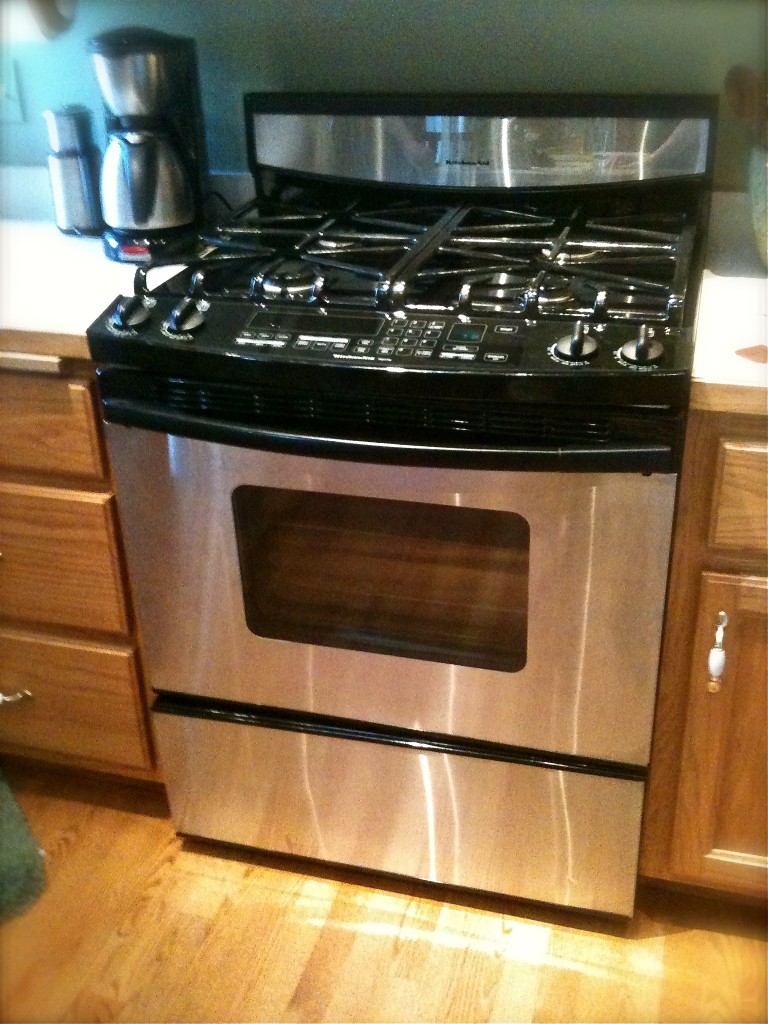 I'm still in awe over this acquisition. One of my food blogging cohorts is remodeling her kitchen and through a few Twitter exchanges, she offered to sell me her old stove for $100 and a case of beer for the guy who drove it from NE Minneapolis out to the far Northern suburbs for us. The door hinges were broken and it needed a power cleaning, but for $150 in parts and a bit of elbow grease, we landed a stove that retails for $2,200.00. I kid you not. It's like going from driving a Yugo to being handed a Ferrari with a full tank of gas. We seriously lucked out and we've taken to calling it our 'Grown Up' stove, something a serious food lover should have in her kitchen.
There were a few lovely nights on beautiful restaurant patios with my beautiful laughing food-loving friends that only solidifies how much I am falling in love with them…..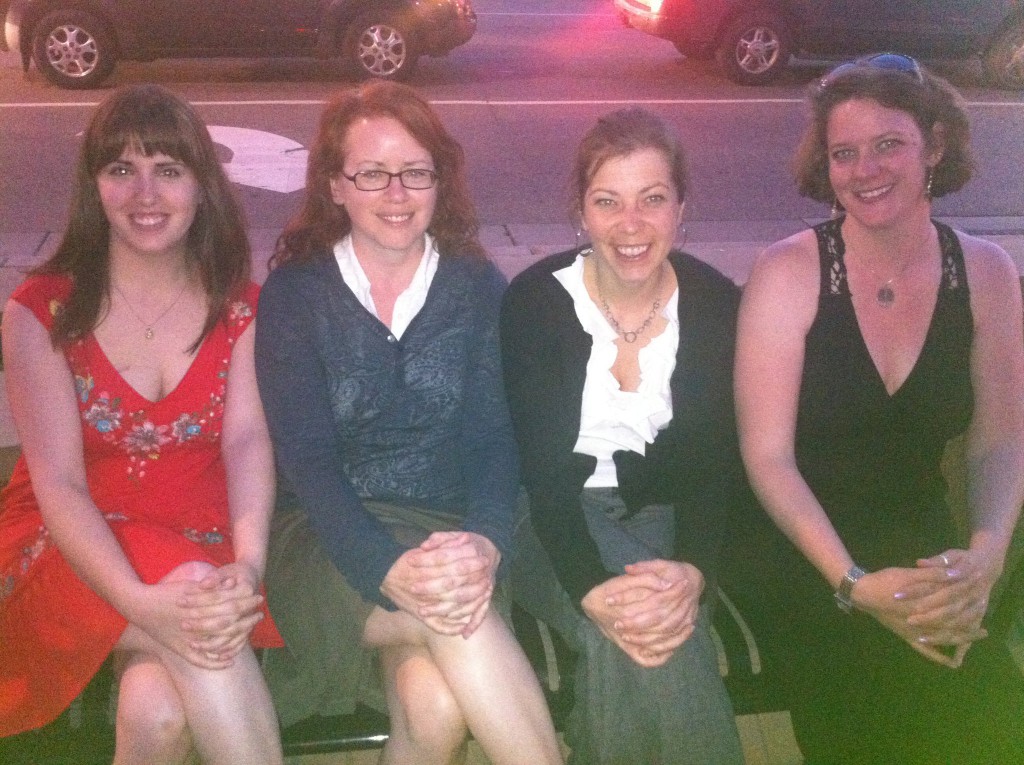 This is #GirlsBigNight, hanging outside Cooper West End with (L–>R) Dania, (me) Jen and Virginia. Yes, we posed that way on purpose.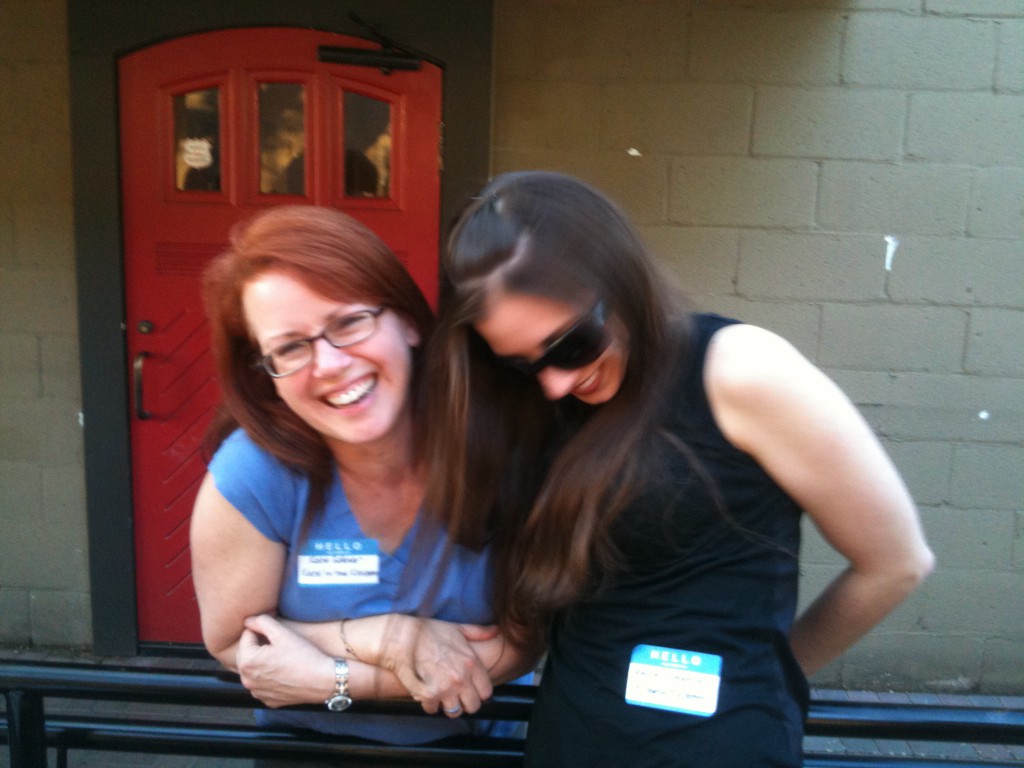 Enjoying the tree-shaded patio at Heidi's 2.0 in Minneapolis with the #MNFoodBloggers, Shaina and I after a few amazing cocktails. Everyone really, was as happy as we look. It was just one of those all around perfect nights.
On a rare nice night following a hectic afternoon of rain and thunder, it's nice to find the calm after the storm.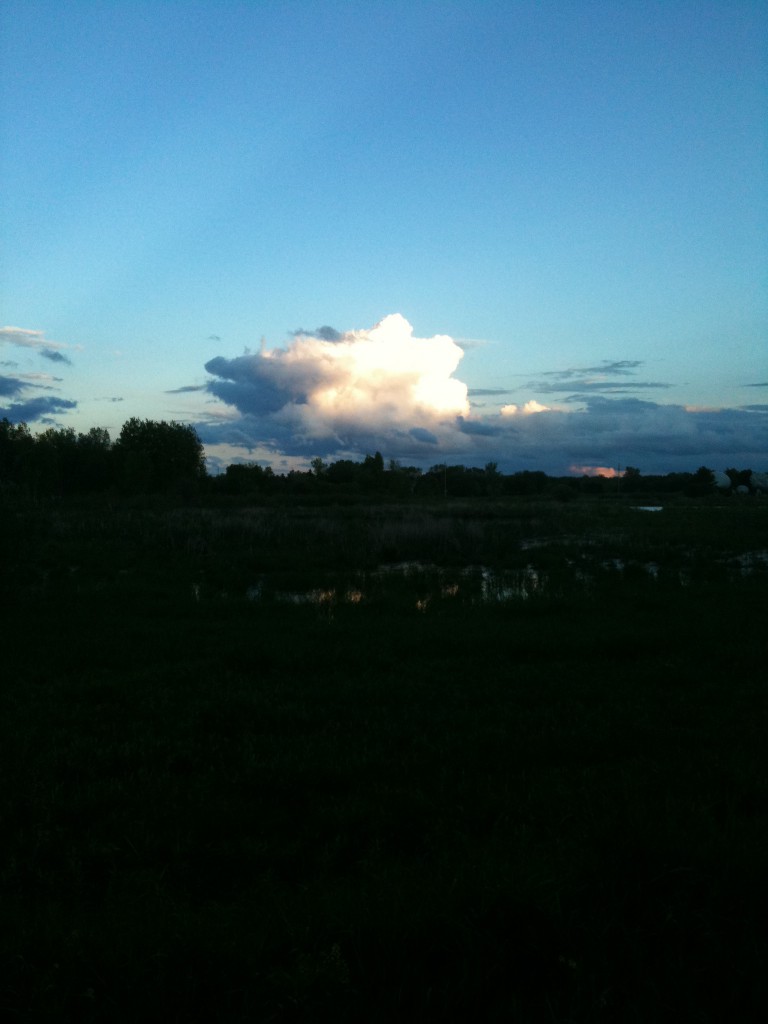 And then???
Roasted Chickpeas. Because this is a food blog, after all. For the most part anyway.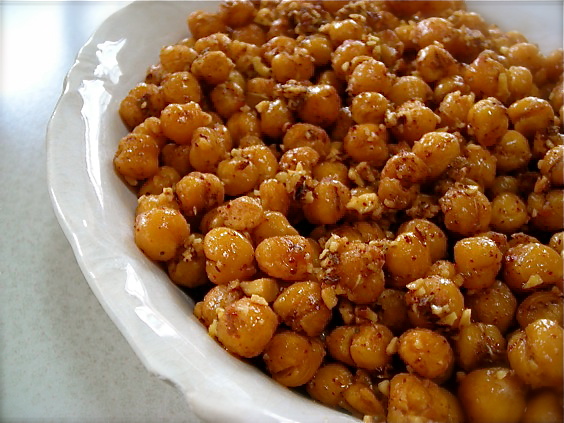 I'm super late to the whole 'roast a can of chickpeas for the ultimate snack' craze. Seriously late. And I'm ok with that. I don't jump on too many bandwagons as I always seem to miss, fall flat on my face and then have to slink away in silence, tail between my legs. I like to watch these things go by, silently waiting to see if it endures, if it sticks around long enough to not be called a fad, a trend or the next big thing. These little golden nuggets of crunchy-ness are a perfect snack for the improved eating plan going on around here. I think I could even get my Teen to try a few handfuls. They're like Corn Nuts, but less processed, less packaged without all the strange things. I feel that these will make a regular appearance in my kitchen for a long time to come.
Roasted Chickpeas

Preheat the oven to 400°. Drain two 15-oz cans of chickpeas and rinse well. Shake off excess water and pour chickpeas on a baking sheet lined with paper towel. Use another paper towel to blot chickpeas dry, then slip the off the bottom towel. You want them to be absolutely bone dry before roasting them. At this point, if the chickpea skins bug you in the same obsessive way they bug me, you can remove them. If not, then slip the pan in the oven and let roast for about 10 minutes. Shake the pan to loosen the chickpeas, then continue to bake, shaking the pan on occasion, until they are browned and crisp, with a rich nutty scent. Be careful not to allow them to burn. Depending on your oven, this should take 30-40 minutes. Watch them carefully.

Take them out of the oven and toss them with a little oil and any kind of seasoning you like. For this batch, I used a small amount of olive oil, the juice of half a lime and about 2-3 teaspoons each of chili powder and cumin, plus some sea salt. Toss to coat and serve warm or at room temperature.

For more flavoring options, see this post.

http://www.thekitchn.com/thekitchn/tips-techniques/15-more-ways-to-flavor-roasted-chikpeas-106112