Long ago, through some rather perfect serendipity, I came across this recipe (method, really) in both a cookbook I happened to pick up for browsing in a bookstore, and again, in an New York Times article just about the same day. Both times, reading of softly boiled red potatoes topped with briny tapenade, my mouth did that sort of happy dance that one gets when a food is particularly appealing. I made them. Once. And then, every time I see tiny little red potatoes I think 'Why have I not repeated that dish?'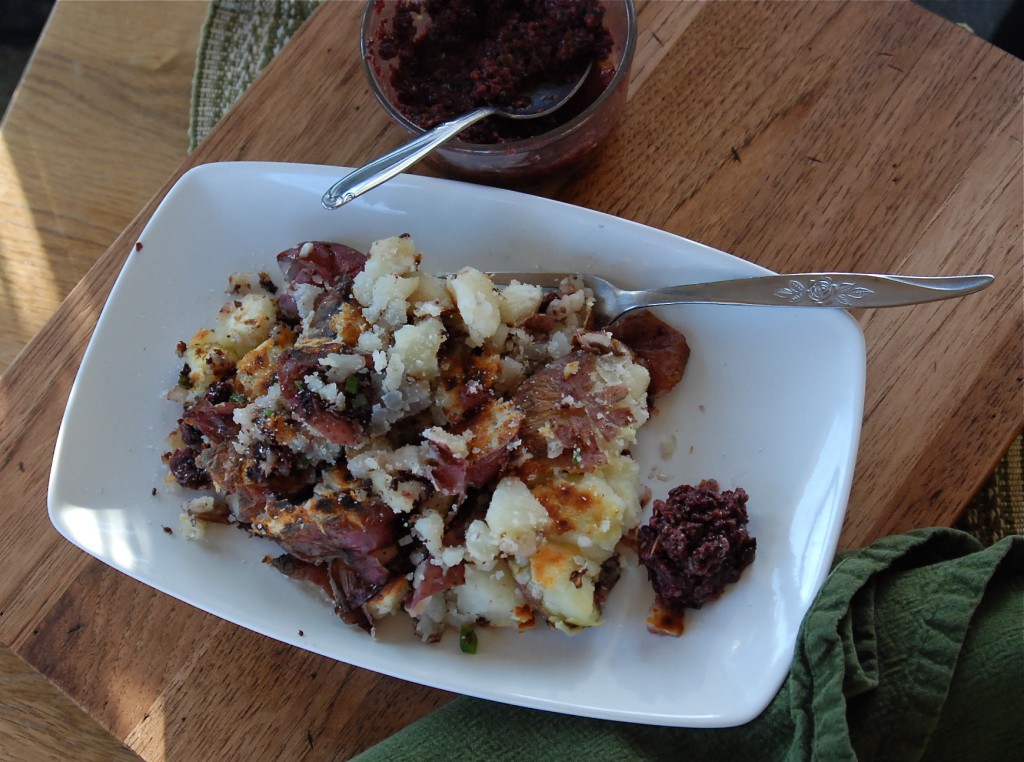 I don't have much of an excuse, really. And it isn't that it's even that difficult. You can use prepared tapenade, instead of making your own and you've got half the battle done, right there. And really, does boiling little red potatoes take up SO much of my time? Who am I?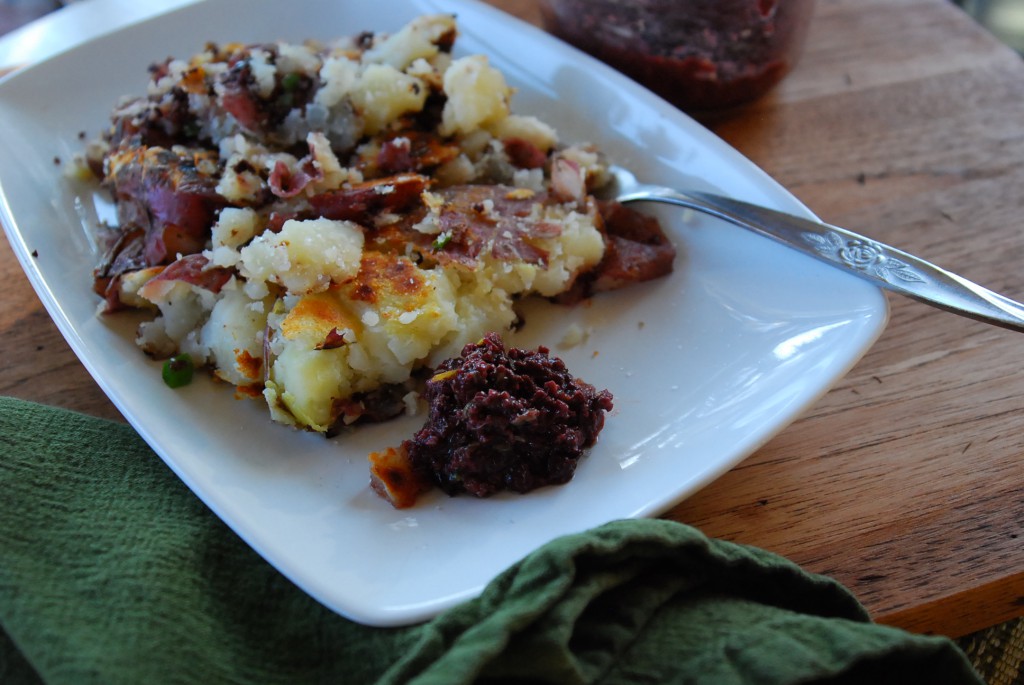 The flavors marry in the most unusual way. Soft and simple, a boiled potato isn't a whole lot all on it's own; it needs a friend to help wake it up, make someone take notice. That's the tapenade's job. It's a loudmouth, all right. Sharp, briny and out there, it sidles up next to the humble boiled potato and says 'Hey, let's make some noise' and pretty soon, with the addition of half a jalapeno pepper languishing in the fridge, and a shallot for good measure (potatoes and onions are so utterly complimentary) you've got yourself a plate of something that's risen to greater gustatory heights. It's humble and basic, still. But fantastically more. It's the type of dish that soothes the rough spots out of your week, gives you pause. A forkful raised to your mouth is at once sharp and fragrant, then through the bite of olive, lemon and caper, soft in the way only a perfectly boiled potato can be.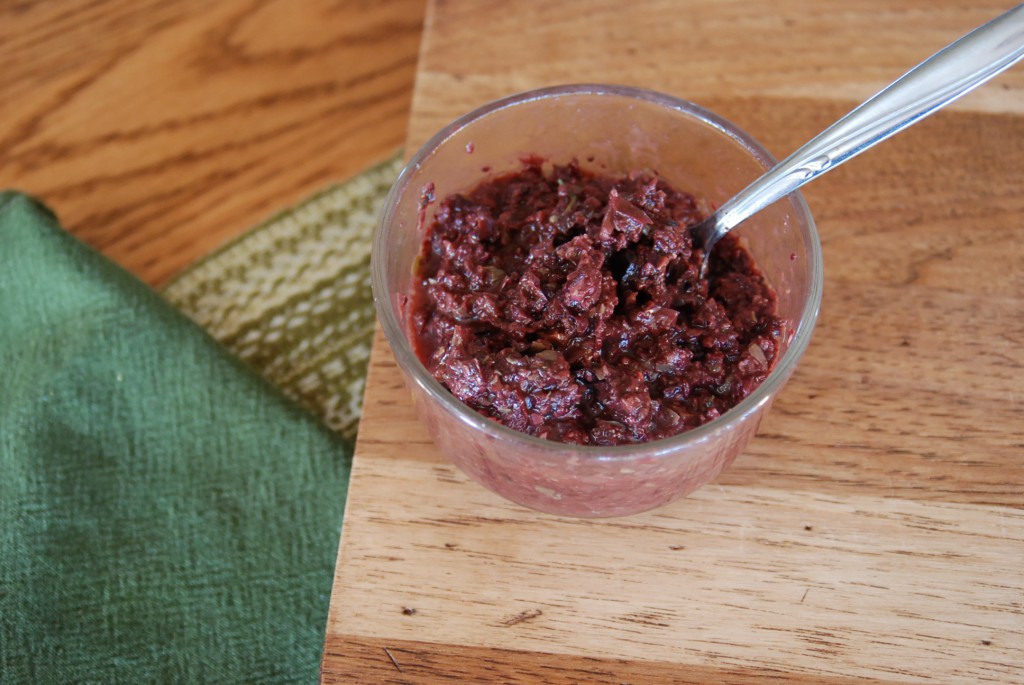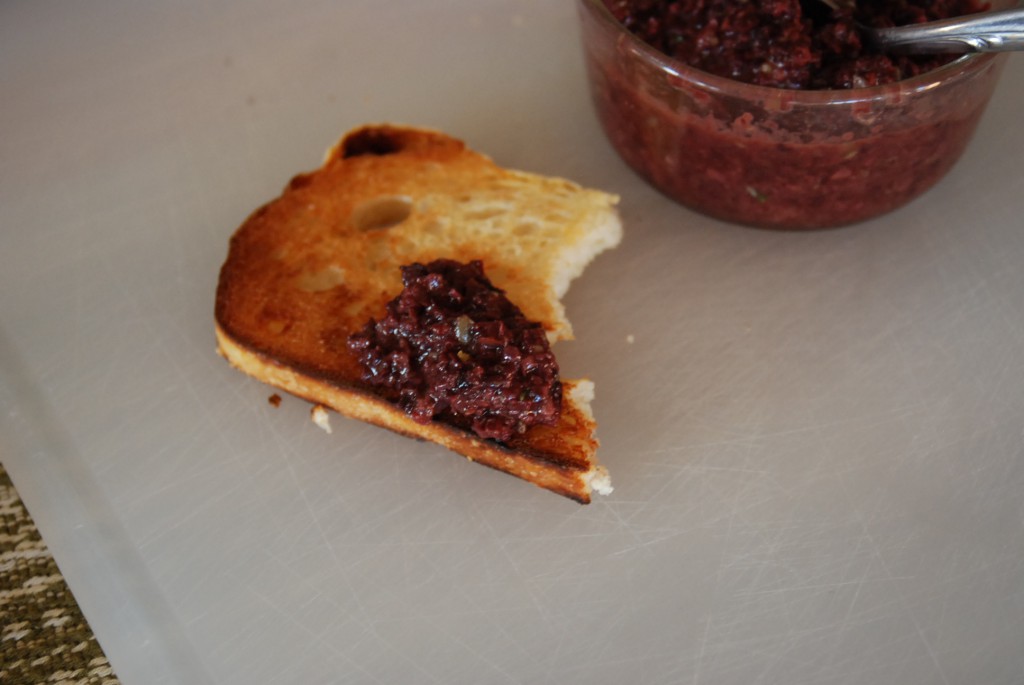 Best part about making this simple and humble dish is that you're likely to have leftover tapenade, and spreading that on a bit of toasted bread is one of my most memorable treats. In fact, eyeing the simmering pot of potatoes while I scooped tapenade on freshly toasted asiago cheese bread, I quickly calculated the merits of actually finishing the recipe, versus sitting down with the remains of the bread and the tiny dish of olive spread, but soon realized how boring that would sound. I'd had enough of boring, and it was time to make a little noise.
Smashed Potatoes and Olive Tapenade

For the Tapenade:
1 c. kalamata olives, minced
2 T. capers, minced
1 t. grated lemon zest
1 T. fresh lemon juice
1 1/2 t. fresh thyme, chopped
1/2 c. extra virgin olive oil
Fresh ground black pepper

Mix everything together in a bowl and allow to stand for a while to blend. You can whiz everything in a food processor to make it easier. Don't skip the lemon zest and juice. It's delightful in this.

For the Potatoes:

About 1-1/2 pounds of waxy small red or white potatoes,
2 T. red wine vinegar
1 bay leaf
6 black peppercorns
Salt

Wash potatoes. If not uniform in size, cut to size and boil, with all added seasonings, until tender. Drain and discard seasonings. Allow the potatoes to cool slightly, then gently crush them with your palm so they break open, but don't bust them apart too much.

Heat a heavy skillet over medium-high heat. Cast iron works beautifully for this. Add a small amount of butter and oil and swirl to coat the pan. When hot, place potatoes in a single layer in the pan. You may not use all of them. Cook for 10 minutes or so, until a good crust forms on the bottom. Dot the top with about 1/4 cup of the tapenade, and carefully turn the potatoes over. Allow to cook on the other side for an additional 5-10 minutes. Serve with tapenade on the side.

NOTE: You can add a finely minced shallot and jalapeno at the same time you add the tapenade. These added a nice dimension of flavor to the finished dish.
Original recipe: "Seven Fires: Grilling the Argentine Way" by Francis Mallman and Peter Kaminsky (via the New York Times Dining Section, 5/20/09)