Happy birthday Julia Child!!
The culinary icon and towering personality would have been 100 years old today. And if she was alive, she no doubt would stick to her mantra in the kitchen, regardless of whom she was talking to: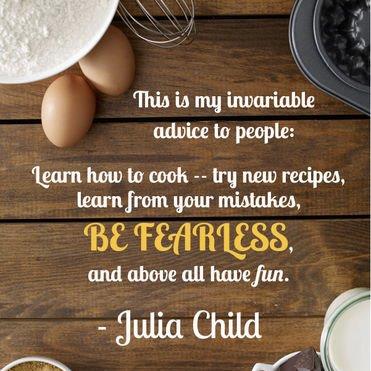 And the thing is, this being fearless aspect of cooking, this devil-may-care mindset and learning from every mistake I make is how I approach each day in my kitchen. I'm not perfect by any means; I make a ton of mistakes still, even with the advanced skills I have. I still am full of anxiety when I try something new, but I keep trying, I keep figuring it out as I go and I keep entering that kitchen, day after day with fresh eyes and an eagerness that propels me forward. I'll never tire of trying.
Never in the history of our culture has there been a time that is so saturated with every aspect of food. Our culture is obsessed with it's food, some in a good, good way and others, not so much. There is more awareness now about food, from the way it's grown and raised to the means of acquisition to the method it's prepared; it's on the minds and tongues of everyone and never before has there been such a desire for making and sharing good food.
Julia Child was one of the pioneer who started Americans out on this food adventure. The warbling, funny and iconic host of PBS' The French Chef gave us permission to explore and expand our palates, to try out new foods and recipes. Her seminal work, Mastering the Art of French Cooking was first published in 1961 to critical acclaim, and is still in print today. She was a prolific cookbook author, as well as host of several other television shows. Her entire kitchen is on display at the Smithsonian National Museum of American History. Julia paved the way for so many other chefs through her inspiration, her urging people to just get in the kitchen and start somewhere, anywhere. Nobody could have imagined in the 1970's, an era of bland, boring and uninspired eating that if we could consider ourselves fast-forward three decades that we'd be deeply embedded in a cultural revolution that embraces fresh, seasonal and sustainably sourced food. Julia herself likely could never have anticipated that, but here we are, and there she was, unknowingly a forerunner in a movement that's spanned decades and shows no sign of slowing down.
So let's pour an Angosoda, Julia's favorite drink.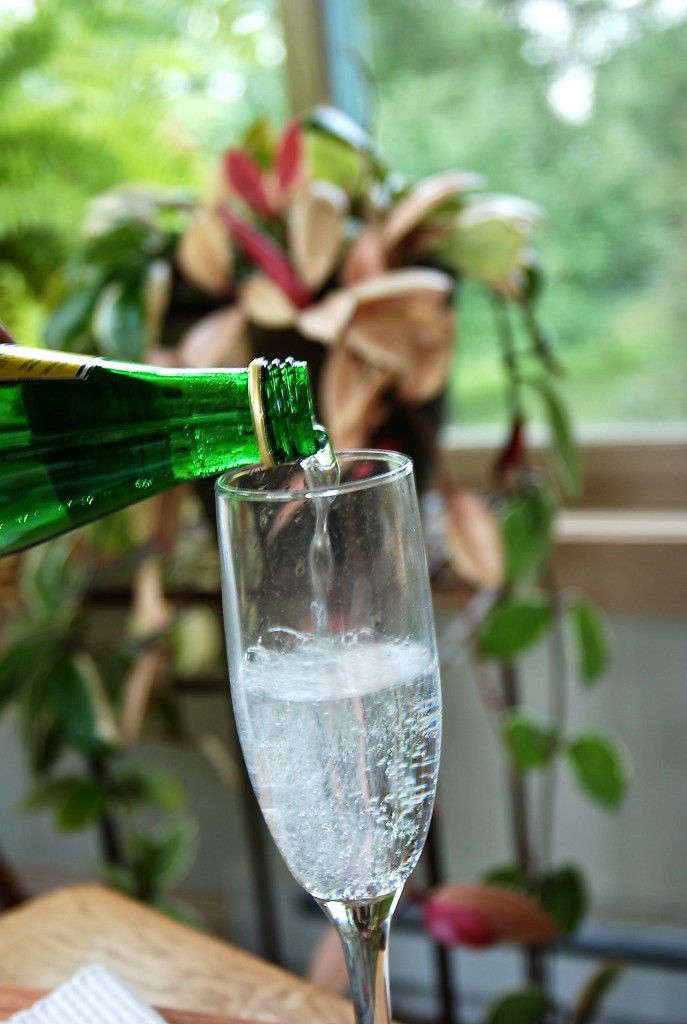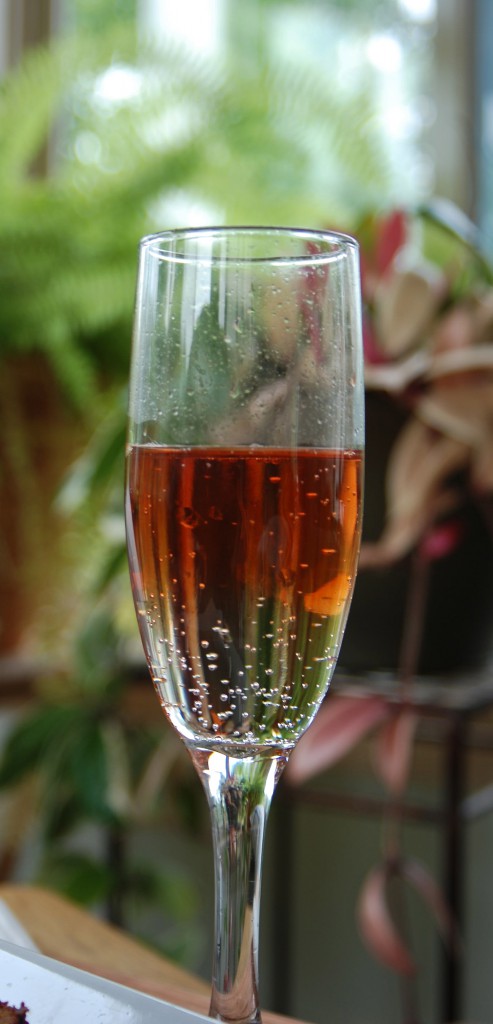 A shot of Perrier sparkling water and a few dashes of Angostura Bitters make up Julia's favorite pick-me-up; Angosoda. The spritely bubbles give a sense of celebration. And the Bitters are well known for helping soothe a full belly.
And how about cake?? There can't be a celebration without cake, can there?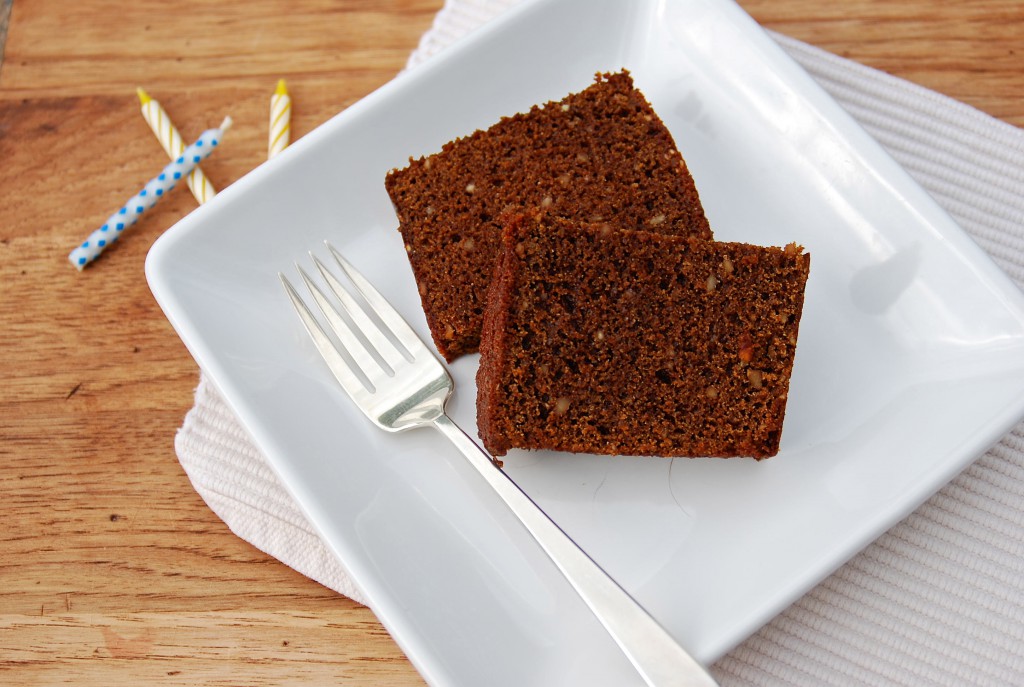 This Honey Spice Cake, or Pain d'Épices is a lovely cross between cake and bread. Rich and moist from the honey, lush with spice and flavor, it's perfect for a celebration with decadent whipped cream or rich gelato, wonderful with a cup of coffee in the morning or tea in the afternoon. And it ages beautifully, wrapped in plastic and forgotten in the freezer for a month, or even left on the countertop for a few days if you can muster up the courage to leave it alone. I can't. We can't. Quick breads such as this are my most favorite item to bake. This dense cake was fragrant and dark, bidding me 'Good morning!!' when I rose the day after baking it. A thick slice, a steaming rich cup of coffee and a rainy morning were a fine trifecta of celebration for a most beloved woman.
Thanks Julia, for paving our path on this delicious road, for urging us to be fearless, for teaching us to laugh off our mistakes, for continually inspiring us to try something new. For everything you've done, and continue to do with your lilting spirit, we raise a glass on your birthday in thanks and celebration.
BON APPETIT!!!
Honey Spice Cake (Pain d'Épices)

1¼ cups honey
1 cup light brown sugar
¾ cup boiling water
1 Tbsp baking soda
½ tsp fine sea salt
3½ cups whole wheat pastry flour (or unbleached all-purpose flour)
¾ cup almonds, ground fine
1 tsp almond extract
¼ cup dark rum
½ tsp each: ground cinnamon, cloves, ginger and nutmeg
¼ tsp ground white pepper
2 tsp grated fresh orange or lemon peel
½ cup each: dried apricots, chopped and golden raisins

Method:

Preheat oven to 325 degrees.
Generously butter bottom and sides of the springform or loaf pan. Set aside.
In the bowl of a heavy-duty mixer with the paddle attachment, beat together the honey, sugar and water until the sugar is dissolved. Then beat in the baking soda and salt. Add half the flour and beat about a minute.
Gradually add the remaining flour and continue to beat 2 minutes more on medium speed. The batter should be stiff and sticky.
Reduce the speed on the mixer to slow and add the remaining ingredients. Mix until everything is well incorporated. Scrape the batter into the pan; smooth the top with a damp or spatula.
Bake on the middle rack of the oven for 1 hour. The cake is done when it begins to pull away from the side of the pan and a toothpick inserted in center emerges clean.
Cool the cake on a wire rack for 15 minutes. If using a springform, release the pan sides; otherwise unmold the cake and place on a rack, top-side up. Cool for about 2 hours or until completely cool, then wrap well in plastic.

Julia recommends waiting at least a day or more before serving. For the best flavor and texture, age the cake for 2 weeks in the refrigerator or 1 month in the freezer.
DISCLAIMER:
I was provided the Perrier and Angostura Bitters for free in exchange for exposure on the blog.
All opinions and words are my own.