I'm a total rebel.
It's November, and everywhere you look is pumpkin. In everything. Or butternut squash. In everything. There's sweet potatoes lurking over there; an acorn squash holding an adorable filling, perfectly browned edge glinting just so. It's the season for all things roots and orange.
People are already gearing up for Thanksgiving, too. Decorations for Christmas have come out in certain stores. WHAT!!? Gah.
And here I am, dreaming of gooey dates and a crumbly oat bar.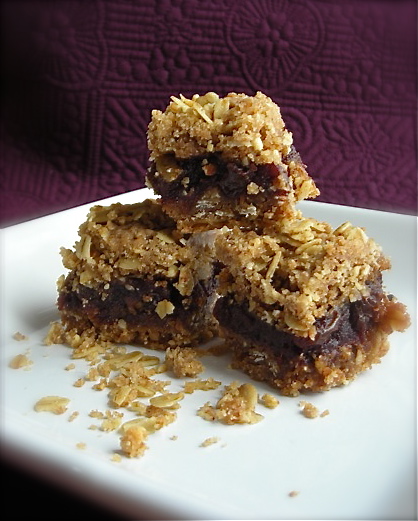 Sarah at The Yellow House recently wrote a post about her Mother's recipe box, and a particular recipe memory she was seeking, in the stumbling way that a motherless daughter tries to find answers to the questions that can never be solved. Sarah's post, even in it's despair and sadness, triggered something in me because I know all about that bitter walk after your Mother dies, the questions you wish you could ask, the reassurance like an anchor, that a Mother brings. She sought answers about a particular barbecue sauce recipe, and for me, the always unattainable answer I sought from my Mom's spirit was for a treasured Date Bar recipe.
I'm pretty biased towards these iconic baked goods as they've been a favorite ever since I could remember stepping up to a kitchen counter, reaching up to place my hands on the worn edge and leaning hard around my Mom's arm to see what she was doing. A recipe box open, the mass of dates simmering on the stove, the bowl of oats and sugar standing silently, waiting. The small pan ready. A kitchen warmed by an oven.
But then in a flash, I'm grown up, and my childhood kitchen dissipates. I'm a parent now, too. When my tiny boy reached his own chubby fingers towards that kitchen counter, I pulled up a chair and got him situated. We stirred together. We mixed and measured, my hand over his as his blue eyes watched closely. I gave him a knife and he carefully trimmed vegetables. He pushed his luck against my stern warning that yes, indeed that stovetop is still hot even though the burners are no longer red. I dried those tears and soothed the burns. We soldiered on. Pans of Brownies and chocolate cake came and went. Chocolate chip cookies- of course!- and Oatmeal Raisin, Snickerdoodles and Dark Chocolate Drops; Oatmeal Scotchies and Applesauce Cake, cookies every Christmas. Full bellies and full hearts, him and I.  His interest wavered, waned and often, he was absent as he grew too cool to stand by my side. Then, in some great moment of clarity, he returned to the kitchen again, a young man. Now he cooks his own food. Experiments. Expands. Still, if he said to me 'Can you please make ______ ?' I would likely tell him 'Yes.' and reach for the flour canister.
Because when I would sidle up next to my Mom as she thumbed through a cookbook, or pulled out her recipe card file for inspiration, often she would turn to me and say 'Got any requests?' and in my little girl, eager way, I would say "Please make those Date Bars!" And she would, smiling as she pulled the corner piece out of the pan to hand to me, it's edges chewy and firm and we'd eat 'til our bellies were full, her and I. Eighteen years after her passing, her words still ring strong in my mind, for her baking was her love language, her moment to tell us how much she adored our faces, upturned and eager towards her as she pulled down worn metal tins of flour and sugar, turned the knob on the stove and sought out the warped, old cookie sheets, the favorite baking pan, drawing the aging cookie tin from the cupboard, the big round one with the roses on the top. I still have her recipe box, and I've poured over her it in vain, searching for that Date Bar recipe that she made for me, the one that was always just perfect, but I never found it. I poured pan after pan of warm date puree over an oat crust, trying to replicate the taste, seeking her smile in my memory and the love from a chewy corner piece but every time I bit down, the past wasn't there. I wanted it to be, so badly. I reach for a container of flour, a sack of sugar,  thinking it will restore the dull ache in me that still echoes after nearly two decades. Sometimes the very act of baking will quiet the roar; other times, those first bites just make it more acute.
Then I find this one, a perfect Date Bar with a crunchy oat crust that browns and crisps in the oven, snapping apart to shower on the plate, crumbs falling in your lap that you happily pick up on moist fingertip, the rich dates cooked to a tender chew, gooey edge and all.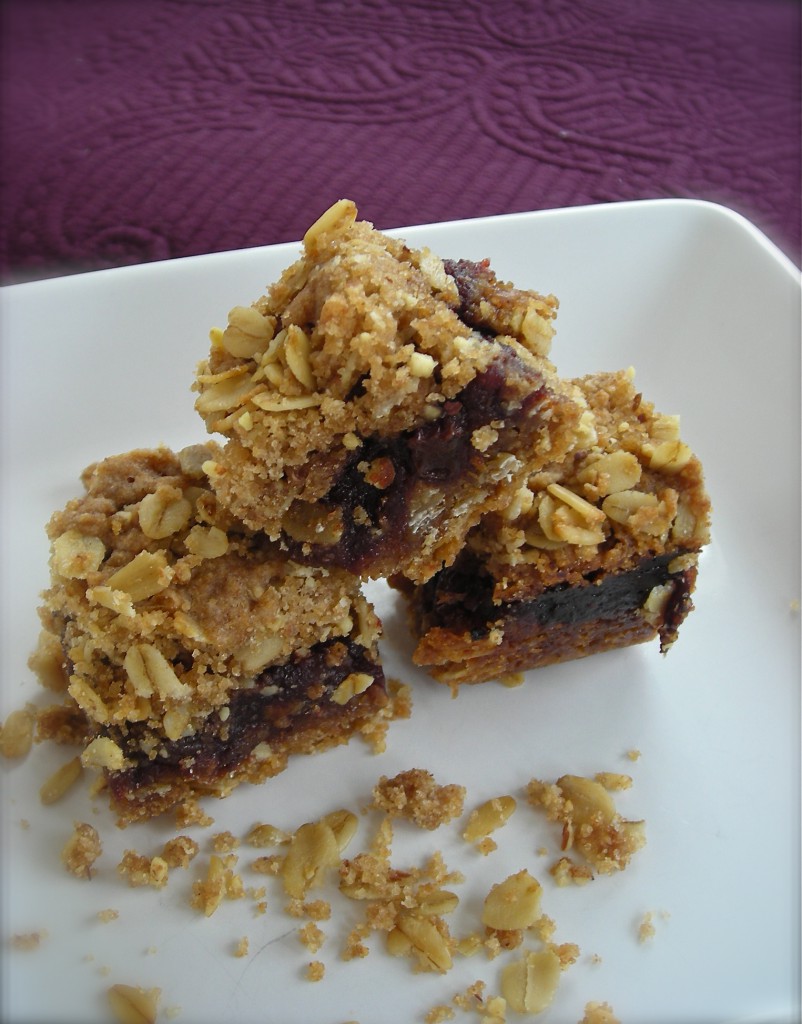 And the taste, smell and memory all come together in a tiny piece of cookie, too undeserving to be saddled with the burden of answering the questions of our past, but when I shut my eyes and bite, it's all there. She's all there. It's swift and sharp, a nick of knife metal, barbed hooks caught against the heart. A moment meshes between child and adult, past and painful present wrapped in one oat crust, me as Mom and then, my Mother, with so many similarities between.
Oat and Nut Date Squares

1 8-oz package chopped dates (or equivalent of fresh)
1/4 c. black raisins
1 c. water
Zest from half an orange
2 t. orange  juice
1/2 c. ground almonds ( sub in walnuts or pecans if desired)
1/2 c. each whole wheat flour and all-purpose flour
1/2 t. sea salt
1/2 t. baking soda
1 t. ground cinnamon
1/2 t. ground nutmeg
1/8 t. ground cloves
1 c. packed brown sugar
1-1/2 sticks unsalted butter, diced, softened but still fairly cold.
1 c. old fashioned rolled oats

Preheat oven to 350° and spray an 8×8 baking pan with cooking spray. Line with parchment paper so that it hangs over edge of pan, then spray the paper.

In small saucepan, combine dates, raisins and water. Bring to a boil, then reduce heat and simmer, stirring occasionally until all liquid has been absorbed and fruit is a thick, concentrated paste. This should take about 10 minutes. Remove from heat, stir in orange zest and juice and blend well. Scrape onto a plate and spread to cool.

In the bowl of a food processor, place ground almonds, both flours, salt, soda and spices. Pulse to combine. Add in brown sugar and pulse to blend. Scatter butter over top and pulse until mixture is like coarse uneven meal. There should be lumps of butter in all sizes. Pour this into a large bowl and stir in the oats.

Press 2/3 of the mixture into the prepared pan, pressing down firmly. Spoon cooled date mixture over, spreading it to cover crust completely. Sprinkle remaining oat mixture over the top. Bake until top crust is golden brown and crisp, 30-40 minutes.

Cool bars completely on a rack, still in the pan. Once bars are at room temperature, gently lift them out of the pan using the parchment paper. Slice into 2″ squares to serve. These bars are delicious when chilled. Keep in airtight container or refrigerated.
{{adapted from an original recipe, author unknown}}