Still awaiting our first real snowfall here in Minnesota. Anyone remember this from two years ago??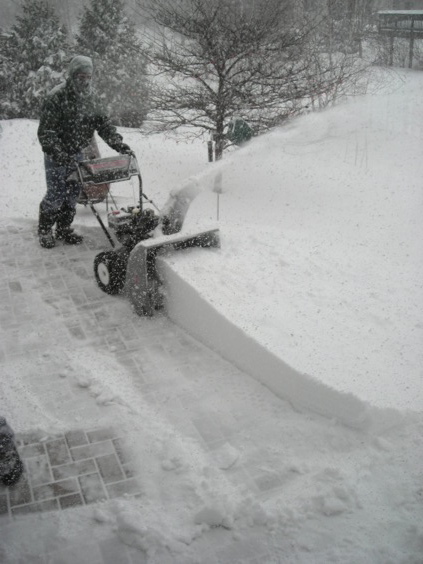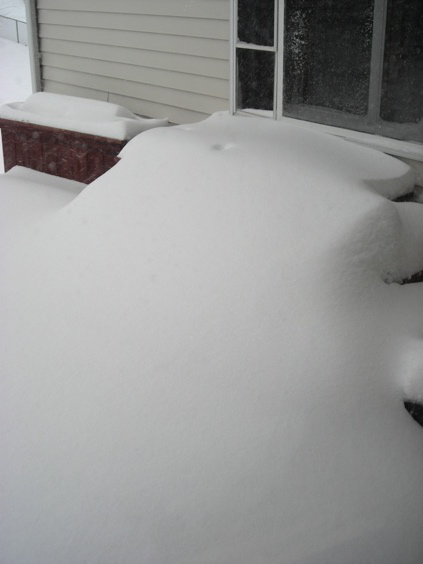 That was a winter that just didn't quit. As much as I love snow, even my adoration of it was stretched to the limit that year. And then last year, it rained the week before Christmas, and everything was brown.
So maybe, this year will be a bit in between all that. I guess that remains to be seen.
But it is December, and snow or otherwise, the days are swiftly passing towards another big holiday season, more feasting, a party to attend, a gathering of family, work celebrations….. it's never ending. Scurrying here and there, among dinners, cookie exchanges, a quiet lunch with good friends can have it's own rewards, and it's own stress. One aspect of attending parties that I always disliked was bringing a dish and trying to remember to grab the container it was in when everything was done. Ever been faced with that same issue?
Chinet has created a new line of bakeware that's fully disposable, and it takes away that need to remember. This past Spring I was sent a big box of these products to try and admittedly, at the onset I was skeptical. I'm not big on the whole disposable everything mentality. I like to utilize items that don't end up filling the trash and the concept of this bakeware sort of rubs up against that. But I have to say, in a pinch, when you want to bring your food elsewhere and just not even think about retrieving anything when the party is over, these fit the bill easily.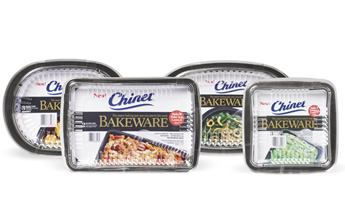 These pans can be used in multiple ways; they can be baked in the oven (minus the lid), they can go straight in to the freezer (and back again in to the oven- sans lid, of course) and when you're finished with them, they can go right in the trash. If you are adamant about recycling, the outer layer can be separated from the inner, non-stick core and tossed in the compost bin. And best of all, they all come with tight fitting, snap-on lids. No need for foil or plastic wrap. These are perfect for potlucks parties, bringing a meal to someone, stocking the freezer of expectant parents, those holiday cookie exchanges, the family dinners. I used several of these for Griffin's graduation party last June and in the chaos and madness of a house full of people, one of the pans was knocked off the table. I rescued the bars from the floor and the action barely halted as no further clean up was necessary. Made of the same sturdy material as Chinet's plates, they're completely unbreakable, but also solid enough to handle your casseroles, cakes, gratins or anything. Even these decadent, rich and fudgey brownies.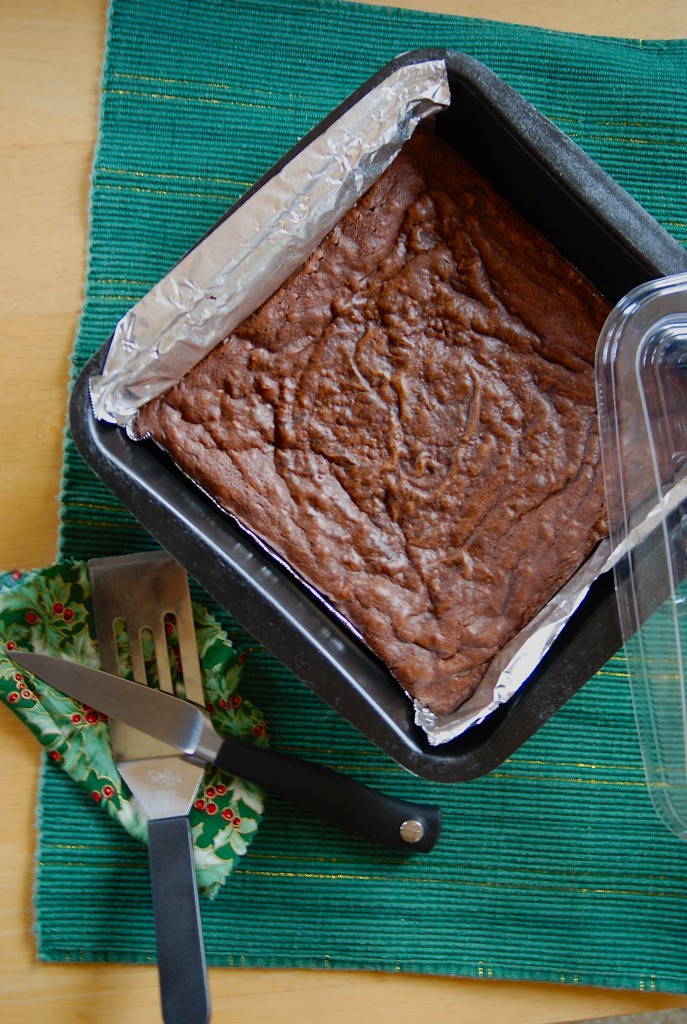 Chinet has graciously offered a complete set of this bakeware to one of my lucky readers. That's YOU. There's three pans with lids per set, and you'll receive each type of bakeware you see in that top picture above; 9×13 cake pans, 8×8 baking pans, large and small oval bakers. For your holiday plans, this couldn't make it easier. And I'll make it even simpler; just leave me a comment on this post. Any comment will do, but make it quick; on Friday, December 7th I will pick one lucky winner. I want to get these in your hands as soon as possible.
And that brownie? Yeah, those are killer good. So good, so moist and tender, so dark and dreamy….. make up a pan (in your NEW Chinet bakeware) and offer them to the Scrooge in your life and watch the emotional ice melt. Yes. They're THAT amazing.
Dark Fudgy Brownies


3/4 cup all-purpose flour
2/3 cup confectioners' sugar
3 tablespoons unsweetened cocoa powder, American-style or Dutch-process
3 ounces dark or bittersweet chocolate (50-72% cacao), coarsely chopped, plus 2 1/2 ounces chopped into mini chip-size pieces, divided
1 1/2 tablespoons canola oil
1/4 cup granulated sugar
1 1/2 tablespoons light corn syrup blended with 3 tablespoons lukewarm water
2 teaspoons vanilla extract
1/8 teaspoon salt
1 large egg
1/3 cup chopped toasted walnuts, optional

Position rack in center of oven; preheat to 350°F. Line an 8-inch-square baking pan with foil, letting it overhang on two opposing sides. Coat with cooking spray.

Sift flour, confectioners' sugar and cocoa together into a small bowl. Combine the 3 ounces coarsely chopped chocolate and oil in a heavy medium saucepan; place over the lowest heat, stirring, until just melted and smooth, being very careful the chocolate does not overheat. Remove from the heat and stir in granulated sugar, corn syrup mixture, vanilla and salt until the sugar dissolves. Vigorously stir in egg until smoothly incorporated. Gently stir in the dry ingredients. Fold in the walnuts (if using) and the remaining 2 1/2 ounces chopped chocolate just until well blended. Turn out the batter into the pan, spreading evenly.

Bake the brownies until almost firm in the center and a toothpick inserted comes out with some moist batter clinging to it, 20 to 24 minutes. Let cool completely on a wire rack, about 2 1/2 hours.

Using the overhanging foil as handles, carefully lift the brownie slab from the pan. Peel the foil from the bottom; set the slab right-side up on a cutting board. Cut into desired size. Can be frozen.

from Eating Well magazine, Jan/Feb 2007