A few years ago, I had a bit of a revelation in the kitchen. I learned about Sugar Plums. Yes! THOSE Sugar Plums… as in 'visions of sugar plums danced in their head'; the stuff of lore and childhood wonder on Christmas Eve, the giddy anticipation of morning and a stocking stuffed with toys.
I remember the day quite well; it was a blindingly sunny, brilliantly blue-sky day in December, but the air was frigid with cold, the cold that seems like you could break it with one swift punch. Inside the house, as the furnace hummed, the sunshine on my back so warm that I'd shed my sweater, but kept it close at hand for that magical moment when the sun slips low enough to return the chill to the air. I was gathering ingredients together to make these little gems; dried apricots, figs, and dates, almonds, pecans, pistachios…. it was a heavenly spread laying on the countertop in my kitchen. I had a few round, fat oranges for zest and juice, a jar of honey that caught the sunshine just right, reflecting a golden cast. Everything was measured in to the food processor and I pushed a button. In moments, the mix was reduced to a fine mince and when I popped off the cover, the flood of aromas that swept up to my nose sent chills through me. The hair on my arms stood tall. It was fresh, citrus-y and nutty all at once, and rich with some ancient memory loaded in my mind, far too remote to ever recall correctly. I scraped it all in a bowl, and with a small cup of warm water at hand, I began to form them in to balls. Miles Davis blew his sweet notes on the radio, filling the kitchen with melodious sound, the sun gave the room a drowsy feel, Christmas crept ever closer and in my own two hands, a little Christmas miracle occurred.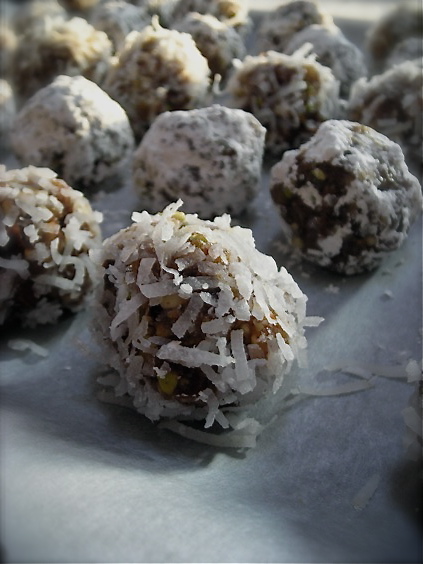 Once the entire mass was formed, dredged in coconut or powdered sugar and set in the refrigerator, I felt like I'd stepped in to another dimension in time. Years and years of hearing the same Christmas story, thinking of my own childhood Christmas Eve, laying in bed thinking I will never! sleep! due to all the excitement and waking up with a start, shot through with the thrill of Christmas morning, I never even imagined that such a thing existed as a Sugar Plum. Ages before the Internet could bring anything in your head to reality, I just figured it was a treat of bygone days that no one had any clue how to make. If my Mom didn't know (because you ALL remember when your Mom knew everything) then it couldn't possibly be real.
But real they are. And that little treat, passed around to wide eyes as Christmas drew nearer that year, brought exclamations of the same; "These are real?" as eager fingers held one for examination. I nodded. "I know!" and with one bite, a burst of sweet fruit and crunchy nut, with the hint of orange juice and I could see the idea settling in everyone who tried them. At some point, ancient in time I imagine the Sugar Plum was likely something else all together, that slipped from our collective understanding, lost forever. But these are a worthy replacement, ready to be placed front and center in your holiday celebrations.
"I wish I'd known about this years ago." someone said to me then, biting in to the fragrant mass. "I would have added these to our holiday baking every year."
"Well," I said to her, " now you can."
Sugar Plums

2 cups almonds, toasted and roughly chopped
1 cup dried apricots
1 cup pitted dates
1 teaspoon ground cinnamon
1 teaspoon ground nutmeg
2 teaspoons grated orange zest
2 tablespoons orange juice
1 tablespoon honey
Unsweetened flaked coconut or powdered sugar for rolling

1. Line a baking sheet with parchment or wax paper.

2. Combine almonds, apricots, dates, cinnamon, and zest in a food processor and process into a finely ground mixture.

3. Add orange juice and honey, and combine until the mixture becomes a sticky ball.

4. Pinch off pieces of the mixture and form into 1-inch balls. Roll in coconut or powdered sugar. Place on the baking sheet and chill for about 1 hour until firm.

Recipe from Field Guide to Candy by Anita Chu; Quirk Books, 2009
KATE'S NOTES: 
I used two cups equivalent of nuts, utilizing pistachios and pecans as well as almonds. It's my holy trifecta of nutty favorites. Or you could use other nuts like peanuts, walnuts, brazil nuts. The possibilities are endless for dried fruit substitutions; raisins both black or gold, cranberries, cherries, currants, pineapple, mango. . Try it with lemon juice and zest for a different flavor, or maple syrup in place of the honey. Use cardamom instead of nutmeg and cinnamon.
I added a bit more honey and orange juice, as the amount in the recipe didn't seem to be enough to make the mixture as sticky as it needed to hold together. Adjust it according to your taste preferences.
These improve, and deepen in flavor the longer they sit in the refrigerator. For optimum flavor, make them a week ahead of time.
REMINDER!!
You still have some time to enter my giveaway for a set of Chinet's Disposable Bakeware.
Go see THIS POST for more details!