Hi everybody! Welcome to my new home! Do you like what we've done with the place?
The remodeling didn't go as I had expected, but what remodeling project is smooth from start to finish? The first plan fell stupendously flat, the second plan required hiring an illustrator to design, and that landed amidst major car issues and had to be placed on the back burner. For now, this simpler design will suffice. I'm working on making it feel comfortable, inviting and a bit nostalgic when you come by for a visit; I want you to feel like you've opened the pages of a favorite book, kicking off shoes to stay a while, sip a warm cup of tea, share a simple meal and maybe pet the cats. They love having friends stop by; they gladly share their fur with anyone.
This blog of mine will turn 7 this year. SEVEN. That's a young child. No longer a baby. Nor a toddler storming through life with fits and re-starts, but a child that's settled well into having a personality that everyone should be able to see clearly.
I didn't plan to be away so long; but I have to admit that there were long stretches of time where I simply forgot I had a food blog, and it really didn't bother me all that much. When I did think about this space, I felt mixed emotions. I always do. Seven years is a long time to hold down a spot on the Internet, and food blogs have really taken on a fierce life of their own, and not always in the best way. The blogs I read don't follow any 'right' path, if there even is one, and that's what I love about them. They talk about the food they love, in a real and honest voice. The food is fresh and simple, hardly anything special, but that's more than enough for me.
So, some time away from this site was necessary to try and find out what it's personality really was, and determine how to reflect that in a new design. It felt good to step back and glance about at the dust bunnies lolling in the corners and a few tired smudges on the surface, to concentrate less on the cooking and sharing, more on what stirs us to produce the fare that fills us, both physically and in the soul.
I won't pretend to have all the answers, but I do have an amazing Winter salad that I've been a tad obsessed with.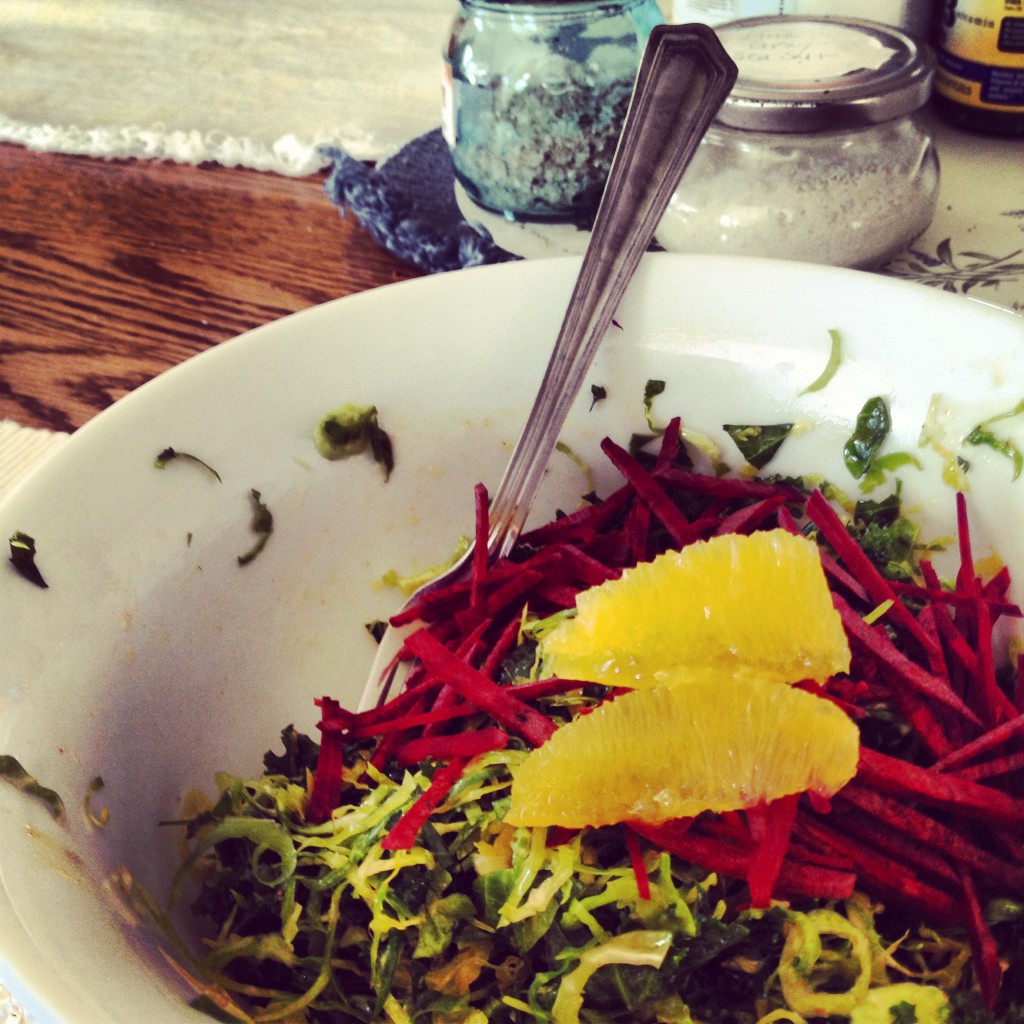 I've been fueling my love of Brussels Sprouts with a ridiculously inexpensive 2# sack that I can buy at CostCo, keeping them on hand for those undeniable attacks of longing for a pan of them roasted, burnished and perfect to just pop in my mouth like candy. While I can get Mike to try them- albeit, reluctantly and with some anxious posturing- I don't have him to the point where his face lights up in delight over the tiny cabbages. That may never happen at all. So that 2# bag mostly ends up in my own happy belly, via the roasting pan, but lately, in this simple and easy salad. If you have a mandoline, this comes together in a cinch; but a few minutes with a sharp knife can slice these up easily, too. Kale of any kind works perfectly here, but the dark Lacinato variety lends a particularly appealing contrast to the multi-hued greens that shaving Brussels Sprouts creates. Blood red beets and a few slices of oranges shock the eyes with color. In the midst of winter, with white for as far as the eye can see, glinting diamond sparks of sun, this color bomb in your bowl is a fresh and tasty antidote to the windchill factor.
Did I mention it's doused with an Orange-Cumin vinaigrette? Sprinkled with crushed smoked sea salt? Can you taste it just yet??
I run hot and cold on salad during the winter months. It feels like cheating, since the ingredients are nowhere near as fresh as that enormous bunch of greens plucked off the table at the market, dirt and morning dew still holding court with the leaves. But I can't sustain on root vegetables forever, even with Winter still gripping us tight. I start to miss greens other than kale or chard, miss the raw bursts of flavor, the way a large bowl, brimming with vibrant color will fill me in the tummy; but what I appreciate about a good salad, quite often, is that in the act of lifting a forkful to my mouth, the crunch and texture seem to push all other thoughts from my mind. I can be mind-drunk, spinning the days deliberations, inspiration, and worry through me, unable to focus on one aspect of it,  but when my teeth close in and begin their job, I'm forced to think only of what is going on in front of me. The concentration required to chomp through a raw salad settles the crazy in me, the incessant whirl of life that spins by each day. That, or the loud crunching just chases it off. However it works, I'll take it. The few minutes of peace it offers me are always welcome.
I'll share the dressing with you because I'm pretty sure you can mix your own salad any way you want. If you like raw kale, make sure to massage some of the dressing in to the kale and let it sit for about 15 minutes to soften the leaves. This particular combination has crossed my plate often, along with spring greens as another base.
Orange-Cumin Dressing

2 navel oranges
1/2-1 t. ground cumin
1/2 t. deli-style brown mustard
Pinch sea salt (if you have a smoked sea salt, it's perfect in this)
Fresh ground black pepper to taste
Good quality Olive Oil

Squeeze the juice from one orange in to a 2-cup measuring cup. Zest half of the second orange. Place on cutting board and slice a slim section off both ends. Place orange flat and following the curve of the fruit, cut off the peel and pith to expose the sections. Working over a bowl, cut between the membranes, releasing the slices. This is called Supremes. Need a visual? Michael Symon will show you how.

Whisk together the juice, cumin, mustard, sea salt and pepper, plus a small amount of the zest; slowly drizzle in the olive oil, whisking constantly, until you have a pourable emulsion. How much oil you use depends on the amount of orange juice. Taste for balance and seasoning, adding more salt and pepper if needed. If you like, add about a teaspoon of finely minced shallot as well.