Late Winter brings it's own melancholy, with a longing anticipation of Spring as the weary trudge over a landscape white as the eye can see.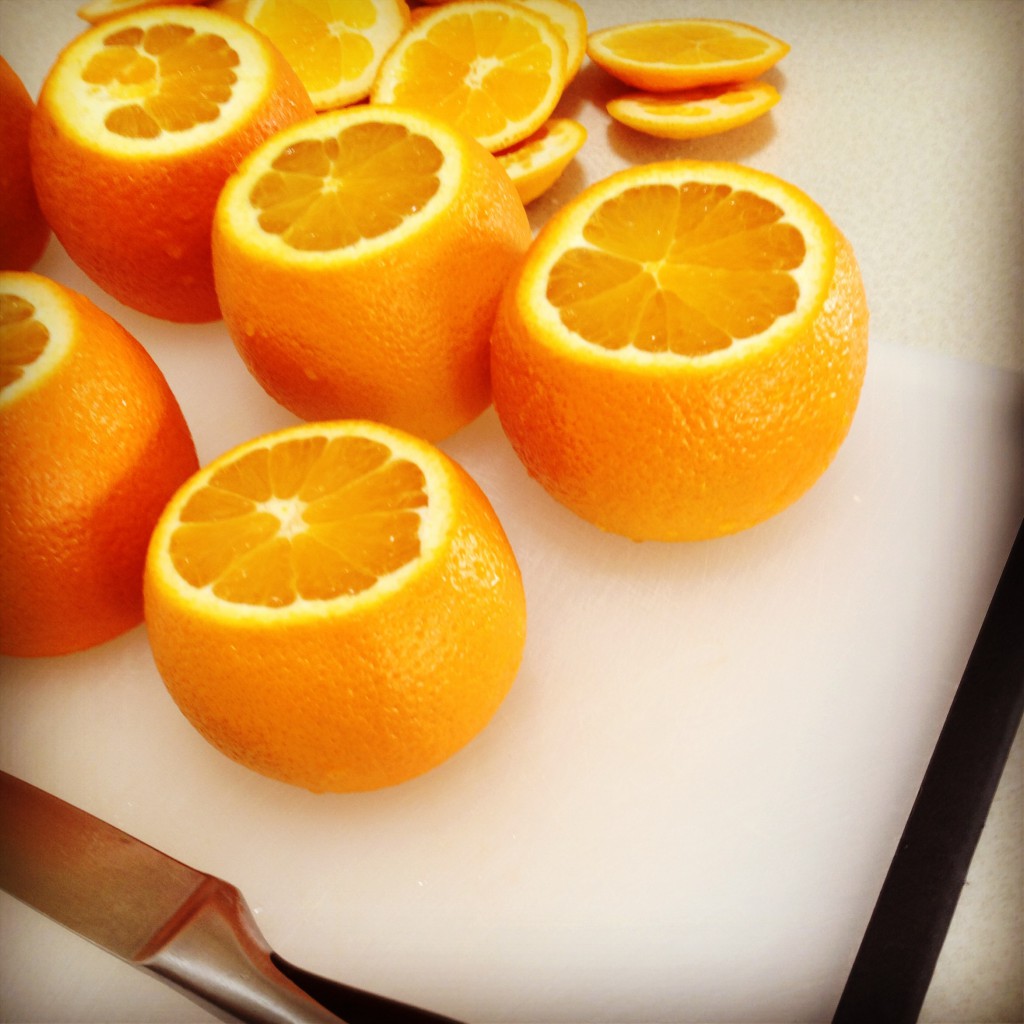 Winter is waning. I'm craving green. February saw snow squalls just about every week, small amounts less than 6″, but enough that it kept the winter fresh, white and pristine, instead of ugly, gray and dismal. It made the month more tolerable, keeping smiles on our faces and just as the ground was getting icky again, an overnight storm dumped nearly a foot of fresh snow on us, amidst mild temperatures that welcomed play and snowmen and fistfuls tossed at unsuspecting folks. Still, I think the majority of our state wishes it to be done. We're longing for Spring. For warmth, the sweet winds blowing across our faces, bringing the scent of the awakening earth.
Winter melancholy is everywhere. It's time for a citrus awakening.
The scent of citrus is proven to be a mood lifter. Anyone who's dragged a knife through a lemon, or bit into a thick slab of an orange knows this. The skin breaks loose with a spray of juice and oil, opening receptors in our brain that bring that uplifting rush. We instantly feel happier, lighter. Staring outside over the unbroken snow as I slice through a pile of oranges, I could shut my eyes and be in the tropics, under a warm sky, plucking fruit right off the tree.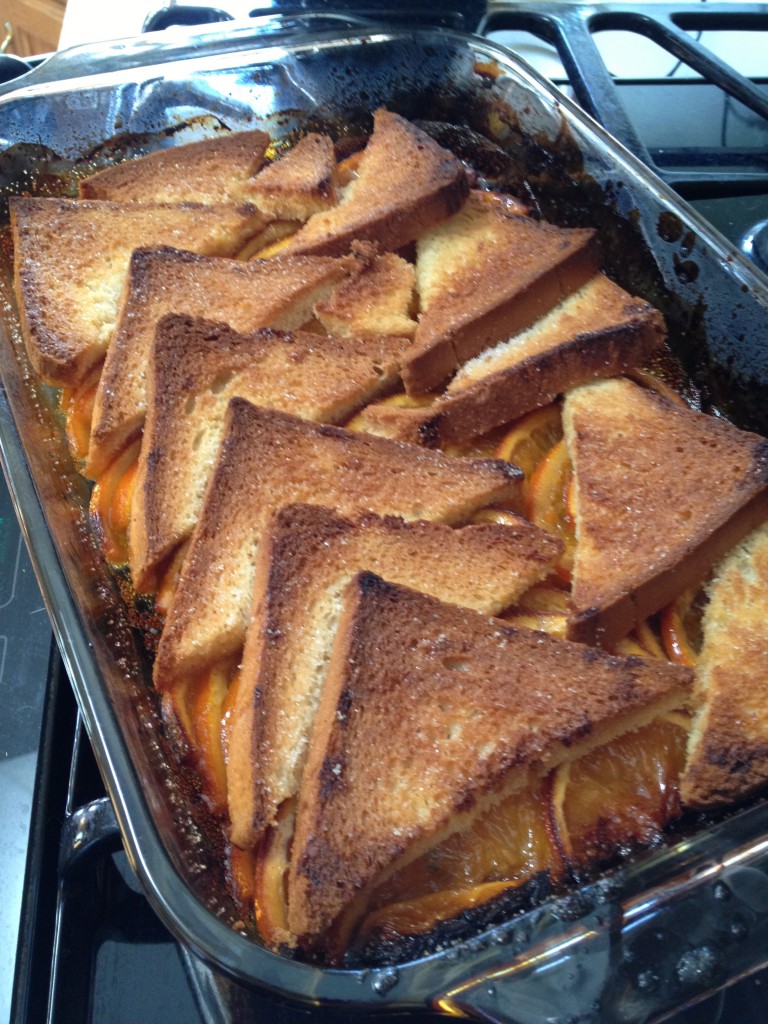 But instead, I'm facing the last month of Winter and I need this; I need these slices, lapping one another in the pan, the sprinkle of sugar and drizzle of orange juice. I need the hot oven to work it's magic, softening the peels, reducing the juice to a thick syrup. I need the buttered and browned brioche to scoop up pith and flesh, to push over my tongue. Piles of snow grow larger around the driveway and sidewalk. The garage feels grimy from the road detritus and as much as I do love the snow, I can feel Spring waiting. And I think it's time.
This insanely simple recipe comes from the Canal House Cookbook, Volume no.6 (The Grocery Store) from 2011. I came across the book in a local bookstore and squealed loudly with delight as I snatched it off the shelf. Do you get the daily emails during the week that talk of the simple foods that these two collaborators create each day? It's seasonal, easy, and mind-bending. It requires nothing fancy. It makes do with what is available and every day I gaze at their creations, lolling around my Inbox and I am inspired. To pare down. To step back. To ditch convention and cookbook and dig through the stores on hand, creating what I can with what I have.
I curled up in my favorite armchair, a cat at my side as always and steaming tea on the table next to me. The book beckoned, and between sips, I read and re-read and read again the entire thing from cover to cover. Then I tucked it aside and a few days later, picked it up again to see what I'd missed the first few times. It's just about an inch thick, so you can do that without much effort.
I immediately fixated on this Roasted Orange Marmalade, a pan of bubbling juice and soft squishy oranges topped with slices of burnished buttered bread. Give me more. Please. Even though my version of this dish took far longer than the book explained, I patiently waited, drenched in the scent of roasting oranges as the March sun, blind off the fresh snow, poured through the windows in a white-hot Winter daze. Clumps of snow crashed off trees, slumped off bushes and shrank on the patio with each passing hour as oranges gurgled happily in the oven. Blue sky, fresh snow, roasting oranges, grinning sunshine. Who would have thought they'd all come together so perfectly?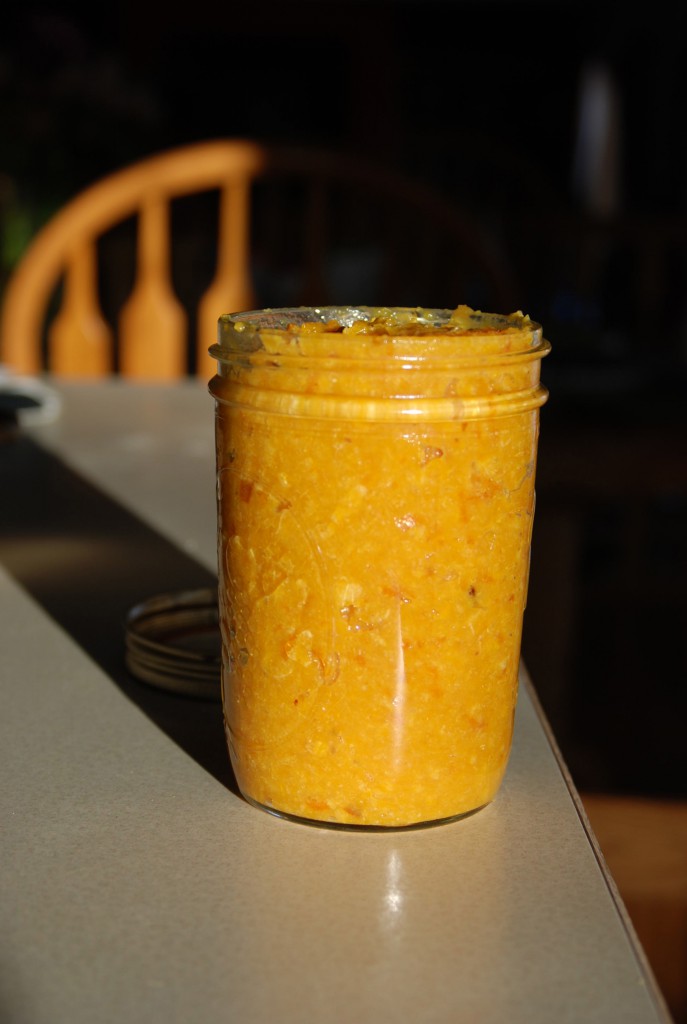 I nearly went mad waiting for the pan to cool.
Roasted Orange Marmalade

4 Navel Oranges, rinds washed to remove wax
2 c. fresh orange juice
3/4 c. demerara sugar
4 slices good white bread (I used brioche)
Fresh butter

Preheat oven to 325°. Lay bread out to dry on the counter.

Slice stem and blossom end off the oranges, halve them lengthwise and slice thin. Arrange them in a 9×12 baking dish so they overlap. Pour 1 cup of the orange juice over them, and sprinkle with 1/4 cup of sugar. Cover with foil and roast the oranges until they are soft and saturated with the juicy syrup, approximately 2 hours.

Uncover the dish and sprinkle with 1/4 cup of sugar. Raise the oven temp to 375° and continue roasting, uncovered, until the oranges just begin to brown and the syrup thickens, 15-20 minutes. (This step took far longer than that; I raised the temp to 400° and I think it was well over an hour before the oranges darkened.)

Butter one side of the bread and cut in half diagonally. Remove dish from oven and arrange the bread, buttered side up, on top of the oranges, overlapping. Sprinkle with 1 tablespoon of sugar. Return to the oven and bake, uncovered, until the oranges and syrup are sticky and the bread is a deep golden brown.

Boil remaining cup of orange juice and 3 tablespoons sugar together in a small saucepan over medium-high heat, stirring often, until syrupy. Pour syrup over browned bread slices to moisten, and serve warm.

From Canal House Cooking, Volume no. 6, The Grocery Store; 2011.
NOTES: As mentioned in the post, this took far longer than stated in the original recipe. It was delicious as is, but the rinds of the oranges were still a bit chewy, so I scraped the entire thing in to a saucepan, added orange juice to cover the orange slices and simmered it, covered, until it was thickened, maybe a half hour. I then put it in a food processor and pulsed it a few times to break it down. The end result was phenomenal- it's in the last photo, above. If yours comes out the same way, take that extra step. It is worth the time.