If there is one thing I know for certain, no one needs another pancake recipe. Without a doubt, we all stand true to the ones that work for us and think that we don't need to branch out, try something different or find a new favorite.
And to that I say "Bosh." 
 Sunday mornings are the best, aren't they? I work nearly every Saturday, so the luxury of a quiet weekend morning, sleeping in a bit to recharge and a leisurely chunk of hours ahead is mighty appealing to me. The pool at the Y is always pretty quiet too, making my morning swim calmer. Something about the air on a Sunday feels different, too. It just seems to pull us down from the do-everything need, to an easier state, like a good book can draw us from reality and make us forget where we are for a while. I like that about Sunday.
And when I arrive home after that swim, my belly empty and muscles singing, my sweet Mike smiles from the kitchen island, standing over the electric skillet, a full bowl of pancake batter next to him.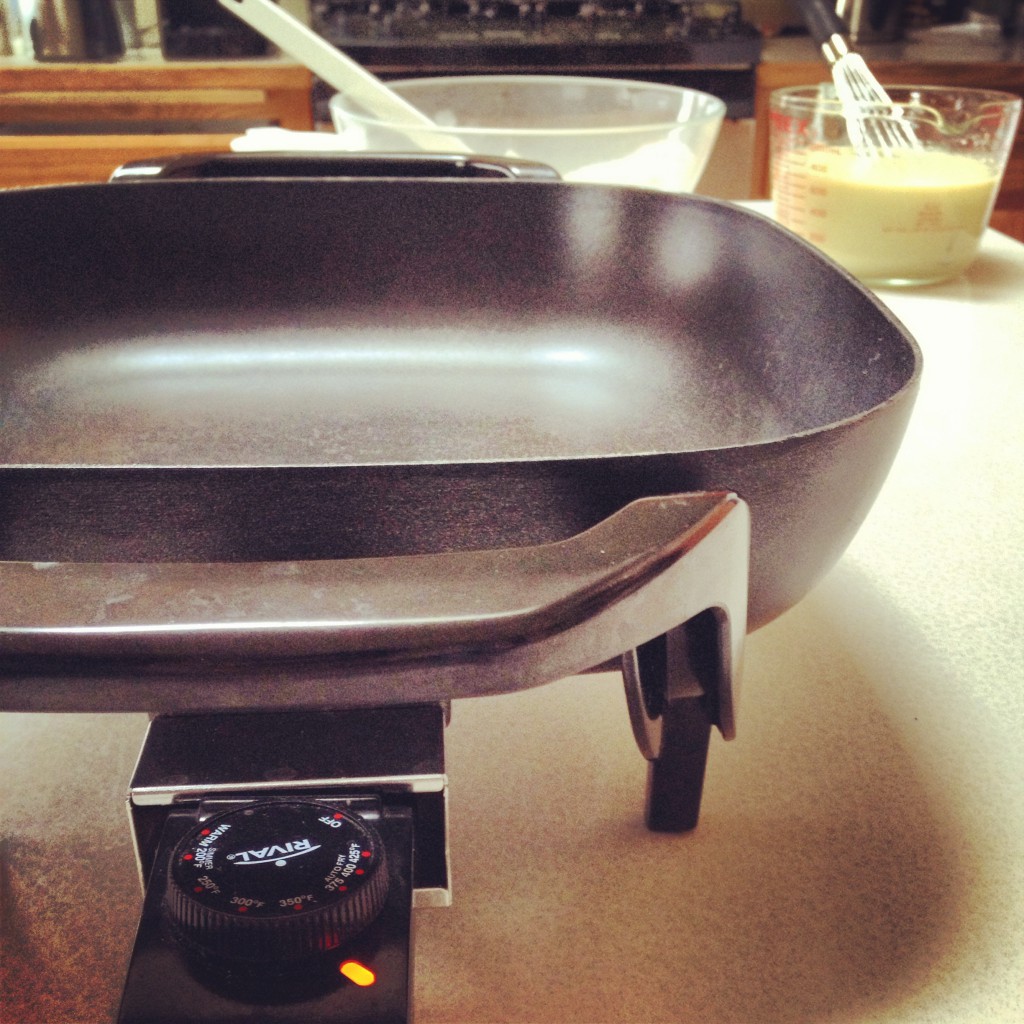 The first time this happened, my heart leapt in gladness. You see, this is not his strong spot, the kitchen; he doesn't come to it all that naturally, and a recipe needs to be simple and straightforward for him to feel he can make it happen. That first morning, where he proudly flourished the spatula over gleaming rounds of pancakes in the skillet, he'd paged through my three-ring notebook I'd recently re-done, where I keep all the recipes I cull from numerous internet sources, the book with all it's markings for 'Breakfast', 'Waffles & Pancakes' and the like, and found a delicious pancake option that he felt confident about. It was the amazing Whole Wheat Gingerbread pancakes from Cookie + Kate, and they very swiftly became our Sunday morning. The one that I've been treasuring for a few months now. Our boy has been working a lot of Sundays, leaving us with time to ourselves, time with coffee and a cat on the lap. That hour in the pool is a necessary start to my Sunday, breaking up the stiffness of previous workdays being on my feet for hours on end, and as I walk to the car, head down and fully aromatic with chlorine and a leisurely shower in the quiet locker room, I feel my heartbeat quicken just a little bit because I know pancakes are waiting at home.
Recently, due to recurring back issues, Mike joined me in the pool, and both of us arrived home in that hungry state. I was thinking of switching up the pancake ritual to another recipe, and I shooed him to the shower so I could mix at my own pace. Coffee bubbled on the counter, and these amazing Cornmeal pancakes grew in the sturdy stoneware bowl, the one always reserved for pancake or waffle batter, a bag of frozen fruit at the ready to plop in them as they cook.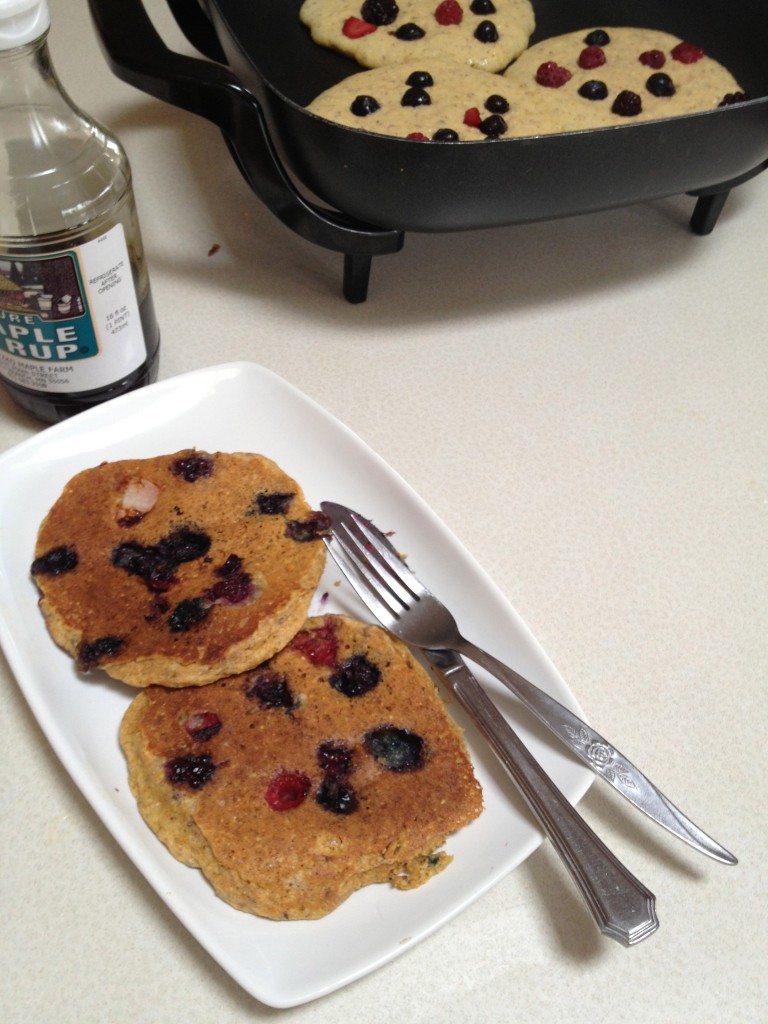 Fresh bursts of warm fruit are my favorite in a pancake. The mixed berries in that bag, raspberries with a tart pucker, sweet blueberries, fat blackberries that puffed up each pancake and strawberries that turned browned as they cooked gave these slightly crunchy cornmeal pancakes a sweet and juicy edge. Do you use cornmeal in your pancake batter? It's a great way to add nice texture to those fluffy rounds. This simple recipe, easily made with alternate flours like spelt, almond or barley, were just a perfect Sunday morning pancake, and with our morning workout behind us, we jumped on them in haste, drizzling syrup, plunging in fork and knife and sighing in contentment. With hot coffee, it made for a delightful start to our day. Sunday morning perfection.
Blueberry Cornmeal Pancakes

1-1/2 c. medium grind cornmeal
3/4 c. whole wheat flour (or alternate flour)
3 T. ground flaxseed
1 T. baking powder
1 t. baking soda
1/2 t. sea salt
2 c. buttermilk
1 egg
1/4 c. maple syrup (Grade B is best but use what you have)
2 T. unsweetened applesauce
2 T. olive oil or melted butter

2 c. frozen or fresh blueberries (if frozen, do not thaw or rinse before using)

In a large bowl, mix all dry ingredients together. Using a large measuring cup, whisk together the buttermilk, egg, syrup, applesauce and olive oil or butter. Whisk until well combined, then pour over the dry ingredients and stir gently to mix. Be sure to scrape along the bottom of the bowl to blend evenly. Allow to stand for 5-10 minutes, the cook in a skillet, adding frozen or fresh fruit if desired. These pancakes freeze very well.