I talked about walking away from wheat in my last post, with that delicious Maple Apple Cake that had no wheat whatsoever in it, and I couldn't resist sharing this incredible Sweet Potato Cornbread recipe with you as well.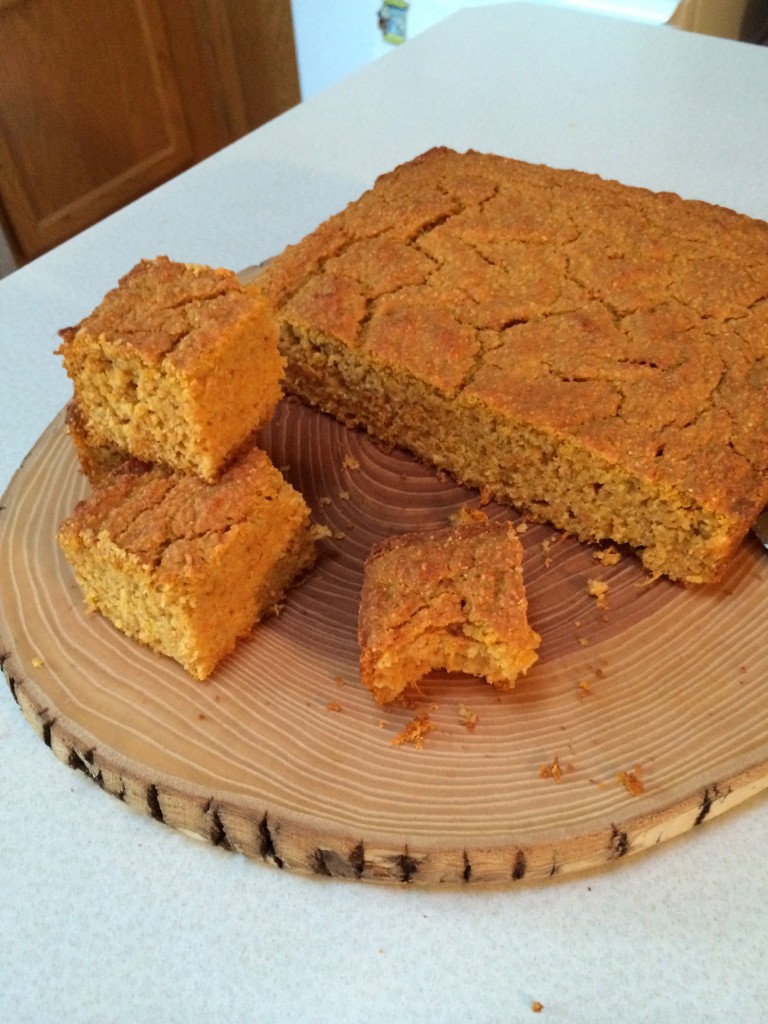 Cornbread is a staple around here in the cold months. We eat it with all manner of soups, chili and such, and all of us love a good hearty piece, drizzled with honey as a side to a steaming bowl. I needed to find a wheat-free option for this quickly.
Fortunately, it didn't take much searching to come across this recipe for Pumpkin Cornbread on Ashley's delicious blog, Edible Perspective. I've been following Ashley's site for quite some time now and love all her simple yet inventive recipes. She inspires a great deal of dazzling food thought for me in my own kitchen.
Ashley has no less than three versions of her Pumpkin Cornbread in the referenced post and the last one she lists is the one that nailed the homerun of wheat-free Cornbread that will now be my go-to recipe. Again, like that phenomenal cake I just made, the base is a mix of flours and does not rely on a commercial blend. I just don't want to take the lazy route to make my favorite baked goods without wheat, and exploring the means of creating these standards is half the fun.
Texture is of vital importance in baked goods without wheat. A good quality result shouldn't immediately raise a red flag that something is missing, and this cornbread's texture is spot on for what I love about top-notch cornbread; it has that cracked, rugged top and a dense crumb that holds just enough moisture to keep it from crumbling with the first bite. Adding roasted and mashed sweet potato helps with that tenderness. Sinking my teeth in to that first piece, cut while still warm from the pan, and I rolled my eyes in joy. It was perfect. The crumb was perfect. The taste- superb. The texture was pure cornbread, with hardly a hint that the wheat was missing.
It's results like this that I can't resist praising. I LOVE this cornbread, and can't wait for the next bubbling pot of soup so I have an excuse to make it again.
Like I need one, right?
Sweet Potato Cornbread

1/2 c. gluten free oat flour (I grind Bob's Red Mill GF oats to make mine)
1/2 c. medium grind cornmeal
1 c. corn flour (use Masa Harina in a pinch- this is different than cornmeal)
1 T. baking powder
1/2 t. baking soda
3/4 t. fine grain sea salt
2  large eggs
1 c. mashed sweet potato (about one good sized spud; I roasted mine until it collapsed, cooled, skinned and mashed)
2 T. maple syrup
3/4 c. unsweetened almond milk (use whatever milk you wish)
2 T. olive oil

Heat your oven to 375°. Spread a few tablespoons of oil around the pan you chose for baking. I used an 8×8 square baking pan.

Whisk together the oat flour, corn meal, corn flour, baking powder, soda, and sea salt. In a large measuring cup, measure out the milk, then add the sweet potato, maple syrup, eggs and oil. Whisk wet ingredients together until smooth, then pour over the dry ingredients and gently mix with a rubber spatula, scraping across the bottom of the bowl. Mix only until combined, then scrape in to prepared pan and smooth the top.

Bake 30-40 minutes, or until tested done in the center of the pan. Allow to cool before removing from the pan.
This recipe is adapted slightly from Ashley's. Please check out her post on how she created, and re-created this cornbread, and the multiple ways she made her version.