I stopped eating meat with every meal on May 2. And I love how I feel nowadays, but I didn't expect that I'd enter in to a time of total culinary paralysis when faced with re-working a lifelong habit of making meat the center of my meals.
We haven't wasted away, thank goodness, and we never will. We've made some delicious foods but I haven't stretched myself a whole lot. I'm grilling a lot of veggies, sticking them on amazing breads or tying them up in delicious pilafs. I made this fragrant and savory Red Lentil Dhal that we've loved since the first time it crossed our stove and landed in our bowls. We've enjoyed plenty of legumes, super fresh salads topped with a wide array of ingredients and terrific grilled cheese sandwiches. But I'm not content to play it safe, to stick with what I know will be wonderful. I want to expand, to grow and to embrace fully this new method of eating and not just end up a Junk Food Vegetarian.
So I'm scouring the 'net for inspiration, grabbing books with gusto from library shelves, from Half Price Books and from friends hands (not really, but I would if the opportunity came up) just to get my mind rolling into this new territory. And it is new territory. It's a new and totally different way of life and even being as good a cook as I am, I've had moments of sheer panic in thinking 'What the hell do I make now?', hence the aforementioned grilled cheese.
The worst part was finding the time. I had to stop over-scheduling all my time away from work into activities that were taking me away from home, away from time to experiment and work up some of these new options. I think, subconsciously, I was avoiding it. No more. It's time to start applying tabs to the cookbook pages, plot out a few weeks worth of meals and get back on track. The nicest part of being meat-free is how much it frees up in our budget. I knew we spent a lot on meat, but folks, it's outrageous what we have to work with now that this aspect of our eating is gone.
So I started with chickpeas. But not just any chickpeas. This is a kick in the mouth, heady and WOW recipe that will just plain knock you on your tush.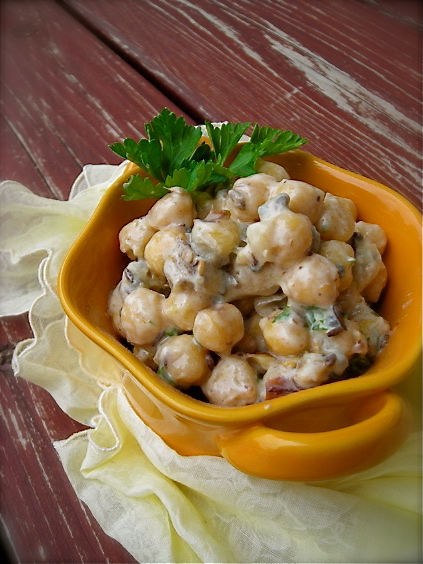 And they look so innocent, don't they?!
We do love our chickpeas around here, and Mike has taken to making some pretty tasty hummus for us to snack on. Then I discovered Roasted Chickpeas and my life suddenly seemed more complete. But really, that was just the tip of the iceberg because I found a recipe for this Indian Spiced Chickpea salad and now I've got something going with this handy and nutritious little legume. It's called love. Luuuuurrrrrve, people. Straight up legume love.
With no cholesterol, no sodium, no saturated fat; an excellent source of protein and fiber, as well as minerals like folate, calcium, magnesium and potassium, it's a super-duper powerhouse for the meatless maniac such as myself. And when paired with toasted mustard, fennel and cumin seeds with a nice shake of crushed red pepper, plus smooth creamy greek yogurt to soften the flavorful blow to your tongue, it a cool little force to be reckoned with. Like my resolve. This is just a few steps for me, this quick jaunt out of the starting gate. The gun has sounded. And there's a lot of road to cover up ahead so hang on, all right? Here we go.
Note: This recipe is ridiculously simple to make, but the flavor improves over time as it sits. Make it up and allow an hour, or even more if you can, for sitting, stirring regularly. If you like less of a crunchy seed factor, grind the fennel and cumin seed before adding it to the oil. You'll still get a load of flavor without the crunch. Don't grind the mustard seeds. Those soften really well.
Indian Spiced Chickpeas

Two 15-ounce cans chickpeas—rinsed, drained and patted dry
2 tablespoons peanut oil
1 teaspoon mustard seeds
3/4 teaspoon cumin seeds
3/4 teaspoon fennel seeds
1/4 teaspoon crushed red pepper
3/4 cup plain whole-milk yogurt
1 1/2 tablespoons fresh lemon juice
2 scallions, thinly sliced
1/4 cup chopped cilantro
1/4 cup chopped mint
1 teaspoon kosher salt

Pour the chickpeas into a large bowl. In a small skillet, heat the peanut oil until shimmering. Add the mustard seeds, partially cover the skillet and cook over moderately high heat until the mustard seeds stop popping, about 1 minute. Add the cumin and fennel seeds and the crushed red pepper and cook until the mixture is fragrant, about 30 seconds. Pour the hot oil and spices over the chickpeas. Stir in the yogurt, lemon juice, sliced scallions, chopped cilantro and mint and salt. Serve the chickpea salad at room temperature.

Recipe Credit: Food and Wine magazine