I know, I know…. there you all are, patiently waiting for me to get my caboose in gear and start posting the food posts again. Enough of the extraneous stuff! Bring on the food! Get cooking again, would you? I can hear you all, I promise. And it's good too, because it's tossing me head-long back into the kitchen to start these next 12 months off in style.
With Amazing Wild Rice Stuffed Peppers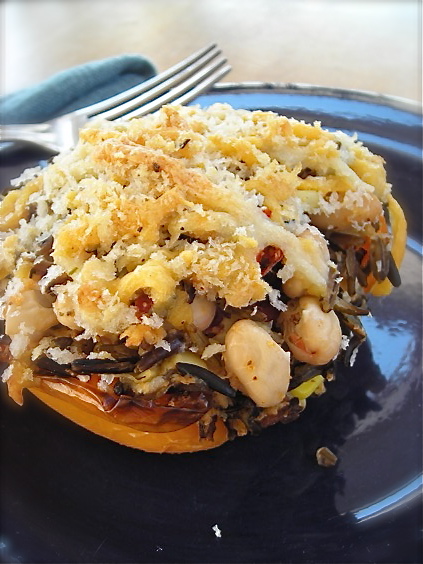 Honestly, I have no clue what happened to me between Christmas and New Years but I had ZERO desire to cook a thing. Nothing. Who was that girl? I get an extreme amount of pleasure in the kitchen; I love the act and the art of cooking, pulling something from the stovetop or oven that fills the room with incredible smells, moving tastes about on my tongue and delighting in the flavors within. This is who I am, it's what I love. But there was that week, that flux week between holidays that always just feels odd, like the end of something when we're not quite ready for the new thing to begin and everything in me just went swirling down the proverbial toilet. Good thing for a loving spouse who made a few meals and for copious amounts of leftovers.
But then, I came roaring back with an idea, a brainstorm that drove me to a creative new height. I wanted something light, healthy and easy to put together. I wanted to add a new line to my ever burgeoning arsenal of recipes, the list I go to time and again, options that fall into place in our dining repertoire with ease. What jumped out from under my hands was this Wild Rice Stuffed Pepper, that despite being completely meat-free, the Teen did eat part of his without one iota of complaint. There was no suspicious poking at it, no scowling or contempt.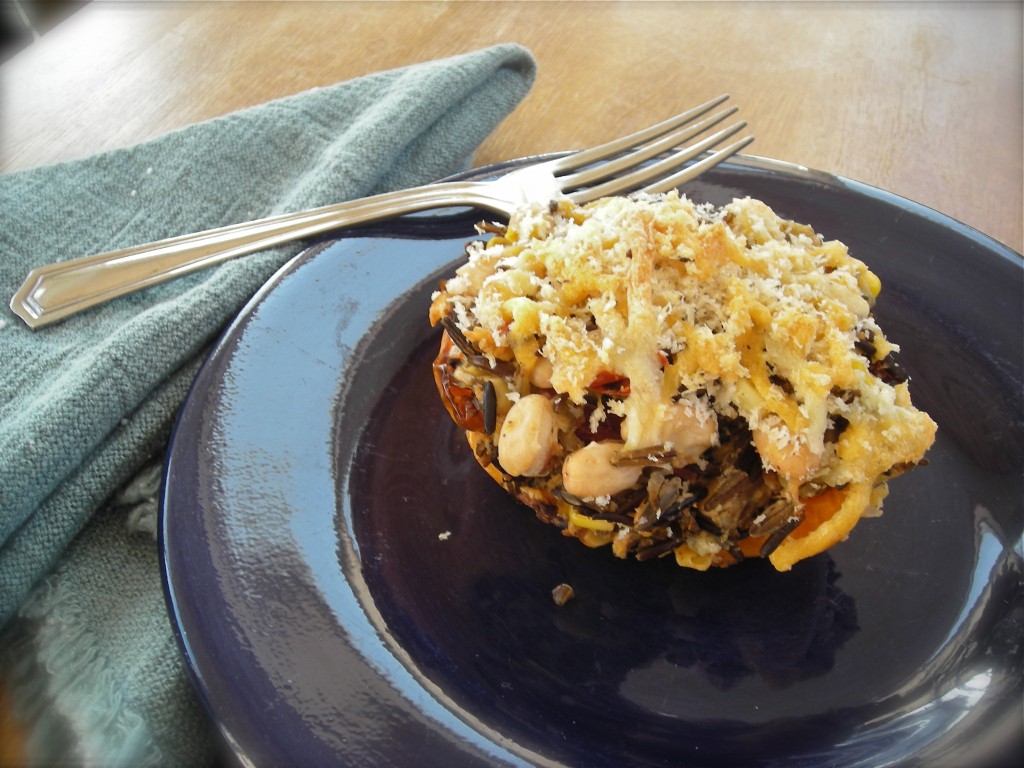 Yeah, who was that kid, you say? Mine. The young man who seems to be changing every day that I look at him, the one approaching his 17th birthday. He's become a bit more acceptable to new things, less rigid about what he won't eat. I'm liking the results.
Really, the adjectives necessary to describe this dish are extravagant. Mind-boggling. Flavorful and light, but hearty and comforting as well. Mike and I loved these too, but then, I knew we would. We'd be meat-free more often if it weren't for the Carnivore. This dish, once the lovely colored peppers were home from the market, came together entirely from my pantry and freezer. I love those types of meals. Opt in the fresh produce, fill the edges with staples and sit down to a lovely meal. This is the cooking I like.
Wild Rice Stuffed Peppers
3 colored peppers of choice, sliced in half and cored
1 cup wild rice, washed and picked over
1 small shallot, minced
2 cloves garlic, minced
1 15-oz can great northern beans, rinsed
1 c. frozen corn kernels
1/2 c. canned tomatoes, or 2 chopped fresh Roma tomatoes
1 c. panko breadcrumbs
1 c. shredded cheese of choice, plus more for topping (I used cheddar and pepper jack together)
1/3 c. shredded parmesan, with more for topping
Salt and pepper to taste
In a medium saucepan, bring 4 cups of water to a boil. Add the wild rice, return to a simmer and cook, covered until the rice is tender 30-40 minutes. I used long grain, or regular wild rice so it took longer than if you use the cracked version. Adjust simmering time accordingly. Once rice is tender, drain excess water in a wire strainer and set aside.
Meanwhile, set your oven to Broil. Line a baking sheet with foil. Place prepared peppers on sheet, cut side up and broil for about 5-7 minutes, until edges are slightly browned and peppers are softened just a little. Remove from oven, set aside and set oven temperature to 400°.
In a deep skillet, saute shallot in oil for about 5 minutes, then add garlic and cook about a minute longer. Add the beans and corn, and heat through. Stir in the tomato and wild rice until just combined and remove from heat. Add the cheese and panko. Season to taste with salt and pepper.
When mixture is cool enough to handle, pick up a generous handful and press it together slightly, then mound it into a pepper half. Repeat with remaining peppers and filling, mounding the peppers full. You may not use all the filling but be generous. In a small bowl, place about a half cup of the shredded cheese and several tablespoons of shredded parmesan. Add two tablespoon of panko bread crumbs and toss to coat. Top the peppers with this and place in the oven for about 15 minutes, or until the filling is hot and the cheese on top has melted. Serve immediately.
KATE'S NOTES:
Look for good sturdy peppers that are heavy and full for this dish. They'll hold the filling better. I like to find ones that have four 'knobs' on the bottom if I can. It makes for a more even cut. If you like to make stuffed peppers the regular way, by coring the entire pepper instead of cutting it in half, by all means do so. I like this method for the ease of eating them.
There is endless versatility in this recipe: use brown rice and black beans, or regular rice and red beans. Add frozen peas or even cooked cubes of squash. Add in a host of fresh herbs. Skip the panko to make them gluten-free. It helps to bind the ingredients but I will say that it's not necessary at all. Change up your cheese, or add chopped leftover meat if you have it.