July is segueing into August, bringing the dog days of Summer. It's been a scorcher, but this is such summertime, hot, sultry weather that we can only dream about in January. Heat shimmers on roads, whistles through trees and sears down on our heads and shoulders. Night time should bring some relief, but many nights have passed that the heat remains unrelenting. Morning has no cool hours to enjoy. It's summer. As it should be.
We yearned for this back in June. On June 23rd I recall wearing slippers on my feet because it was so chilly. There was a lot of complaining, a lot of griping, plenty of pleas for sun and heat. Then it came. And of course, we had more to gripe about. But for me, I love the heat. I can even appreciate the humidity, because it creates curls in my hair that I don't get otherwise.
And the heat/humidity combination has made my garden thrive. Along with regular rainstorms (monsoons, really…the rain has been copious) I have seen phenomenal growth in the tomato and pepper plants, and they are loaded with buds and fruit. I am almost drooling at the sight of it all. The herbs have flourished, including some volunteer oregano that came up from last year's seed. I went out one day to snip some of the herbs for dinner and was THRILLED to spy this on the parsley: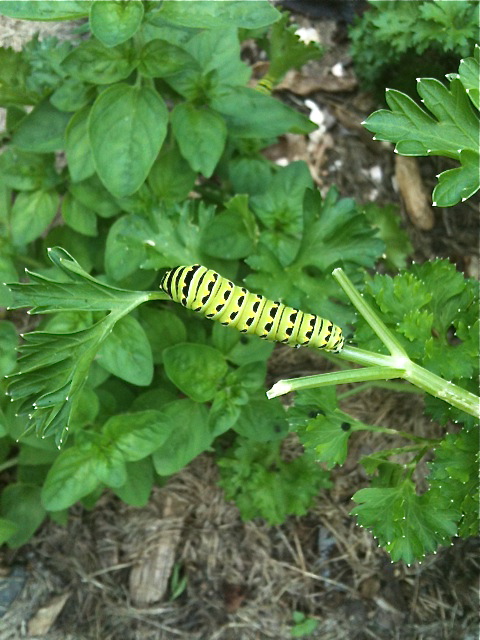 That's a Black Swallowtail caterpillar and my initial inspection revealed four of these on my plant. This is what the butterfly itself looks like.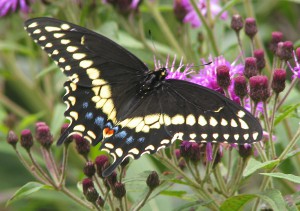 I was really excited to find these caterpillar, and will happily offer my parsley to them for food. According to the information I found on the species, this particular caterpillar spins it's cocoon and then overwinters inside it, hatching in the Spring. I'll have to watch for these guys to make their transformation, then likely I will bring them inside to insure the survival over the winter. It will be fun to watch them, should we manage to keep them viable until Spring. The year Griffin was five we had a Monarch chrysalis that we found, and it was such an amazing thing to be able to watch it change and then see the butterfly emerge. One year at our lake home we had an abundance of chrysalis that we found on our lakeshore plantings. What a miraculous thing it is to see.
Once I discovered the caterpillar, I placed a piece of screen over the plant to keep them safe from birds. Within a day, I could only see the three largest caterpillar; the smallest one is either hiding really well or has disappeared. They're eating and moving around the parsley, and one evening as I watered the garden, I got the hose a bit too close to the plant and sprayed them good. Bending down to inspect them, I noticed one of the caterpillar lifted it's hind end off the stem and shook off a drop of water. What a funny thing to see. Of course that evening there was a torrential downpour, and I found myself worrying about them out in the garden. Silly, I know. But three gorgeous Butterflies will roam the earth if I can successfully keep these caterpillar alive. That's worth worrying about, I say.
The hot weather hasn't given me much motivation in terms of big cooking projects. I've been loading up on goodies from the markets, bags upon bags of produce to keep on hand and fill our bellies, but with the intense heat, our appetites have been lower than normal, and sometimes a big salad and a hearty slice of bread is all we can manage to dish up for dinner. I've been happily filling pots of bubbling polenta with fresh herbs and corn kernels, sighing my way through a bowl of that when I have the wherewithal to stand at the stove for a half hour. Mostly we're just enjoying ourselves, with some much needed adult time for Mike and I as Griffin has been spending a lot of overnights with his friends. It's been lovely for us. Just lovely.
What have you been doing for this hot, hot July???
ONE YEAR AGO…..
2010- I was working like crazy at a local golf club, and picking

Blueberries in the Summer Rain

(find a recipe for Blueberry Syrup in this post!!) TWO YEARS AGO…..
2009- It was all about raspberries; come and

take a walk with me on a country road

lined with wild raspberry bushes.