What's that saying? 'Necessity is the mother of invention?'
Many amazing recipes occur when the frantic need for something to add to dinner comes up and I wildly glance in the pantry to see what I've got. What odds and ends are laying about in the fridge? What needs to get used up? What tastes good together?
I fling a lot of ingredients in a pan, or a bowl and I cross my fingers a lot when I cook. Whether it's out of 'necessity' like the quote, or just curiosity, it's not often that I follow a recipe. More likely, I am making something up as I go. Thankfully, more often than not the results are pretty tasty.
The worst part of it all is that if I don't write down what I did, I rarely remember it to be able to recreate the dish.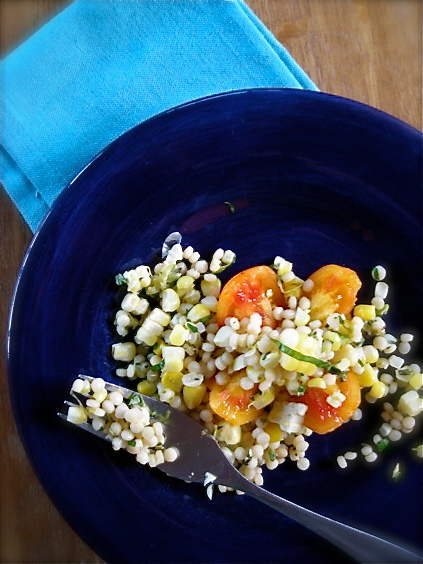 This one, however, did not get away from me.
Side dishes have always been a favorite of mine, and lately I've been on this kick of filling my plate with nothing but 'side' dishes. The nice thing about removing the focus of meat from our meals is that just about everything we do now can either be termed a 'main' dish, or a 'side' dish. And sometimes, all of what is being served at our table, technically, are sides.
Griffin was making fish for dinner recently (yes, we eat fish) and we both really wanted something unique on the side. I keep a lot of rice and grains handy, but we were short on time and didn't want to wait for brown rice, or wild rice to cook. He was digging through our pantry and pulled out a jar of pearl couscous, asking me 'What's this?' And as with necessity, and invention was born.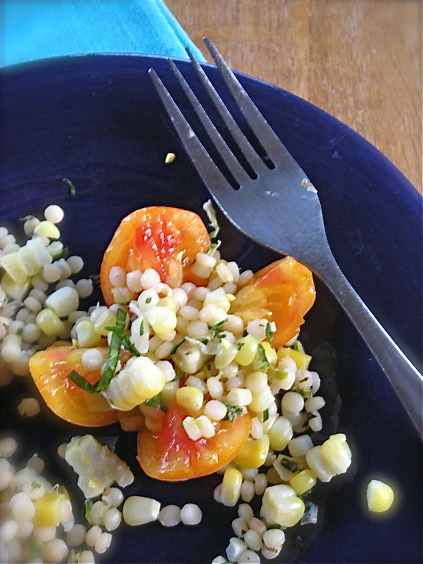 Pearl couscous, mostly recognized as Israeli couscous, is the thicker version of the tiny semolina grains that most people know best. Couscous isn't really a 'grain' like farro, or quinoa; it's pasta in minutiae form. The instant version of couscous cooks in a flash by adding the tiny beads to boiling broth. The larger form takes a bit longer, but still is quick enough to make for an easy dinner. We used chicken broth, some frozen corn and a generous handful of fresh herbs from the garden and the result was surprising to all of us. It's light and flavorful and wondrously versatile, but not heavy like larger pasta shapes. I think some form of this will be making regular appearances on our dinner table. With enough fresh vegetables added to it, the dish becomes a meal in itself, or you can serve it over a garden fresh tomato for a perfect salad option. It actually tastes wonderful cold too.
Did you notice the new print button feature??? Pretty cool, huh??
Pearl Couscous Pilaf

1 c. pearl couscous
1-1/4 c. well seasoned broth (can use vegetable, mushroom, chicken….)
1 medium leek, or 2 small ones, sliced and washed well (can sub a finely diced onion)
2 cloves garlic, crushed
1/2 c. vegetable of choice (we used corn; try diced zucchini or other fresh seasonal vegetables)
1/4 c. fresh herbs, finely chopped (we used thyme, oregano and basil, then parsley to finish)

In a deep skillet with a cover, heat a few tablespoons of oil. Add the leek and cook, stirring regularly, until softened and beginning to brown in some places. Add in the garlic and cook, stirring for about a minute. Add the corn (or whatever vegetable you are using) and stir to coat with the oil mixture, then add the couscous and cook, stirring, for about 5 minutes. Pour in the broth, stir to combine and bring to a boil. Then reduce the heat so it simmers, cover the pan and allow to cook, undisturbed, until the couscous absorbs all the broth. It should take about 10 minutes. Allow it to sit for about 5 more minutes, off heat. Before serving, toss the fresh herbs in and stir to combine,  seasoning with salt and fresh pepper. Top with parsley as a garnish.