Previously in this space, we talked about mushrooms. Specifically, we talked about my quick and decisive learning curve that led me to an all-out lustrous affair with fungus.
Today, it's all about Beets.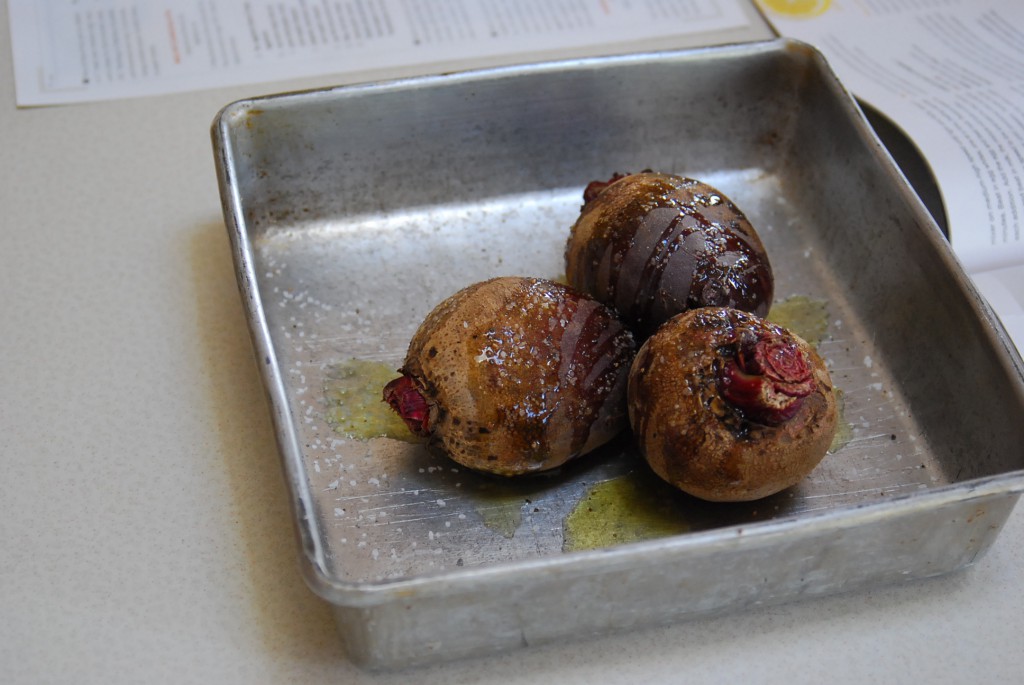 Beets and I had a torrid love affair back in 2009; it was then that I discovered the merits of this earthy root vegetable, one that turns tender and appealing from a long stretch in a hot oven; that it's earthiness and deep, dark flavor isn't so overpowering when paired with any number of other ingredients, and most specifically, that the nutrients in this little orb are well worth an incorporation to one's regular eating. The greens also made their way in to my heart, one of the first to do so, and I believe they were responsible for me learning to love all things dark green and leafy.
Beets have a spectacular nutrient profile, primarily being a superb source of anti-oxidants, with anti-inflammatory and detoxification properties as well. Beets are in the same Chenopod family as spinach, chard and, surprisingly, quinoa. And while they contain an incredible amount of anti-oxidants, it's the specific ones in beets- lutein and zeaxanthin- that make these vegetables stand out with their nutritional defense for your well-being. Lutein is especially beneficial for eye health, and the anti-oxidant mix in Beets is highly supportive of the nervous system. The anti-inflammatory properties of Beets also support heart health, and can help balance inflammation brought on by Type-2 Diabetes.
But even with all that, many people can't get past the taste of Beets. They are dark and earthy, and quite honestly, I struggled with them at first, but I discovered that the lovely gold Beets are far less heavy tasting than their red cousins. Once I was able to enjoy the gold, I tried several recipes with the red and found a lot to enjoy about them as well.
Then, along came this recipe, pairing mellow and tender roasted beets with garlic studded mashed potato in a classic Skordalia. One bite and I was in love. With Beets. Again. Oh the glory…..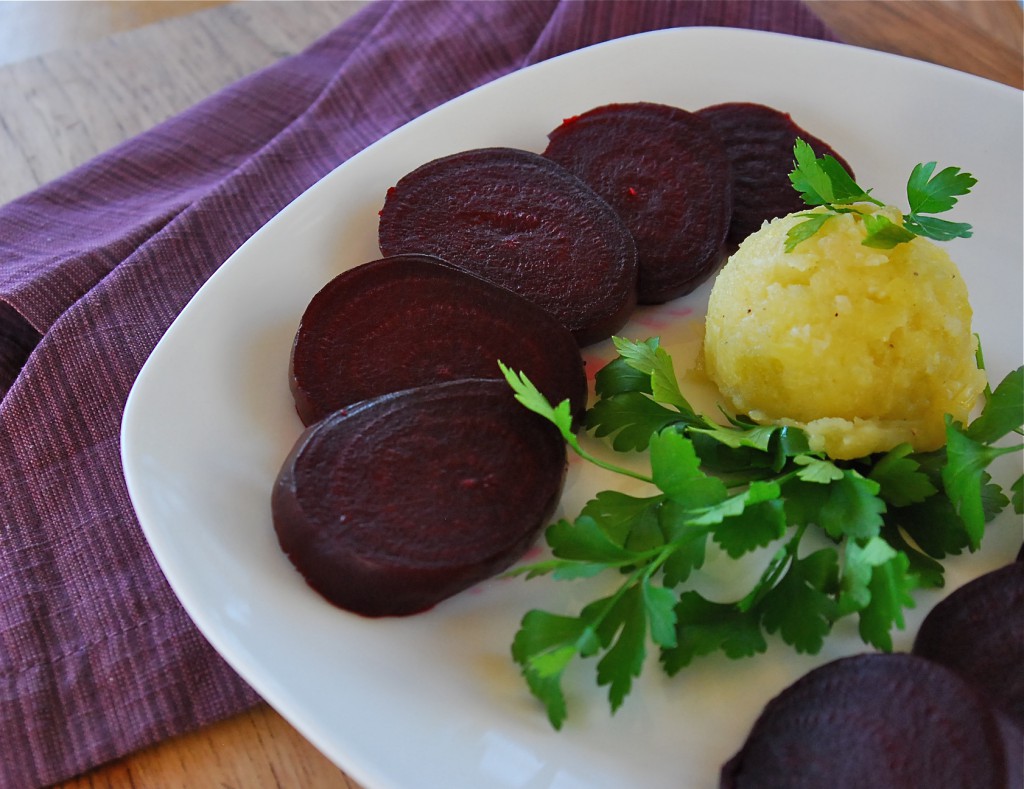 Served warm, with toasted pita bread on the side, this simple, non-fussy dish was rich with flavor and texture. The soft, fragrant potato mix, studded with garlic and thickened with a swirl of a soft, fruited olive oil lends a beautiful contrast to the hearty and tender roasted beets. I would have never imagined that the two of these foods together, both so simple and humble, would be so perfect.
Roasted Beets with Skordalia

4 medium red beets (about 1 1/2 lbs.) trimmed and cleaned

10 tbsp. extra-virgin olive oil

Kosher salt and freshly ground black pepper, to taste

1⁄4 cup finely ground toasted walnuts

1 tbsp. red wine vinegar

6 cloves garlic, smashed and minced into a paste

(I sauteed the garlic in some of the olive oil before adding it to the potato for a more mellow garlic flavor)

2 medium russet potatoes, 
peeled and cut into 1″ squares and boiled until tender

Heat oven to 425°. Put beets in an 8″ x 8″ baking dish and drizzle with 2 tbsp. oil. Season with salt and pepper and pour in 1 cup water. Cover pan tightly with foil and crimp edges to form a seal. Bake beets until a knife inserted into beet slides easily into the center, about 1 hour. Transfer pan to a rack, carefully uncover, and let cool for 30 minutes. Peel beets and cut into 1″–2″ pieces; set aside.

Put walnuts, vinegar, garlic, and potatoes into a medium bowl and mash potatoes until smooth. Vigorously stir in remaining oil and season with salt and pepper. Transfer beets to plates and serve with some of the skordalia spread on the side.
Recipe posted in it's entirety from the original source in Saveur magazine, issue #131.