This post could also be aptly titled "The end of searching for the perfect banana bread" but that just seemed too long and a bit too final.  I should never think I've 'arrived' at any destination, be it a quest for knowledge, a higher level of health and well-being or never-ending search for perfect banana bread, as somewhere out there, a recipe may exist that could bring this loaf to shame, but for now, I'm sticking with what I've got.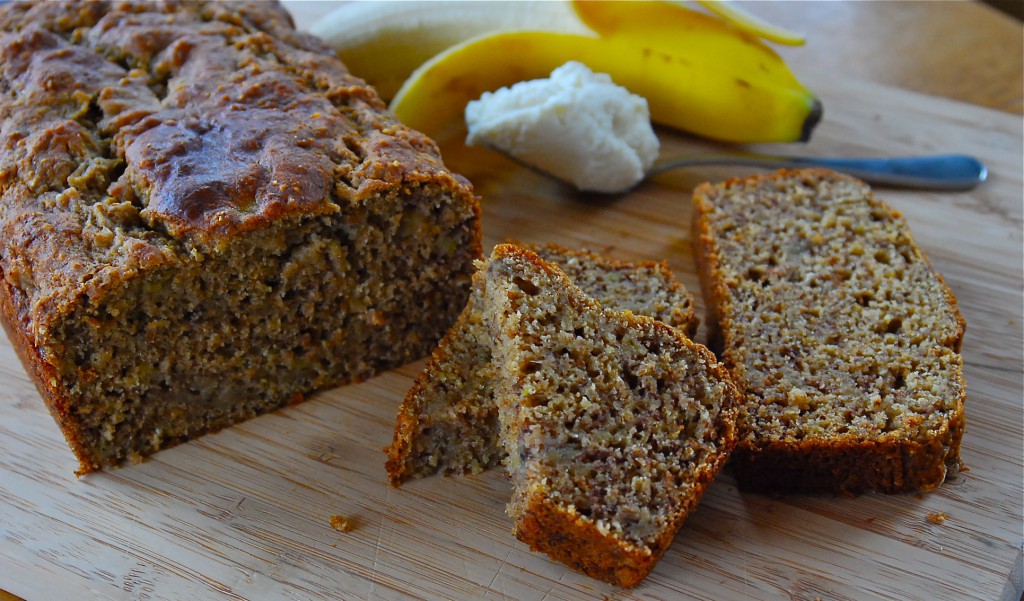 I grew up eating banana bread, from the earliest memories that I have. My Mom made it almost weekly, in fact, I'm pretty sure she bought way more bananas than she needed just so she'd have an excuse. She put walnuts in it, which I despised, so these days, my banana bread is always without nuts. When I got old enough to make my own banana bread, I turned to her tried and true recipe from my youth, and as an adult, I found it sorely lacking, so I moved on. And on. And on.
The goal that I've strived for, over recipes and time and growing older, was pure banana bread bliss and perfection that existed as a mental taste somewhere in my mind. And with the first bite of this grain-studded loaf, rich with banana flavor, I about leapt in the air with delight, shouting 'Eureka!! I have found it!' while my son chuckled in delight at my antics, he himself wide-eyed and excited over the taste of his piece. This IS pure banana bread delight, and I don't say that lightly. Folks,  I have made and eaten A LOT of banana breads in my lifetime, as I sought out that elusive fine balance of moist and tender crumb, ultimate banana taste and now, a higher level of health than a loaf crushing the scales with sugar and fat. After researching low-fat, and healthier banana bread options for over an hour, I settled on one recipe that gave me a pretty good start, and then started tweaking it to my liking.
I think my biggest disappointment with banana bread has always been that it just doesn't have as much banana flavor as I want. I add more banana to any number of recipes, and I get mushy bread that turns soggy after a few days, so clearly, without some changes to the base, that's not a workable option. And I needed a substantial heft other than what flour and leavening can offer in order to stand against that large dose of delicious bananas. When making muffins, I've turned to the use of cereals and grains to add more heft, and to make them a bit more nutritious. When faced with adjusting a banana bread recipe in the same way, that's where I went as well. This recipe has whole rolled oats, All-Bran cereal and a commercial 10-grain cereal as a majority of the dry base. Cutting back on the use of eggs, I added some ground flaxseed for binder (you could also use unsweetened applesauce for this as well). The ricotta cheese, along with a small amount of milk, provides a richness in the texture that's particularly pleasing to the mouth. The sugar was another matter; I took a gamble, using only a mere half cup in a recipe that makes two loaves. Most tea-bread recipes that I come across have, at least in my opinion, way, way too much sugar, and this amount was perfect. The end result is a bread without the teeth clenching sweetness, so the rich banana flavor just shines through. The cereal and grain base makes the texture nubbly and firm, and helps it retain a lot of moisture. Best of all, the loaves are simply packed with banana flavor.
A lot of this was pure kitchen chemistry, mixed with a lifetime of learning why the recipes I tried were so disappointing. After so many experiments, it's nice to finally land on something that lifts your heart and elevates your taste-buds, all the while being reasonably healthy enough to enjoy without much guilt.
If you're like me, when bananas get past the point of consumption in your house, they get tossed in the freezer to await a baking urge, and this recipe is perfect for when you've gotten a large stockpile of them.
Whole Grain Banana Ricotta Bread

Yield: Two loaves. It can easily be cut in half.

Preheat the oven to 350°. Spray two 9×5 standard loaf pans with cooking spray.

In a large bowl, mix together the following:
6 large, very ripe bananas, mashed
3/4 c. ricotta cheese
1/3 c. milk of choice
1/2 c. sugar
3 T. grape-seed oil (or other neutral flavored oil)
1 t. pure vanilla extract
1 egg
2 T. ground flaxseed
1/2 c. whole rolled oats
1/2 c. All-Bran cereal
1/2 c. commercial 10-grain cereal, such as Bob's Red Mill (sub 7-Grain, or 5-Grain if you can only find those)

Whisk this until well blended and allow to sit for about 15 minutes to soften the grains.

In a large measuring cup, combine the following:
2 c. whole wheat flour
1 c. unbleached AP flour
1 t. sea salt
1-1/2 t. baking soda
2 t. baking powder

Add the dry ingredients to the bowl with the banana mixture, and with a rubber spatula, gently fold them together until all the dry ingredients are incorporated. Be careful not to overmix. The batter will be very thick.

Divide the batter between the two loaf pans and smooth the top. Drop the pans on the counter a few times to settle the batter and release any air pockets. Bake for 50-60 minutes, or until a toothpick inserted in the center comes out clean. Allow loaves to cool in pan for up to a half hour before turning them out to cool completely on a rack.
RECIPE NOTES: I use All-Bran cereal a lot in baking, and it keeps a long time in your cupboard. Bob's Red Mill 10-grain cereal is not only a delicious breakfast cereal, but it's wonderful for breads too, and I've also used it in muffins. I keep it in a plastic bag in the freezer and it lasts indefinitely. I also keep a baggie of ground flaxseed in the freezer.
If all you have on hand is whole rolled oats, this recipe would work just fine to use those in the full amount.
If you wish to cut the recipe in half, don't use the flaxseed, as it acts as a second 'egg'.