All right, all right…. you don't want to talk about Winter anymore. I get it. How about we talk Banana Bread?
I grew up with regular and repeated doses of good banana bread. How about you? In our house, Mom would watch those bananas closely, and as soon as a few of them turned to the perfect spotty stage of brown, she would snatch them from the basket, peel them and put them on waxed paper, then mash them to mush with a fork for her golden fragrant loaves of banana bread. With walnuts. Which I hated, and yet, the banana bread was so glorious and perfect that I would carefully pick out the icky nuts and eat the rest. My favorite was the top of each slice, the softest part that often got so moist and tender. I always saved it for last.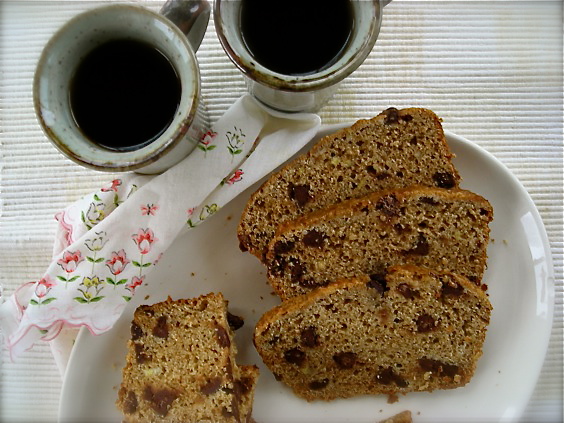 I never varied from that banana bread recipe I had. Whenever bananas in my first kitchen made it further than a bowl of cereal, or an afternoon snack smeared with peanut butter, I would do as Mom did, peel them down, mash them with a fork and make a loaf of banana bread. But, as I could now do as an adult, with my own hand mixer, a container for flour and sugar in my cupboard that was always full, with the familiar can of baking powder next to them, I would leave out those gross nuts. My banana bread was spartan. All it needed was banana. Sometimes a smear of soft butter would coat the slice, or maybe peanut butter went on the bread too. But I never needed a reason to stray from the recipe that I'd known all my life. It was banana bread perfection and it was Mom and it was all I needed. When she died, making a loaf of her banana bread was like evoking her memory in my kitchen, with my heart breaking again, through each press of a fork into the banana, turning the flesh to the proper level of mashed for the recipe. Then each bite of her bread would send my very adult mind reeling backwards into the kitchen of childhood, the sunny window, the deeply patterned blue carpet and my Mom, happily peeling spotty brown bananas, the old familiar bread pan on the counter next to her.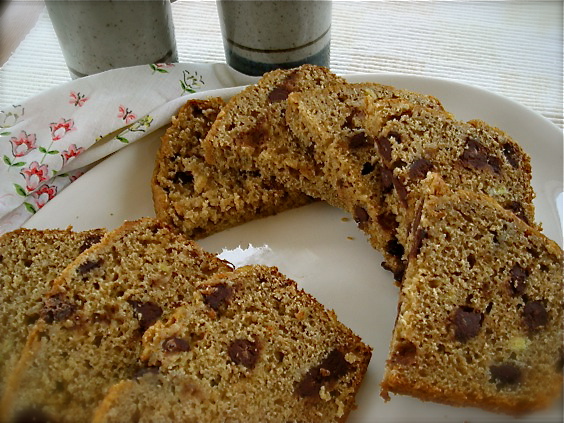 I'm not sure what happened the last time I made Mom's Banana bread recipe, but the first bite put me off quite a bit. It tasted…. I don't know, odd. Fake, I guess. I was really kind of shocked by the flavor. I'd grown up with this recipe; I'd made it dozens of times since I was a kid and here I was, by leaps and bounds an adult and quite the responsible one too, with a good job, a home and a child and yet, I looked at the slice of banana bread in my hand and it didn't fit anywhere with the life that I'd found. It didn't even bring Mom's face to mind, her laughing smile and the way she would grab my shoulders and squeeze me just a little, making a delighted teeny squeak of her love for me. My mouth, my taste and my opinion had grown right alongside my life, and this recipe didn't do it for me anymore. Part of me was crushed. It was the familiar flavor of a life that was now gone, and it was failing to bring to me the comfort I was seeking, comfort away from a world of bills, deadlines, a hectic job and single parenting. I didn't get rid of the recipe because that might feel a little like experiencing Mom's death all over again. But I haven't made that particular version for a long, long time.
Ever since then, I've been on the lookout for the next best Banana Bread recipe. When the bananas in my house get past their prime, I simply place them in the freezer and wait it out. I search the wide range of recipes available for one that might take me home again, a feeling of nostalgia, of banana bread perfection, a slice that might elicit that memorable squeak of love I recall. At one point, I think I had 10 frozen bananas in there, and part of me mourns the loss of that constant. I have looked over dozens of recipes and rejected most of them; too much fat, too much oil, wayyyyyy too much sugar and in almost all of them, not enough Mom. So I keep searching, finding a few gems here and there to sample in my own sunny kitchen, with it's warped old bread pans. And the bananas meanwhile, well, they tend to pile up in the freezer, silently waiting to succumb to a fork, a whisk and a hot oven to be baked into a memory that will sustain me through the years ahead.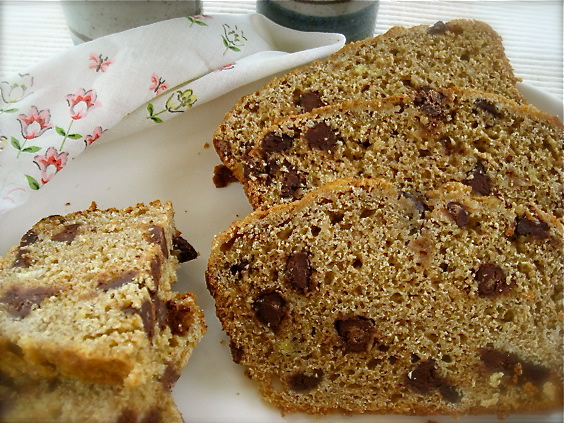 I'm still looking for that ultimate, that perfect banana bread, and I find that I'm really enjoying the experiments I'm coming across. This current one I've found is really quite good, in a clever and surprising way. What appeals to me about this particular recipe is that it includes crushed graham crackers crumbs in the base. This gives it a texture that's a bit more crunchy than you would expect, and the taste of the graham crackers is really pronounced if you share the slice with a steaming cup of coffee. It's perfect together, like banana and chocolate, like mothers and baking; with the familiarity of ritual, an old trusted bread pan and a freezer full of fruit at the ready.
Banana Chocolate Chip Bread

1-2/3 c. graham cracker crumbs (approx. one standard package from a box)
1-1/2 c. whole wheat flour
1/2 c. natural cane sugar (you can use regular granulated too)
1 T. baking powder
1/2 t. sea salt
3 medium bananas (i like to mash two of them fully, then leave the third in chunks for texture)
1/2 c. milk (any kind will do- I like vanilla soy, and almond would be wonderful)
3 T. canola oil (or get crazy and use olive oil- it tastes wonderful)
2 eggs, lightly beaten
6-oz semi-sweet chocolate chips

Preheat oven to 350°. Spray a standard 9×5 loaf pan with cooking spray.

Place graham cracker crumbs, flour, sugar, baking powder and salt in a bowl, and whisk well to combine.

In a large measuring cup, add bananas, oil, milk and eggs. Beat lightly with a fork to combine, then add to flour mixture. With a rubber spatula, carefully stir together until just blended with some streaks of flour remaining. Add in the chocolate chips and combine until mixture is fully incorporated. Scrape into prepared pan and bake for 50-60 minutes, or until top springs back when lightly touched and toothpick test comes out clean.

Allow to cool in pan for 30 minutes, then remove to wire rack to cool completely.
Need some other inspiration for banana baking? Try these: