When I was 15 or 16, my Mom broke her left elbow roller skating. Outside of the fact that my MOM -gasp!- was roller skating (and apparently getting rather cocky about it) she happened to be left-handed, and in breaking her elbow, this rendered her incapable of doing much of anything. She lamented one day, as I helped her in the kitchen, "I wish I had learned to use my right arm more." and somehow this struck a chord with me, as did her inability to manage even the most mundane of daily tasks.
It's been in the back of my mind since then to train my hands to work equally. Although my left handed writing looks like an overly caffeinated six year old, and my knife skills in my left hand are nothing compared to my right, I can whisk, scoop, stir, twist, grind, mix and pour from either right or left. I can reach and function and do just about anything needed during the course of my day without having to switch gears, hands or mindset.
There is always more that your body can do, when allowed. If you've learned how to type on a standard keyboard, then you can teach your non-dominant hand to do any number of things. Even though one side of our brain dominates, and we develop a set of skills with that dominant hand, there is far more that one is capable of if you're willing to put your mind to it.
That goes for recipe usage too. Recipes are not cut in stone; they should serve as a guideline, a base from which we can expand exponentially in many different directions. I love recipes because someone else has already done most of the work for me, but I am free to remove this and substitute that, increase this or decrease that or look at how it comes out in one form and think "I know this can be better." and then trust that my skills can take me there. These skills have been especially useful in the re-development of this incredible Red Rice Pulao.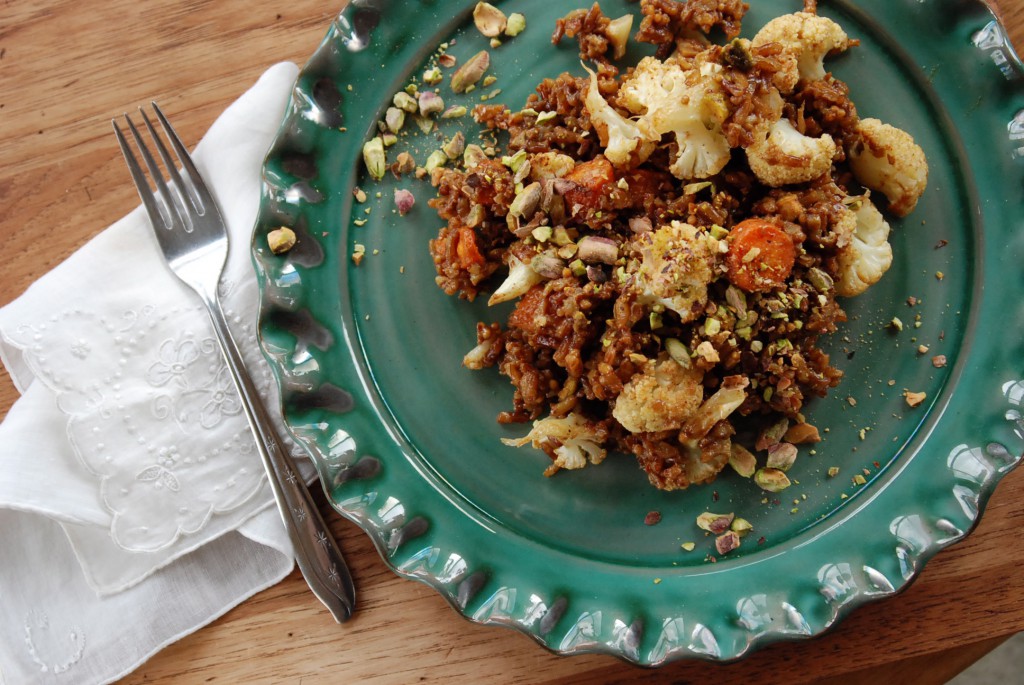 The origin of this recipe comes from Robin Asbell's New Whole Grains Cookbook, which, in a soft yet grand way simply changed my life in 2008. Long before the intense embrace by food lovers of all things whole grain, I'd run through a bookful of recipes using quinoa, millet, bulgur and various rices, finding great things to love about these simple staples. Grains are one of the easiest foods to work with in any kitchen, and require no special treatment. Particularly fond of the vibrant rices available, this Red Rice Pulao made for an chewy and delicious experience, and like many wonderful recipes on this blog, I simply posted it once and never went back. What a mistake.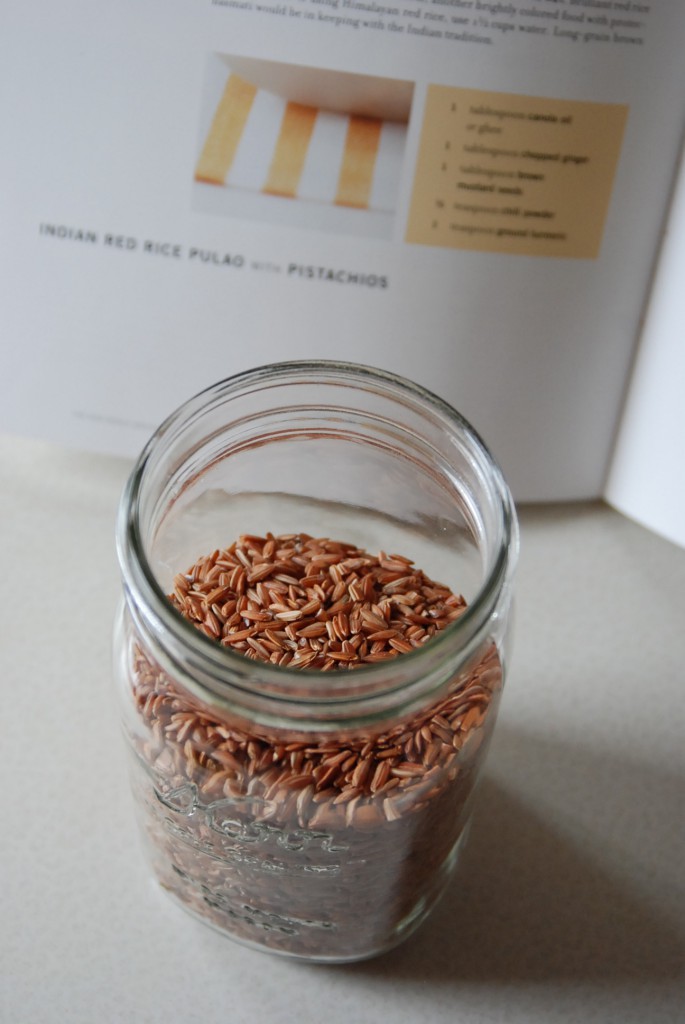 Because that means no one's ever going to see it, as really, does anyone look in to the archives of a food blog? Rarely. And I loved the recipe when followed to a 'T'. As I thought about it again, with more capability to be flexible in my cooking, I decided a second go of this dish was in order and am I ever glad I stepped up and made a few changes because this 2.0 version is light years better than the original. No offense to Robin, but the very task of cooking is to learn to feed oneself in the manner that makes you happiest. No cookbook author outside of us knows what makes us happy; only we do, and we owe it to ourselves to learn just enough kitchen skills to take the humblest of foods, such as rice and vegetables, and make them extraordinary. Let the recipe author be your guide, but let your imagination, your tastes and your skills drive you to cook with instinct instead of blind faith.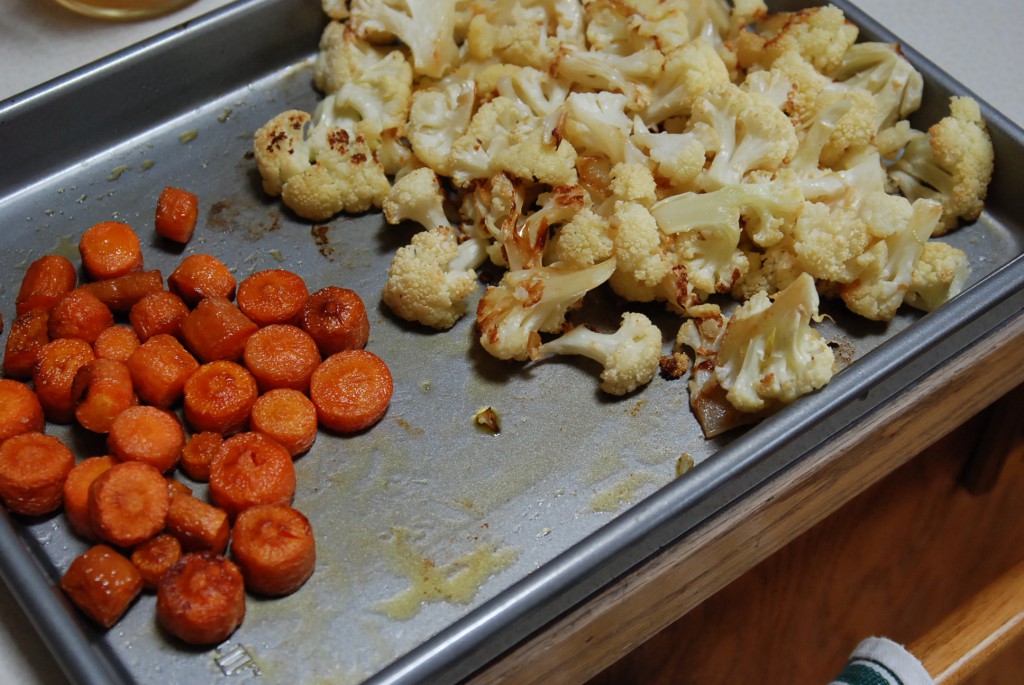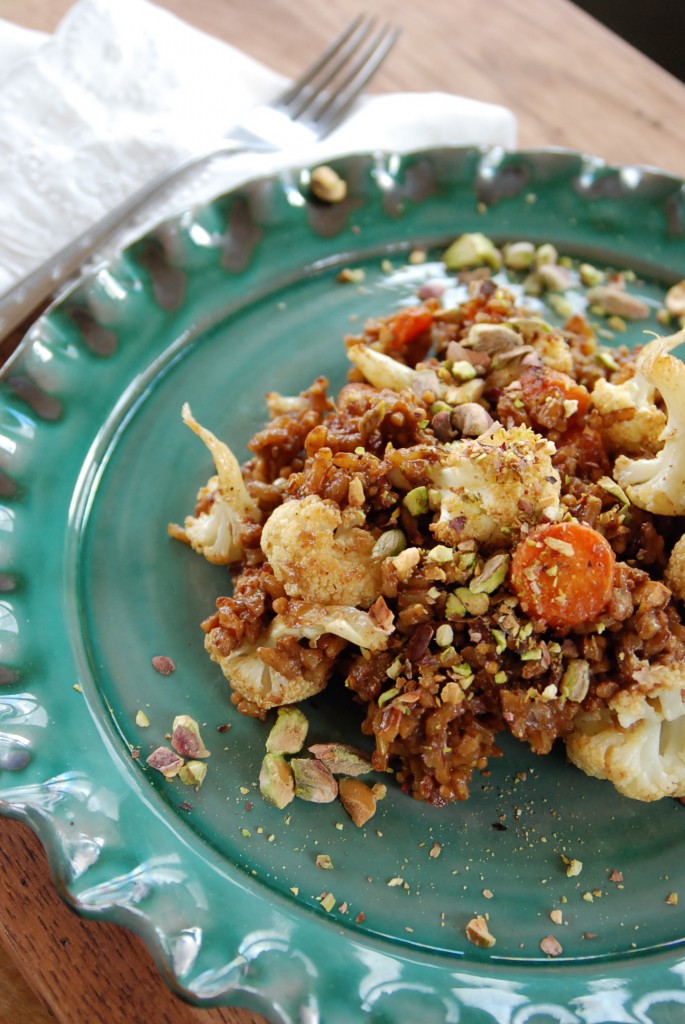 Task-wise, this has a few moments of chopping and prep, but largely you are passing a great deal of idle time as rice simmers, and vegetables roast, while heady fragrances take over your home. This isn't high-tech stuff here; with the heat of an oven and the magic alchemy of boiling water with rice, you can make an exceptional dish that tastes far more grand than it's humble beginnings. If you're unfamiliar with red rice, it's an intensely chewy rice, often found labeled as Himalayan Red Rice, or Wehani. Properly cooked, it takes up to an hour, all hands off. Finished, it's a really hearty and satisfying grain, deeper in flavor than brown rice, not as earthy as wild rice. This dish is easily a main course, or can be eaten as a side with any number of proteins. I can vouch that it's especially good with grilled pork tenderloin.
Here's where you get to decide what you do with this recipe, because if you want, outside of making the rice you can experiment wildly, with everything else. Instead of carrots and cauliflower, add whatever vegetables you have on hand, or swap almonds, walnuts, pecans or peanuts for the pistachios. This is your base, and when you read through it, your tastes will direct you, just as they should. Trust those instincts. And enjoy.
Red Rice Pulao with Roasted Vegetables

1 T. oil of choice
1 T. chopped ginger
1 T. brown mustard seeds
1 shallot, finely chopped
1/2 t. chili powder
1 t. ground turmeric
1 c. red rice or brown basmati rice
2 c. water
1 T. brown sugar
1 t. salt
2 T. lemon juice
1 head of cauliflower, cut to bite sized pieces
2 medium carrots, sliced
1/2 c. shelled pistachios or toasted slivered almonds

In a 2-qt saucepan, heat oil briefly and add ginger, mustard seed and shallot. Cook for a few minutes, until the ginger is fragrant and the seeds are popping slightly, then add chili powder and turmeric. Stir it up well and cook for a few seconds until the smell is amazing. Add rice, water, brown sugar and salt, stir it up good to combine it all and bring to a boil. Cover tightly, reduce heat to low. The amount of time needed to cook the rice will depend on what rice you use. Test the grains after the time specified on the package, and adjust to your personal taste. Allow to cool slightly. If you are using a true red rice, be patient with it. The time required for me to make mine was slightly over an hour. And every minute was well worth it.

While the rice cooks, heat the oven to 400°, and toss the vegetables with a bit of oil and salt. Since these two cook differently, I put the cauliflower on one pan, the carrots on another and roast until each are tender, shaking the pan often, and stirring to insure even browning. They can hang out in their finished state, until the rice is done.

If you love a good deep flavor for pistachios, take a few minutes and toast them in a skillet over medium heat. It's well worth it, and that rice gives you plenty of time.

When the rice is done and cooled, dump it all in a large bowl and add the roasted vegetables. Toss together gently and add a few tablespoons of those nicely toasted pistachios. Toss a bit more, taste and add salt and pepper if you wish, then serve it, topped with more pistachios. This dish is good whether served cold, hot or at room temperature. You can garnish it with chopped scallions too, for a bit more flavor.