A really good bowl of perfect fried rice is one of my most favorite things to consume. Any restaurant with it on the menu sets it's yardstick by how good their fried rice tastes, and with one bite I'm either over the moon or sadly disappointed. A matchless bowl will have the ultimate combination of firm grains of rice, a deep rich flavor from the wok and enough extras to make good flavor without sacrificing the overall taste of the dish.
I've made fried rice at home on occasion, and always with the caveat that my wok will never replicate that of a good restaurant. I enjoy it for what it is from my own kitchen and don't expect perfection. Especially if I stray from a standard method and go off on my own path.
I'm like that as a cook, anyway. I'm not one to follow a crowd and stick to something tried and true. I like to push myself with my food and try many different means to fill my belly. My unconventional means to a steaming bowl of fried rice started with roasting a few pans of vegetables and ended up with a decent rendition for dinner that everyone enjoyed.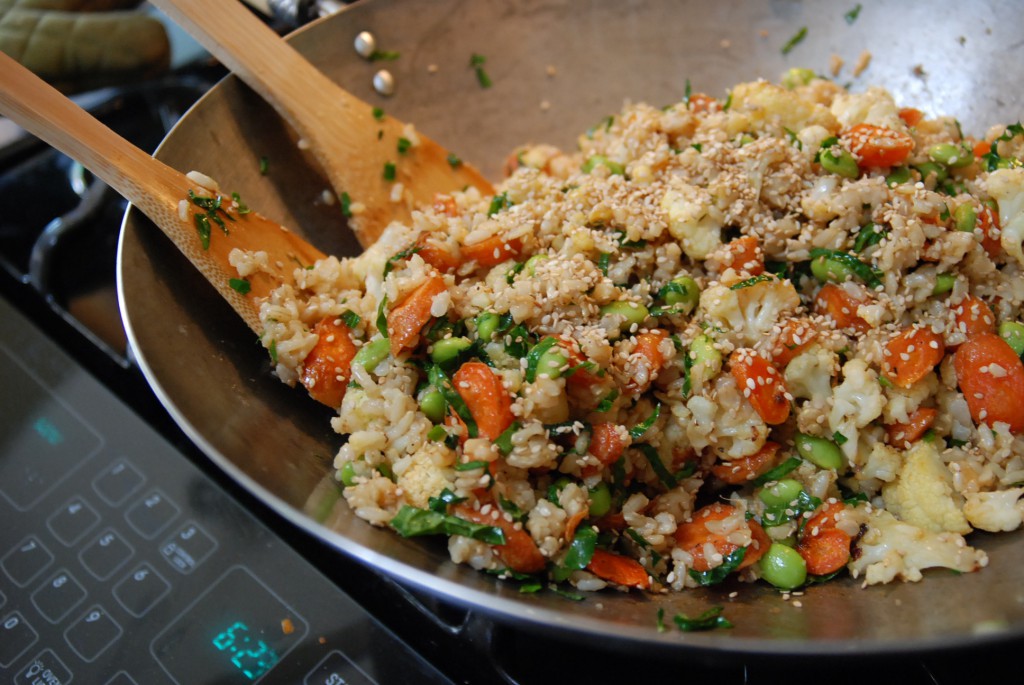 The best beginning to any fried rice is always cold, cooked rice. A few cups of that, along with any variety of vegetables and a hot pan and you've got what you need. My version had edamame, roasted cauliflower and carrots in it, plus the remains of some shredded lacinato kale that I had on hand. True proponents of fried rice likely would shake their heads at this combination, but that's me, in a nutshell. Improvising is my strongest tool when it comes to cooking. There are many days that I stand, pantry doors open, fridge ajar, my mind churning with possibilities, and learning to utilize what's on hand is a skill worthy of any home cook.
Plus? This was utterly delicious.
Roasted Vegetable Fried Rice

1 pkg frozen Edamame pods
1 head cauliflower, washed and cut to bite sized pieces
1/2# carrots, washed and sliced on a bias
1 c. shredded lacinato kale (or other greens, like spinach or chard)
2-3 cloves of garlic, finely minced
1 T. minced fresh ginger
4 c. cold cooked rice
2-3 T. sesame oil
Soy sauce to taste
Fresh squeezed lime juice (optional, but delicious!)
Sesame seeds for garnish (also optional, also delicious)
Peanut or coconut oil for frying. (You want an oil that will withstand the high heat needed in this dish. I don't recommend using olive oil for fried rice as it breaks down at high heat.)

Cook Edamame according to package directions, cool and remove from the pods. Heat oven to 400°.

Roast cauliflower and carrots on separate baking sheets, as they will need different times to cook completely. Toss them in a bit of oil, salt and pepper prior to placing in the oven, and roast them to desired tenderness.

In a wok, or large skillet, heat a small amount of oil. When hot and shimmering, add the ginger and garlic and quickly stir for about 30 seconds. Add the rice and stir to combine, breaking up the clumps. Stir and toss the rice until it's nice and hot, the drizzle about a tablespoon of sesame oil around the edge of the pan and stir the rice with the oil. Add in the vegetables and stir to heat through. Drizzle with soy sauce and a good squeeze of fresh lime juice. (the zest is really nice too!) Add a bit more sesame oil and a few tablespoons of sesame seeds, if you have them. Stir together to combine until it's all nice and hot. Serve topped with more sesame seeds.