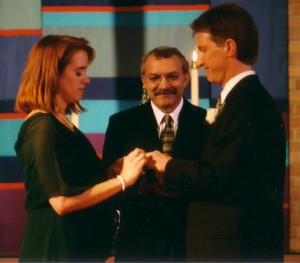 August 17, 2002.
11 Things I've learned in 11 years of marriage
1. It's ok to not figure it all out right away. You have time. Lots of time. The key is to just keep trying.
2. Sometimes a hug is all you need to bridge the space that's come between you.
3. Never underestimate the power of a really good belly laugh.
4. Always hold hands. Wherever. Whenever. And kiss. A lot.
5. Keep exploring, changing where you go, the places you visit, the things you do. Boredom is a terrible enemy.
6. Keep active and healthy so that you can really enjoy each other until you're old and gray.
7. Take time to do what you love, even if it takes you away from your spouse on occasion. You'll have much more to talk about that way.
8. Encourage them in everything they do. You are their biggest cheerleader, their #1 fan. Show it.
9. They are imperfect. But they are perfect for you. Forgive the idiosyncrasies. Love them as a whole, every day.
10. Build a filter for your emotions and understand when to keep your mouth shut. And never, ever use the words 'I told you so.'
11. It's ok if you get angry. That's normal emotional response. It's never ok to be mean, punitive or spiteful.
Above all, remember the vow you both took. It will get you through the very worst,
and make you treasure the very best.
Happy 11th anniversary to  my sweet husband. And thank you for helping shape our beautiful life.