I have been fortunate lately to receive some really nice books for review purposes. This particular one, 'Heirloom Flavor: Yesterday's Best Tasting Vegetables, Fruits & Herbs for Today's Cook' by Doreen Howard, was highly anticipated, as our CSA offers many heirloom varieties, an option that was a huge draw for me in selecting it in the first place.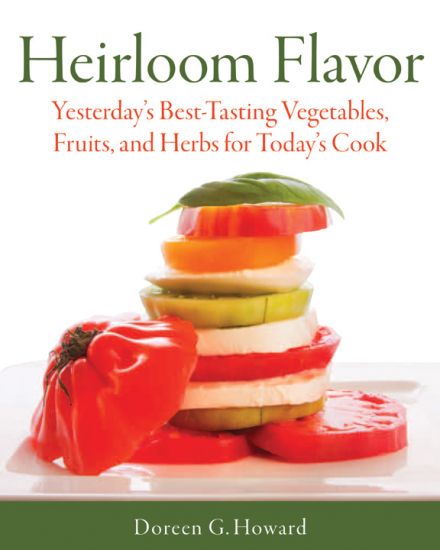 Heirlooms aren't a fad, a trend or anything of the sort; heirloom varieties are ancient, real vegetables and fruits, carefully saved and treasured for the divine, pure flavor they have. Hybrid vegetables dominate the markets, designed to ship without bruising and last for a long time before rotting. Apples are flavorless, tomatoes are mealy and dry. Carrots and potatoes don't taste anything like what a true root vegetable should, and those baby carrots are nothing but a travesty. If all you've ever known are hybrids, plants that are carefully designed to give you perfectly shaped vegetables that grow quickly and are drought tolerant, insect tolerant and thrive in poor soil, then you owe it to yourself and your palate to embrace and seek out heirloom options. They exist, and they take some searching to find; they may cost a bit more and often, when you grow them, especially heirloom tomatoes, they have odd shapes, they grow slowly, they need good, nutritious soil and a lot of time to come to their maturity. But they are also brightly colored, creatively shaped, and beautifully flavored in a way that you never could imagine.
We grow standard vegetables in the garden at our lake home. My sister-in-law and mother-in-law pick what they want and on occasion, I will harvest some of the produce when I'm there. At home, I plant primarily heirloom tomatoes, my herb garden was started on heirloom plants, and I've grown heirloom chard and broccoli this year. Then, there's our CSA, almost all of which is heirloom produce.
In one of our CSA boxes I found a strange looking vegetable that turned out to be an Armenian Striped Cucumber.
(photo: White Flower Farm)
At the same time, I had a few small cucumbers from the garden at our lake home. Without even thinking of what I was doing, I put both of them in my lunch one day, and biting down on the striped cucumber was surprising, to say the least.
Then I took a bite of the hybrid cucumber. The skin was tough and fibrous, the interior so thick with seeds that there wasn't much else to eat. And it tasted flabby and watery, not crisp, flavorful and fresh like the heirloom. The rest of the hybrid cucumbers that I harvested from the lake have been made in to Refrigerator Pickles. Every cucumber that came through the CSA boxes was treasured and eaten with great pleasure.
I have one hybrid tomato plant in my garden, grown in organic soil, and the flavor is okay, but when eaten next to the Sunset Peach heirloom, or a Black Prince, Mr Stripey or Indigo Rose, it simply pales in comparison, both in taste and texture. Before we started growing heirloom tomatoes, I couldn't even expect my son to eat a tomato at all. Now he willingly eats them, often just sliced on a plate with a drizzle of blue cheese dressing, sometimes two or more at a sitting. He never wants to eat tomatoes any other time of the year, and I don't blame him. Just once, if you sat down with a standard hybrid tomato on a plate, and had a second plate next to it of an heirloom tomato that you could taste side by side, you would never grow, or purchase a hybrid tomato again. Or a hybrid cucumber, radish, squash, carrot or any other vegetable.
Heirloom Flavor is packed with information about the history behind heirloom varieties, fascinating stories and loads of full color photographs that make you crave fresh vegetables and fruit. The book also has plenty of delicious recipes, plus good tips on growing heirlooms, selecting them at Farmers Markets and cooking them. Whether you live for your next meal, or just really love cooking, this book is a perfect addition to your home library, and a stepping stone in to the glorious world of heirloom produce.
My last CSA box held heirloom Tomatillos in beautiful shades of green, yellow and purple.
I also had four huge green tomatoes, and an urge to make salsa.
This fire roasted green salsa was a spark of an idea based on the product on hand; I'd never made a green salsa before, or any salsa, really, but the end result of this now makes me want to create more. It's thick and a bit smoky, with the subtle tang of lime and a fresh, inviting taste. The recipe only made about a quart, and I think the three of us are going to elbow each other around a bit in the sharing of it. The salsa was very simple to make, with no water-bath canning needed.
Fire Roasted Salsa Verde

2# tomatillos, husked, cut in half
3-4 large green tomatoes, cored and quartered
1 large white or yellow onion, cut in to thick slices
3-4 whole Jalapeno peppers (or mix in Serrano for more heat)
Juice and zest of one fresh lime
Kosher Salt to taste

Preheat your broiler to High, or 500°. Arrange tomatillos, green tomatoes, onion and peppers on a baking sheet and broil directly under the flame until blackened, turning the peppers to blacken all sides. The tomatillos may become very soft and begin to collapse before the rest of the vegetables are done. Scrape them off the sheet in to a bowl if that happens, then return the sheet to the oven to finish.

When all the vegetables are done, allow them to cool and snip the stem end off the peppers, leaving them intact. Place all ingredients in the work bowl of a food processor and pulse until the desired consistency is reached. Scrape in to a large bowl and stir in about a tablespoon of salt. Allow to sit for 10-15 minutes, then taste for seasoning. Add more salt, if desired, but allow the salsa to sit and absorb for a bit before adding more.

The salsa can be stored in a jar in the refrigerator. You should get about a quart, or slightly more.