A few recipes have crossed my path lately that call for crushed graham crackers in the base. If this is a trend, it's one I can get behind 100%. There is little else that will swiftly chuck me deep into a well of nostalgia quite like biting into a crisp graham cracker, especially one spread with butter and sprinkled with a little cinnamon sugar.
But to come across a muffin recipe, with chocolate AND graham crackers in it? To quietly utter the words 'Oh my' accompanied by a deep sigh of contentment doesn't even begin to tell you how that made me feel.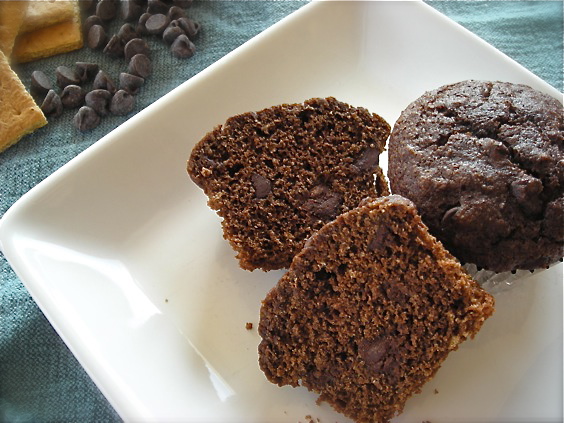 And you know I love muffins, a primordial love for a small palm sized bit of moist cake-like goodness. But it has to solidly BE a muffin, as so many of them are nothing short of a dumbed down cupcake. This was a muffin, through and through, although to the eye it was cake at it's finest. I loved the trickery; the coy visual tease that delivered an altogether different taste once the rich dark crumbs burst across your mouth, scattered with soft chocolate chips to satisfy a sweet tooth.
Yet the word 'sweet' wouldn't be what I would use to describe these muffins. I expected sweet; like chocolate-y cake kind of sweet and I didn't get that. It solidified further the rather unscientific findings that I am coming across by removing all refined white sugar from anything I bake. Almost everything I've baked since last Fall has been with some alternative form of sugar, usually drastically reduced, in an effort to remove products with poor nutritional value from what I eat.
Now please, let me be clear; I have no illusions that any form of sugar is healthy; sugar is sugar and too much of it is problematic. I know this. I'm not pulling a thick armor of wool over my eyes and happily drowning myself in cookies and cake. I love to bake, but the idea of white refined sugar, and also white processed flour has quietly taken siege on my common sense and demanded change. So…. gone is white flour and in it's place is stone ground whole wheat flour. Gone is white sugar, to be replaced by pure maple syrup, artisan honey, organic natural cane sugar and on occasion, like in these muffins, brown sugar. And yes, I do know brown sugar is refined white sugar costumed with molasses, and in this form I use much less when I bake. But from all the research I've read on the use of sugar, when substituting a natural form of it- as in the maple syrup, honey or natural cane sugar- you avoid the chemicals found in the processing of the product. Natural forms of sugar are more readily digestible for humans than anything refined, and have less of an adverse effect on the blood sugar levels in your body. And while I'll never advocate relentless consumption of anything chock full of sugar, regardless of it's origin, I will quietly say that a little sweet treat is acceptable, at least for me and my guys. And I'll feel better about giving them some indulgent goodies, especially when I can pronounce all the ingredients.
I'm planning to write a bit more on this topic at a later date, but really….. if you sat through my little science class, you deserve a Chocolate Graham Muffin.
Chocolate Graham Muffins

1 sleeve regular (or chocolate) graham crackers
1-1/2 c. whole wheat flour
1/3 c. cocoa powder
1-1/2 t. baking powder
1/2 t. baking soda
1/4 t. sea salt
2 large eggs
1/2 c. packed brown sugar
1/4 c. pure maple syrup
1 c. buttermilk
3 T. canola oil
1 heaping teaspoon instant espresso powder
1 t. vanilla extract
1/2 c. semi-sweet chocolate chips

Preheat oven to 400°. Line muffin tins with paper liners. The recipe makes between 12 and 18 depending on the size of your tins.

Crush graham crackers, either in a food processor, or by placing contents of the sleeve in a large plastic bag and using a rolling pin to crush. In a large bowl, whisk crumbs with flour, cocoa powder, baking powder, soda and salt.

In another large bowl, whisk eggs, brown sugar, syrup, buttermilk, oil, espresso powder and vanilla until smooth and well blended. Pour into bowl with dry ingredients, and using a rubber spatula, gently fold together until just combined. Add chocolate chips and turn them carefully into batter.

Spoon into muffin tins and bake approximately 15-18 minutes. Check for doneness by either using a toothpick or touching the top of the muffin to see if it springs back. You may need a little more time if your oven, like mine, tends to be fussy. Cool muffins in pans on counter for 15 minutes or so, then turn out to cool completely.

Recipe adapted from Eating Well magazine
Other Muffin Recipes from my Kitchen:
Whole Wheat Muffins with Squash and Quinoa
Fig Muffins with Honey Lemon Cream Cheese